My journey to 15 credit cards — with 48 countries visited and a job at TPG along the way
This post contains references to products from one or more of our advertisers. We may receive compensation when you click on links to those products. Terms apply to the offers listed on this page. For an explanation of our Advertising Policy, visit this page.
Travel is on an (extended) layover. However, that doesn't mean you shouldn't plan your future travel — or reflect on past getaways.
Personally, I've used this time to not only assess what tomorrow may look like, but also look back at my travel and credit cards journey that led me to where I am today.

From my first credit card eight years ago to 15 cards today (and counting), what have I learned? How have I been able to travel the world thanks to these cards? Where do I go from here? (Hint: There's plenty to still master, and I relish having TPG's platform to share those discoveries.)
New to The Points Guy? Sign up for our TPG daily newsletter for tips and tricks to make the most of your travel rewards.
Throughout the years, I've grown obsessed with points, miles and credit cards — which is what led to a job writing for TPG. Today, I'm walking through a brief history of my card and travel journey, what's in my wallet right now and what I hope to add to it in the coming months.
Traveling — but on my terms
When I was younger, my family went on a number of trips while growing up. I was able to see some of Europe, Asia and the Caribbean. It was actually the sea — not the skies — that first got me interested in travel. My parents loved cruises, and I am incredibly grateful for those experiences. In many ways, they were formative and what made me fall in love with travel in the first place.

Interested in cruise news? Sign up for our bi-weekly cruise newsletter for all the latest.
However, I came to realize that I wanted to travel on my own terms. While acknowledging the privilege of what it was, sitting on a tour bus or eating on a ship's buffet just weren't my preferred ways to see the world.
That's why I started seeking out flight deals and travel discounts once in college.
Instead of spring break in Cancun, I went on a long weekend to Iceland solo. In fact, I took one of WOW Air's very first flights from the U.S. in early 2015. While my classmates were in Florida, I was in New Zealand, again solo thanks to a mistake American Airlines fare.
However, I knew there was more than just cheap flights and earning miles while in the air. What else could I do while on the ground? Enter credit cards.
For me, credit cards and travel are synonymous. Without one, there can't be the other.
An overview of my wallet
What started as having simple cash-back cards blossomed into a diverse wallet of credit cards — from cobranded hotel and airline cards to travel cards that earn transferable points.
Yes, the cards you see in the photo above are the 15 cards I have right now. Let's take a deeper look at what role each plays in my overall strategy and whether I plan on keeping, canceling or downgrading in the future.
Chase Ultimate Rewards cards
Card
What I personally value most in the card
Keep, cancel or downgrade?
Chase Freedom

(No longer open to new applicants)

5x quarterly rotating bonus categories (on the first $1,500 each quarter you activate) and the ability to turn into Ultimate Rewards points
Keep
Chase Freedom Unlimited
1.5x on non-bonused spend and the ability to turn into Ultimate Rewards points
Keep, but not often used
Chase Sapphire Preferred Card
My first foray into Ultimate Rewards back in 2017, 2x on dining and travel
Keep
Ink Business Preferred Credit Card
My first business card that had a huge sign-up bonus. The 3x on travel* is a great perk, too.
Keep
Ink Business Cash Credit Card
5x on office supply stores** and the ability to turn into Ultimate Rewards points
Keep, but not often used
Ink Business Unlimited Credit Card
1.5x back on all non-bonused spend
Keep, but not often used
*3x points on the first $150,000 spent in combined purchases on travel, shipping purchases, Internet, cable and phone services, and on advertising purchases made with social media sites and search engines each account anniversary year
**5% cash back on the first $25,000 spent in combined purchases at office supply stores and on internet, cable and phone services each account anniversary year.
Amex Membership Rewards cards
| | | |
| --- | --- | --- |
| Card | What I value most in the card | Keep, cancel or downgrade? |
| The Platinum Card® from American Express | Amex lounges, hotel and car rental elite status, travel benefits, 5x on flights booked directly with the airline or via Amex Travel (up to $500,000 on these purchases per calendar year, starting Jan. 1, 2021); monthly Uber credit (up to $200 annual credit) | Keep |
| American Express® Gold Card | Annual Dining credit (up to $120), 4x at U.S. supermarkets (on the first $25,000 in purchases each calendar year; then 1x) and dining at restaurants. Enrollment required. | Keep |
| American Express® Green Card | 3x on broad category of travel (includes transit, rideshare, etc.) | Cancel |
The information for the Amex Green Card has been collected independently by The Points Guy. The card details on this page have not been reviewed or provided by the card issuer.
Hotel and airline cards
The information for the Hilton Aspire Amex card has been collected independently by The Points Guy. The card details on this page have not been reviewed or provided by the card issuer.
Cash-back card
| | | |
| --- | --- | --- |
| Card | What I value most in the card | Keep, cancel or downgrade? |
| Citi® Double Cash Card | 2% cash back on everything (1% when you buy, plus 1% as you pay); (I downgraded to this card from a Citi AAdvantage card) | Keep |
The information for the Chase Freedom, CitiBusiness AAdvantage Platinum card, and AAdvantage Aviator Red cards have been collected independently by The Points Guy. The card details on this page have not been reviewed or provided by the card issuer.
Starting with cash back
Like many card beginners with a limited credit history, I started by entering the world of cash-back cards. I opened both the Chase Freedom and Chase Freedom Unlimited while I was in college (earning full-blown Ultimate Rewards points on these cards came later).

Back then, it was about the cash-back earnings that could help fund a meal out with friends or a long weekend trip while flying economy class. Because while I loved to explore the world, I had assumed first-class flights and other premium aspects of travel were completely out of reach.
But as I started reading more about cards, I realized it was easier than I thought. It just required some work and planning to get there.
I will also preface by saying I was fortunate enough to be an authorized user on a parent's card from the time I was a teenager. That means I had built up some credit history even before I applied for my first card. This is something I recommend all parents do if you're able. You don't even have to give the card to your child — I personally never even saw it.
Related: Everything you need to know about authorized users
Jumping into travel rewards
Some might say I didn't just make a jump from cash-back card to travel card, I made a full-fledged leap.

Going all-in on a premium card
My first travel card — in fact, my first card that had an annual fee — was The Platinum Card® from American Express, at $695 a year (see rates and fees). At the time, the Ameriprise variant of the Platinum had the first year of the fee waived. I dove right in, thinking that I'd give a premium credit card a test drive for a year and downgrade if it wasn't a good fit.
Related: What's the best starter travel card?
However, I quickly became captivated by the perks, benefits and hotel status that the Ameriprise Amex Platinum provided — including airport lounge access and the Amex Fine Hotels and Resorts program.
I have particularly fond memories of the first time in an airport lounge on my own — the Asiana Business Class lounge at South Korea's Incheon International Airport (ICN). A shower in an airport after a long-haul economy flight? That was a completely novel concept, and while not new anymore, it's something I still savor.

Then, there was the first time I took advantage of Amex's Fine Hotels and Resorts program. It was an unforgettable stay at the Waldorf Astoria in Panama City, Panama. The nightly rate was a very reasonable $130 per night and included an extravagant breakfast, a room upgrade, late checkout and other premium perks. I remember sitting in a plush bathrobe thinking "I love traveling like this. How can I do more of it?"
Looking back, both these memories helped solidify my love for premium travel and maximizing credit card benefits, points and miles to their fullest. In this way, the Amex Platinum has nostalgic value for me.
Related: Why I'm keeping my Amex Platinum even though I'm not traveling
Expanding my wallet
That all happened about five years ago. At that time, I decided to make the jump from simply seeking out cheap airfare to diving into the world of credit cards, points and miles and loyalty programs.
Up until early 2019, I had only been investing my credit card resources into three major programs: Chase Ultimate Rewards, Amex Membership Rewards and American AAdvantage.
Transferable points cards
Cards that earn transferable points allow for an incredible amount of flexibility. That's because you can transfer points to a variety of airline and hotel partners but can also offset your card charges as a statement credit if you want to use your points that way, too.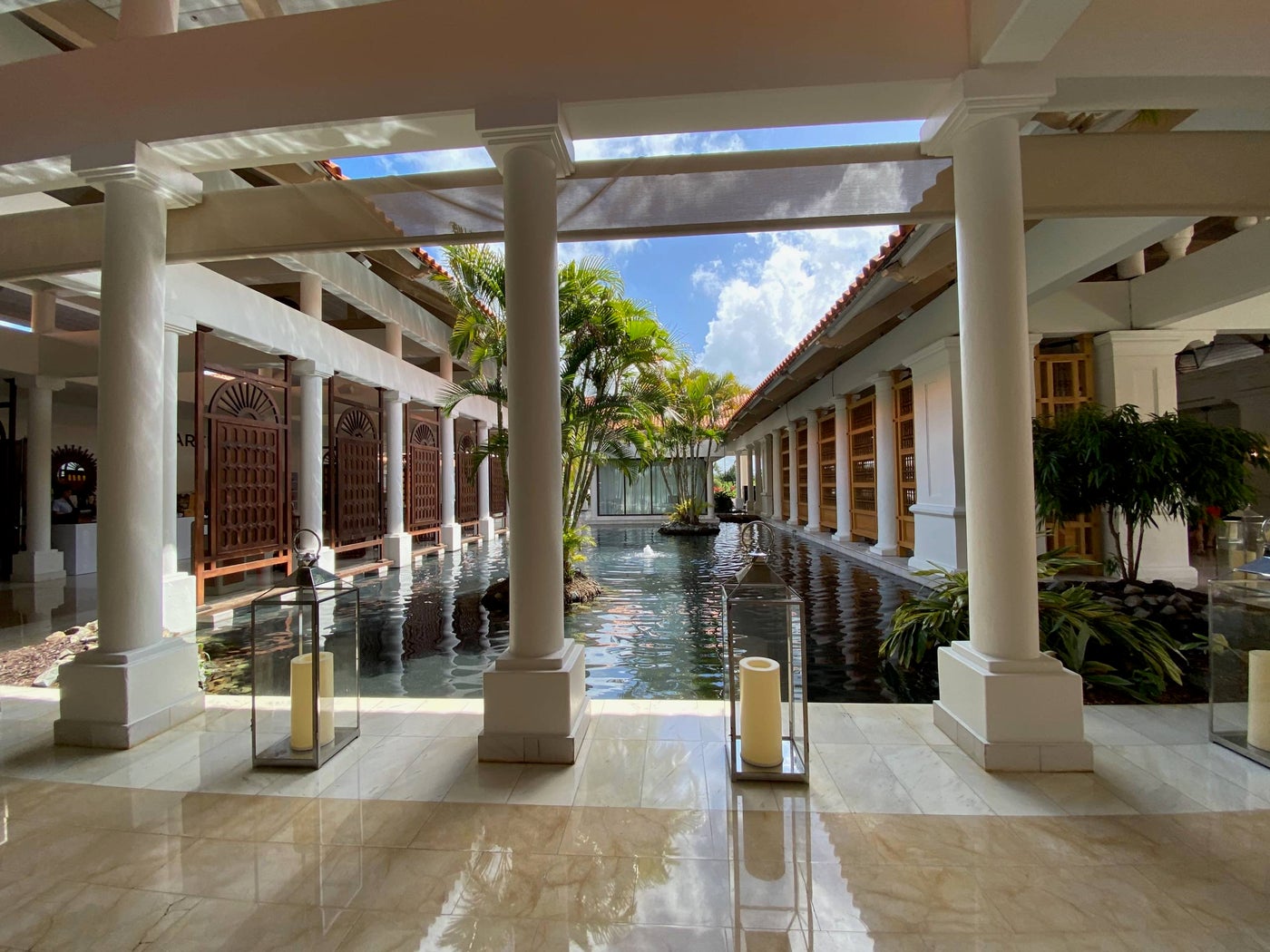 Transferable points also give you options to book airlines and hotels you normally might not have on your radar, unlocking travel across a variety of carriers and lodging companies.
Amex and Chase points can also protect you from loyalty program devaluations and minimize the risk against bankruptcies and program suspensions. This last point is especially important during COVID-19, with the threat of some companies or loyalty programs going under.
Related: How I traveled the world on points right before the pandemic
Cobranded airline cards
For years, I've been loyal to American and the airline's Oneworld partners. I highly value AAdvantage miles to use for premium cabins on partners such as Cathay Pacific, Japan Airlines and Qatar Airways.
Hefty sign-up bonuses on AAdvantage cards from both Barclays and Citi have kept me in their card ecosystem. With new partners in JetBlue and Alaska, I'm confident that my continued loyalty to the AAdvantage program will pay off.
However, I will likely cancel one of my AAdvantage cards. I have both the CitiBusiness AAdvantage card and Barclays AAdvantage Aviator Red card, and the Barclays card will likely get the boot once my renewal comes around. While neither card gets heavy usage, I've at least been targeted with several AAdvantage bonus miles offers on my Citi card.
Branching out to other cards
In recent months, I'm finally expanding my wallet to include credit cards beyond these three programs — notably hotel credit cards.
I only recently started seeing the value in hotel cards after years of primarily focusing on airline loyalty and transferable credit cards. In fact, it wasn't until last year that I actually opened my first cobranded hotel credit card.
That card was the Hilton Aspire, an incredibly valuable card that offers an annual free weekend night certificate at any Hilton property in the world as well as Hilton Diamond status. After the Aspire, I also opened a Hilton Surpass card.

Most recently, I was approved for the World of Hyatt Credit Card during the pandemic.
Related: Why I went all-in on the Hyatt card during COVID-19
Additionally, I am planning on venturing into the world of Citi ThankYou points and Capital One Rewards by applying for the Citi Premier® Card and Capital One Venture Rewards Credit Card in the coming months.
Why are these my next two cards? First, since card issuers have recently been clamping down on new cards and sign-up bonuses, it's a good time to diversify from just Amex and Chase.
This is especially true in light of Amex's once-per-lifetime card bonus restrictions and Chase's 5/24 rules (you can't be approved for a Chase card if you've opened five or more accounts in the past 24 months).

Second, and most importantly, these cards earn transferable points with a diverse array of airline and hotel transfer partners. Citi ThankYou points and Capital One Rewards are often overlooked in favor of other, more popular card offerings.
I won't get under the Chase 5/24 restriction until next year, and by then, I hope to also apply for the IHG® Rewards Premier Credit Card to continue earning points for hotel stays. I'm long overdue to give other card programs a chance, while still enjoying the perks of Amex and Chase.
Advice for a credit cards beginner
I've come a long way since my first card. And I've certainly made mistakes along the way. Here are some quick tips that I found useful while getting started.
Related: TPG beginner's guide: Everything you need to know about points, miles, airlines and credit cards
Start small
For others getting started with a rewards card, start with a small goal in mind. For me, it was earning cash back so I didn't have to dine on-campus all the time while in college.
Don't worry too much about the dreamy Instagram images of first class for now. (And yes, I post those photos, too.) My first ever points redemption was an economy flight from New York to Washington D.C. for 7,500 American AAdvantage miles. It certainly wasn't the most exciting flight redemption, but you have to start somewhere.
Transferring points can help you fly in a premium cabin
A year or so after my first award flight, I redeemed my first international premium cabin award — 70,000 Delta SkyMiles (with some miles transferred from Amex Membership Rewards) to fly in business class from Toronto to Johannesburg, South Africa via Amsterdam.

I flew on the now-defunct Jet Airways on a unique fifth freedom flight on the first leg and KLM business class on the second leg. I loved every minute of it.
Take advantage of the right sign-up offers
Credit card sign-up bonuses are the best way to accumulate points and miles fast, but start slow and don't expect to fly in a Singapore Airlines Suites at the very beginning.
My points and miles strategy from card sign-up bonuses? First and foremost, try not to spend extra money on things you don't need just for the sake of earning rewards. Although I am still sometimes guilty of this, it's a good general rule of thumb.
Related: Ten Commandments for Travel Rewards Credit Cards
Be flexible
Be as flexible as possible and have a realistic travel goal in mind. Aspiring to something is important, but know that to be an expert in this game, you have to be willing to change destinations, dates and/or airlines in order to get the best deal.
Use the magic of one premium experience
Finally, you don't always need to fly first class for every flight and stay in a five-star hotel each night to enjoy travel. On the other hand, having just one flight, hotel night or other premium experience during the course of a trip really does help to make it special. Then you can use the extra credit card points you saved for yet another trip.
Often, I'll fly at the front of the plane to my destination — and then stay at a more affordable Airbnb. Or, I'll fly in economy and then splurge on a five star hotel once I'm there (using points).
Bottom line
I feel fortunate that both credit cards, as well as a deep passion for travel, have helped me get to where I am today.
My travel journey is so distinctly tied to my card journey that they might as well be one and the same. These 15 cards (and counting) have helped me see 48 countries (and counting). While I truly entered the world of points, miles and credit cards fairly recently, it's never too late to get started.
I'm looking forward to taking to the skies once again — as well as getting approved for my next card to help get me there.
For rates and fees of the Amex Platinum card, click here.
Have any questions or comments about my card journey? Email me here.
Featured photo by author.
Sign-up Successful!
Welcome to The Points Guy!
American Express® Gold Card
With some great bonus categories, the American Express Gold Card has a lot going for it. The card offers 4x points at restaurants, at U.S. supermarkets (up to $25,000 per calendar year; then 1x), and 3x points on flights booked directly with airlines or through amextravel.com.
Apply Now
More Things to Know
Earn 60,000 Membership Rewards® Points after you spend $4,000 on eligible purchases with your new Card within the first 6 months of Card Membership.
Earn 4X Membership Rewards® Points at Restaurants, plus takeout and delivery in the U.S., and earn 4X Membership Rewards® Points at U.S. supermarkets (on up to $25,000 per calendar year in purchases, then 1X).
Earn 3X Membership Rewards® Points on flights booked directly with airlines or on amextravel.com.
$120 Uber Cash on Gold: Add your Gold Card to your Uber account and each month automatically get $10 in Uber Cash for Uber Eats orders or Uber rides in the U.S., totaling up to $120 per year.
Updated $120 Dining Credit: Satisfy your cravings and earn up to $10 in statement credits monthly when you pay with the American Express® Gold Card at Grubhub, The Cheesecake Factory, Goldbelly, Wine.com, Milk Bar and select Shake Shack locations. Enrollment required.
Choose the color that suits your style. Gold or Rose Gold.
No Foreign Transaction Fees.
Annual Fee is $250.
Terms Apply.
Regular APR
17.49%-24.49% Variable
Recommended Credit
Excellent/Good