Nonstop to South Africa: Onboard United's most exciting inaugural of the year
This post contains references to products from one or more of our advertisers. We may receive compensation when you click on links to those products. Terms apply to the offers listed on this page. For an explanation of our Advertising Policy, visit this page.
Just a few months before the COVID-19 pandemic brought global travel to a halt, I had the opportunity to join United Airlines on a very special inaugural flight, traveling nonstop from Newark to Cape Town, South Africa, onboard a Boeing 787-9 Dreamliner.
For me, the new route made it incredibly easy to travel between my East Coast home and one of the most desirable vacation destinations in the world. For South Africans, it quickly became a lifeline to the U.S., boosting tourism and connecting locals with their family members halfway across the world.
This week, United is adding another critical nonstop option, filling a void left by the bankruptcy of South African Airways. It's once again possible to fly to Johannesburg (JNB) without a third-country stop, thanks to United's new daily flight.
This is actually United's second new Africa flight in just a few weeks. In May, the airline began nonstop service from Washington (IAD) to Accra, Ghana (ACC), and while I wasn't able to join that inaugural, I managed to snag a seat onboard the first Newark (EWR)-Johannesburg (JNB) flight!
Booking my flight
While I wasn't quite ready to book when the flight was first announced in 2020, I added it to my list of "The 4 flights I can't wait to book this year after a vaccine" — and kept an eye on the original March 27, 2021, launch date.
Then, once the airline decided to push back its EWR-JNB service, I booked a paid round-trip, given that business fares were low and there was upgrade availability on the return flight.
In total, I paid $1,856 for the outbound flight in business class and the return in economy, confirming an upgrade to Polaris business using the PlusPoints I earned as a Premier 1K. That's a heck out a deal for a round-trip flight to South Africa in business class.

And, because I booked a paid fare, I'm eligible to earn redeemable miles and elite-qualifying credit, helping me requalify for 1K in 2021.

In total, those 19,316 miles are worth just over $250, based on TPG's valuations. I also earned 5x points by paying with The Platinum Card® from American Express, earning 9,280 Membership Rewards points, worth just over $185. (Earn 5x points on airfare when booking direct with the airline or via Amex Travel on up to $500,000 on these purchases per calendar year.)
Had saver awards been available on my dates, I would have been able to book for as little as 70,000 miles each way, a rate that had been widely available when the route was announced last year. Following a jump in demand, 155,700 miles each way is the lowest award rate I'm able to find right now, with paid fares starting at $2,900 round-trip in business class, about $1,500 in premium economy and just under $900 in coach.

Many flyers are willing to pay a premium for this nonstop route — the flight is a huge time-saver compared with popular one-stop options. Most flights connect in Europe or the Middle East, adding at least four hours to each direction of the journey. In some cases, travelers even have to work in an overnight stay, adding an extra wrinkle during the pandemic.

Delta will eventually begin flying its triangle-route trip between Atlanta (ATL) and JNB, via Cape Town (CPT) on the return, but for now, United's nonstop from Newark is the best option for anyone hoping to get between the East Coast and South Africa as quickly as possible.
Some extra precautions
While case numbers have plummeted from January highs, South Africa lags far behind the United States when it comes to vaccinations — as of this writing, less than 1% of the population has been fully vaccinated.
I've had both doses of Moderna's COVID-19 vaccine, and preliminary studies show that this particular vaccine provides protection against the variant first discovered in South Africa. Still, I'm taking some extra precautions on this trip.
For one, I'll wear N95 masks when around other people, and I'll avoid indoor dining and any situations where I would be inside without a mask.
I'm also staying away from large population centers. While I'm flying into JNB, I won't be visiting Johannesburg on this trip — instead, I'll be venturing out on an outdoor-focused road trip, including a visit to Kruger National Park.
I'll have a handful of extra items in my bag, too, including Abbott's BinaxNOW COVID-19 Home Test (and a couple of back-ups) to use ahead of my flight back to the U.S.

Finally, in an effort to avoid seeking care except in a true emergency, I brought along a set of antibiotics and other essential medication from a startup called Duration Health, which provided the $399 "off-grid medical kit" for this trip.
I'm not expecting to need any of the meds, but by having them along, I'll be able to speak with my doctor via a video chat if necessary, making it possible to avoid using local healthcare resources, and minimizing the possibility that I'll need to visit a pharmacy.

On the tech front, in addition to my usual gear, I'm bringing along a new portable charging system called ARROE, which I'm testing on the trip. It'll help keep my laptop and phone charged if I encounter any difficulty finding power along the way, including on the long drive to Kruger National Park.
Celebrating the inaugural
South Africa requires all travelers to present a negative COVID-19 PCR test taken within 72 hours of departure. I got mine at Los Angeles International Airport (LAX) two days before the flight. My results arrived within three hours of taking the test, and I uploaded them to United's Travel-Ready Center, where I was cleared to fly the next morning.
Still, for Johannesburg flights, an agent needs to verify that your passport has a full visa page unused, per South African regulations — at the moment, it's not possible to check in online. When I arrived at Newark, I checked in at a kiosk, an agent verified my PCR test results again and I was issued a boarding pass.
One of United's latest aircraft additions operated our flight to JNB. N19986, a Boeing 787-9, was delivered in April, and is currently flying passengers between Newark and destinations in Asia and Europe. This inaugural marked the plane's very first journey to Africa.

We departed from C121, the same gate United used for 2019's Cape Town inaugural. Celebrations were already underway when I arrived — they were scaled back a bit from that first CPT flight, but there were still snacks on offer, which passengers and passers-by seemed more than happy to try out.

Biltong, a South African beef jerky, was the dish of the evening — individually packaged as per mid-pandemic norms.

The highlight for me was definitely the dancers, some of whom I recognized from the airline's 2019 inaugural flight!

The crew and gate employees were more than happy to join in on the fun, too.
After that, United executives, pilots and representatives from South Africa participated in a ribbon cutting.

The passengers, crew and other United employees also took loads of photos — the inaugural event felt even more special during the pandemic.

While the dancers didn't get to join us on the flight, they did get to tour the 787-9.

United's 787-9 Polaris
Most notably, the Newark-Johannesburg route is guaranteed to be operated by United's latest Boeing 787-9 Dreamliners. While my Cape Town flight had the old 2-2-2 seats, pictured below, everyone gets the "real" Polaris on the trip to JNB.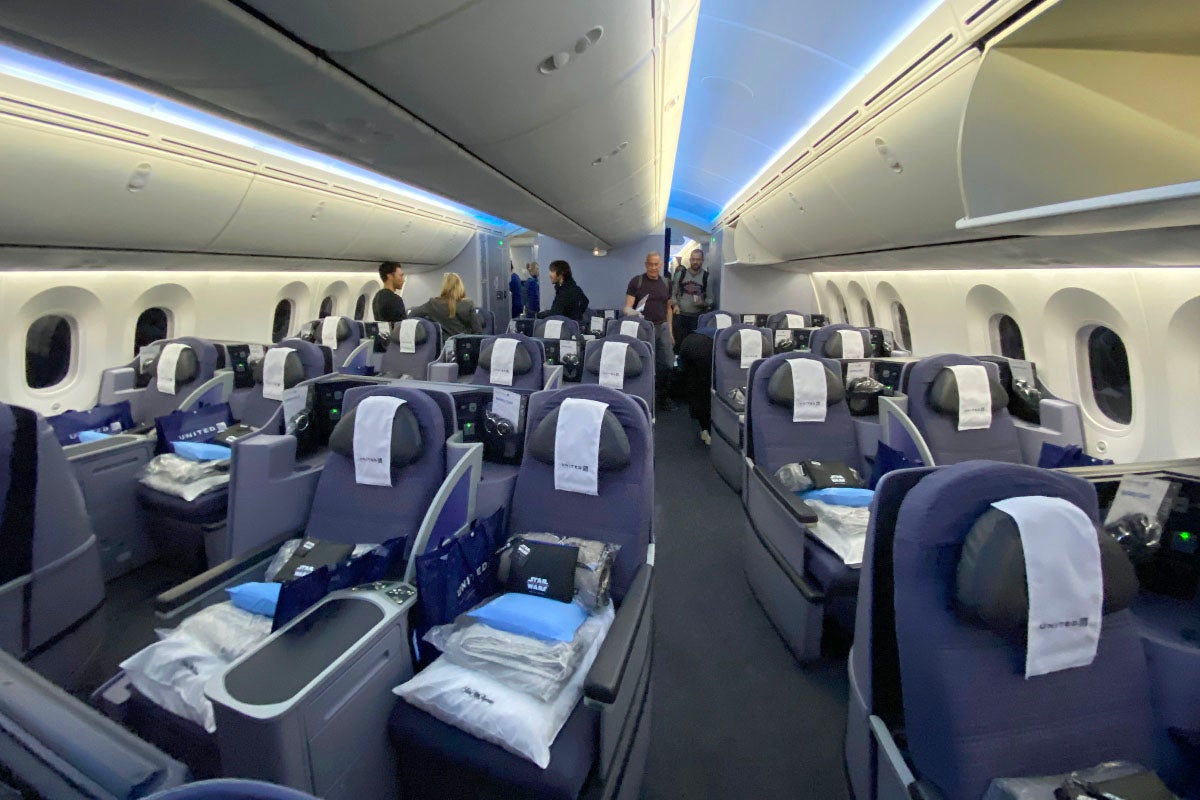 That means seating in a far more private 1-2-1 configuration. Center seats in odd-numbered rows are closer together, making them ideal for couples. There's also a center partition you can raise if you end up seated next to a stranger.

Personally, I prefer the window seats in odd-numbered rows, since they're positioned closer to the window, and considerably more private. I went for the bulkhead row, seat 1L, since it offers a large footwell.

In addition to the usual amenity kit, which included a handy travel bag, a sleep kit, tooth brush, socks and Sunday Riley products, each seat had a South Africa-themed set, including a luggage tag, hand sanitizer and a face mask.

United's longest international flights also include pajamas — at 15 hours, Newark-Johannesburg definitely hits the mark. The airline's shaking things up by offering Team USA pajamas for the time being, in honor of the upcoming Tokyo Olympics.

I actually got two pajama tops — United designed special inaugural flight shirts to mark the occasion, which flight attendants distributed to everyone flying in business class.
After that, it was business as usual, with dinner served wrapped and on a single tray. We had a choice of "beef, chicken or pasta" — I went with the chicken, which tasted better than it looks. The pretzel roll was a nice surprise, too.

It's been a long time since I've been on a 15-hour flight. You get really thirsty! After six hours of sleep, I asked for a "giant" water bottle, and the flight attendant delivered.

The crew came by with snacks as well, served on a literal silver platter. Before the pandemic, United offered hot snacks (like lobster mac and cheese!) on flights this long — not anymore.

Still, the turkey wrap hit the spot, and it's always such a treat to have soda on the plane, since I never drink it on the ground.

I spent the last couple of hours staring out the window — you can't beat the giant windows on the 787!
Breakfast was served about an hour before landing, with a choice of steel cut oats or quiche. I went with the latter, and it was fantastic, though the packaged croissant wasn't worth more than a bite.

While business class is definitely where I'd want to be sitting on a 15-hour flight, most of the passengers were traveling to South Africa a few rows behind. Premium Plus, United's premium-economy product, offers three rows of seats in a 2-3-2 configuration.
Travelers booking a seat there get a seat similar to what you'll find in domestic first class, along with meals similar to what you'll find in the business cabin. Best yet, these flyers land a spot at the top of the upgrade list, should any Polaris seats end up being unassigned before departure.

The next cabin has 39 extra-legroom Economy Plus seats in a 3-3-3 configuration, along with 149 regular coach seats just behind. It's a long flight for United's 17.3-inch-wide Dreamliner coach seats — if that's what you end up booking, I'd at least do what you can to score a seat in Economy Plus.

Bottom line
With South African Airways no longer flying to the U.S., and Delta's triangle-route flight delayed, United now offers the one and only nonstop connection between the United States and South Africa. United is well-positioned on the convenience front alone — reasonable fares and a top-notch business product make the airline even more appealing on this route.
On a personal note, it really was a thrill joining an inaugural flight again. Technically, it was my second in a single week, including the launch of JetBlue's new Mint business class, but the pre-departure fanfare and atmosphere onboard made this first Johannesburg flight feel extra special.

While I decided to avoid visiting the city on this trip, I'm eager to return South Africa once the country's able to vaccinate much more of its population. I'd likely mix United's new flight to Johannesburg with the carrier's existing service to Cape Town, letting me experience both cities on a single United trip.
All photos by Zach Honig/The Points Guy
Sign-up Successful!
Welcome to The Points Guy!
Citi Premier® Card
This card offers a 80,000-point bonus after spending $4,000 in the first three months. Plus, earn 3 ThankYou points per $1 at gas stations, restaurants, supermarkets and on air travel and hotels. 1 ThankYou point per $1 on all other purchases.
Apply Now
More Things to Know
For a limited time, earn 80,000 bonus ThankYou® Points after you spend $4,000 in purchases within the first 3 months of account opening
Earn 3 Points per $1 spent at Restaurants and Supermarkets
Earn 3 Points per $1 spent at Gas Stations, Air Travel and Hotels
Earn 1 Point per $1 spent on all other purchases
Annual Hotel Savings Benefit
80,000 Points are redeemable for $800 in gift cards when redeemed at thankyou.com
No expiration and no limit to the amount of points you can earn with this card
No Foreign Transaction Fees on purchases
Regular APR
18.24% - 26.24% (Variable)
Balance Transfer Fee
Balance transfer fee applies with this offer 5% of each balance transfer; $5 minimum.
Recommended Credit
Excellent, Good