Who should (and who shouldn't) get the Amex Business Platinum?
This post contains references to products from one or more of our advertisers. We may receive compensation when you click on links to those products. Terms apply to the offers listed on this page. For an explanation of our Advertising Policy, visit this page.
There are few credit cards — for either consumers or small-business owners — that capture the "wow" factor quite like The Business Platinum Card® from American Express.

A TPG-exclusive welcome bonus worth more than four times the card's annual fee? Check. Exceptional rewards on airfare and prepaid hotel bookings? Check. Massive travel perks, including an annual airline fee credit and exclusive airport lounge access? Check again.
Want more credit card news and advice from TPG? Sign up for our daily newsletter!
It's no wonder this is a must-have card among business travelers, with perks that are all but unmatched by other top business rewards cards. Still, that doesn't mean every small business owner can justify owning this credit card. It's a great card, but it's not the right one for everyone. So let's take a look at who should — and who shouldn't — hold the Amex Business Platinum.
Key benefits
The Business Platinum card is offering an all-time high welcome offer, just for TPG readers: Earn 125,000 points after you spend $15,000 on eligible purchases within the first 3 months of account opening. Based on TPG's most recent monthly valuations, this bonus is worth $2,500.
You'll have to spend $15,000 in the first three months to earn the 125,000-point bonus. That may be a tall order for many small-business owners, but if you have high inventory turnover or are growing your business, this card may help make your normal business activity much more rewarding.
The welcome offer is far from the only reason to consider this card. In fact, the perks are what set this card apart, including some not available on The Platinum Card® from American Express (the personal version of this card):

Just like the personal version of this card, you'll earn 5x points on flights and prepaid hotels (through Amex Travel without the annual spend cap that the Platinum Card includes), an annual up to $200 annual airline fee credit, access to Centurion Lounges, Delta Sky Clubs (when flying Delta), Priority Pass lounges (for you and two guests), along with Airspace lounges. You'll also get up to a $100 Global Entry/TSA PreCheck application credit once every four years, Gold elite status in Hilton Honors and Gold elite status with Marriott Bonvoy. Enrollment required for select benefits.
With the Business Platinum, you'll earn 5x points when you purchase airfare or prepaid hotel rooms through Amex Travel, and a pedestrian 1 point per dollar on all other purchases. The one exception is purchases of $5,000 or more, which earn 1.5 points per dollar, up to 1 million extra points per year.
For all of these benefits, you'll pay a $595 annual fee (see rates and fees).
Who should get the Amex Business Platinum?
Business travelers (especially overseas): This is a no-brainer, especially with all this card has to offer for the global traveler. One perk not mentioned above is no foreign transaction fees (see rates and fees), meaning you won't get dinged for purchases made outside the U.S.
The business card also offers a few more travel-related perks than the personal version, although you'll be missing out on up to $200 in annual Uber Cash and the 5x points on airfare purchased directly from an airline (on up to $500,000 on these purchases per calendar year) if you opt for the business version. Still, the 5x points on airfare and hotels booked via Amex Travel can prove extremely rewarding, as Membership Rewards points are worth 2 cents apiece, according to TPG's valuations.
Businesses with big general expenses: Although you can find business credit cards that offer better rewards on bonus categories such as office supplies and internet expenses, most cards offer 1 point per dollar on everyday spending. But if your business routinely makes large purchases of $5,000 or more, the 1.5 points per dollar bonus on big purchases with the Business Platinum is better than you might find elsewhere.
And if your business makes thousands of dollars in credit card purchases monthly, that huge spend on the welcome bonus won't seem daunting. In fact, in that case there shouldn't be much debate about whether to apply for this card with the current offer.

Owners who value transfer partners: The most lucrative way to redeem Membership Rewards points is to transfer them to one of Amex's 16 partner airlines or three hotels. If you're willing to put in the time and research, going the transfer route can increase the value of your points even above our valuations.
For example, The Points Guy himself transferred 68,000 points to British Airways to fly first class from London (LHR) to Accra (ACC) plus $462 in taxes/fees — a flight that would have cost him more than $11,669 to buy. That redemption netted 16 cents a point.
Related: My top 5 American Express Membership Rewards redemptions of all time

Someone who already owns the American Express® Business Gold Card: This could provide a one-two punch when it comes to earning Membership Rewards. Use the Business Gold Amex to fill in the blanks left by the Business Platinum card. With the Business Gold, you'll earn 4x Membership Rewards points on the two categories in which you spend the most each month from the following list:
Airfare purchased from airlines
U.S. purchases for advertising in select media
U.S. purchases for shipping
U.S. purchases at gas stations
U.S. purchases at restaurants
U.S. purchases made from select technology providers
While you're capped at $150,000 per calendar year for this 4x earning (then 1x), that 8% return is pretty sweet and Amex will even recalculate your top spending categories each month, to make sure you earn the maximum number of points possible.
Related: Credit card review: American Express Business Gold Card

Who shouldn't get the Amex Business Platinum?
Businesses with spending needs that don't revolve around travel: This card has little value if you're not regularly catching planes or spending the night in a hotel. You're wasting earning opportunities if you spend a good deal of money on office supplies, internet service or advertising. There are other, better options for you, including the Ink Business Cash Credit Card.
Owners with more modest business expenses: If you don't average roughly $5,000 a month in business spending, this card may not be worth it to you, or at least not with its current elevated bonus. That's about the amount of spending it will take to qualify for the full welcome offer.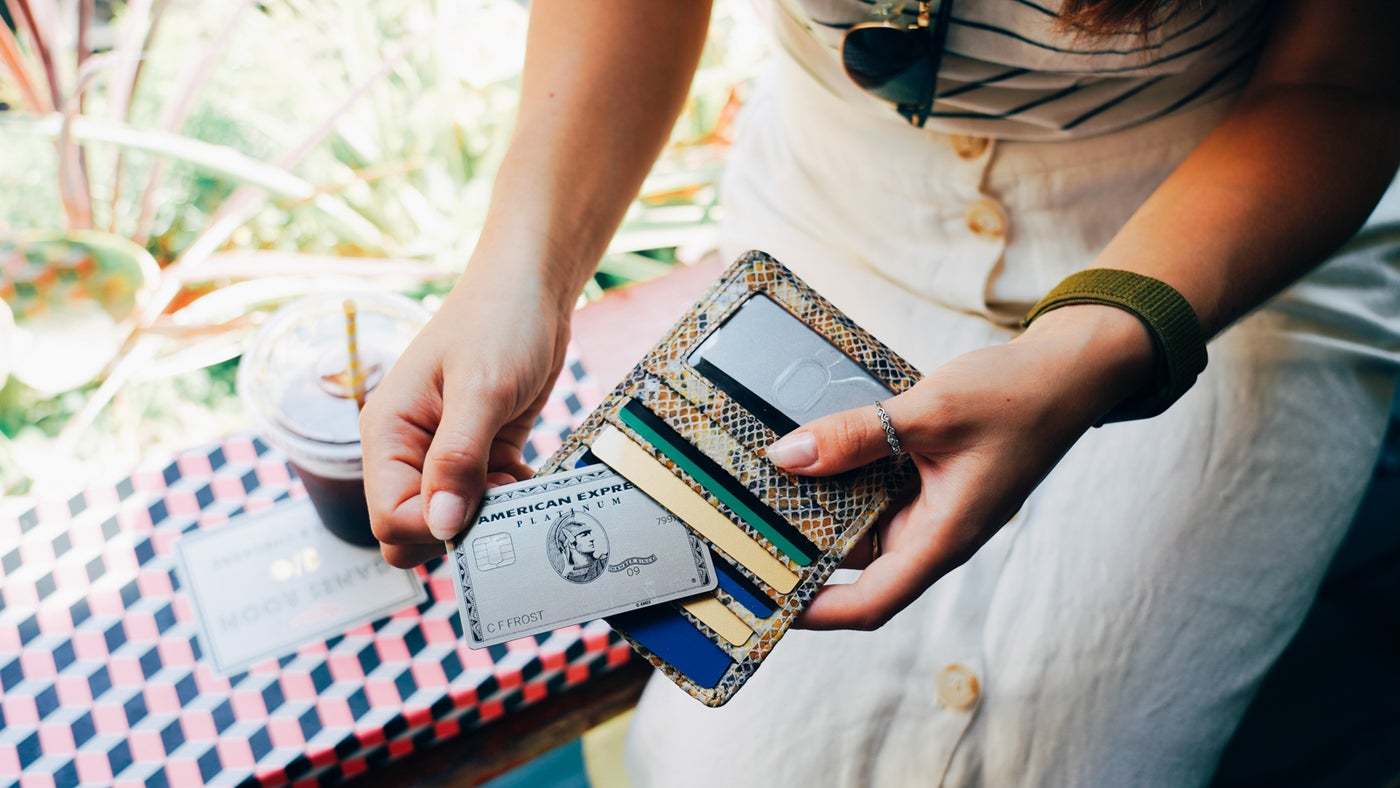 Someone who already has the personal version of the card: Since there are so many similarities between the business and personal versions of this card, it might be hard to justify having both. First, you'll need to figure out if you can spend enough to earn both bonuses. Then you'll want to consider whether you'll use the 1.5x points per dollar on purchases of at least $5,000. Outside of the bonus, another key consideration in whether or not to get the business version is keeping your personal and business expenses separate, and whether or not you can stomach paying more than $1,000 in annual fees for your Platinum cards.
Related: Credit card showdown: Amex Platinum vs. Amex Business Platinum

Businesses that need many employee cards: Although you can get up to 99 Platinum employee cards, Amex says it will charge you $199 annually for each additional Business Platinum card you request (see rates & fees), and $50 annually if you request Amex Business Gold cards for your employees to use (see rates & fees). That's a pretty hefty price to pay, particularly when there are other business-card options that offer free employee cards, like the Capital One Spark Cash for Business.
Bottom line
TPG considers the Business Platinum Card to be one of the best business credit cards with good reason — it has fantastic value for the heavy business traveler and it's currently offering one of the most valuable limited-time welcome bonuses on the market.
Application link: The Business Platinum Card® from American Express available with a 125,000-point TPG exclusive welcome offer.
With TPG's exclusive welcome offer, you can earn an extraordinary 125,000 bonus points with this exclusive welcome offer. If you're able to meet the hefty spending requirement, you probably don't need much more convincing to get this card. On the other hand, it's a much more dicey proposition (alright, probably a bad idea) for a business owner who sticks to the ground — particularly when there are so many great options out there to earn points, miles and cash back on expenses that matter most to you.
Additional reporting by Stella Shon.
For rates and fees of the Amex Business Platinum card, click here.
For rates and fees of the Amex Business Gold card, please click here.
For rates and fees of the Amex Platinum card, please click here.
Featured photo by Isabelle Raphael for The Points Guy
Sign-up Successful!
Welcome to The Points Guy!
The Business Platinum Card® from American Express
Aside from the 125,000-point welcome bonus, Amex recently made huge improvements to the Business Platinum Card, including the fact that you will now earn 50% more points on purchases of $5,000 or more (up to a cap amount), earn 5x on flights and eligible hotels at Amextravel.com and cardholders will receive an up to $200 annual airline fee credit each calendar year (enrollment required).
Apply Now
More Things to Know
The Points Guy Exclusive Offer: Earn 125,000 Membership Rewards® points after you spend $15,000 on eligible purchases with the Business Platinum Card within the first 3 months of Card Membership.
Get 5X Membership Rewards® points on flights and prepaid hotels on amextravel.com.
Get 50% more Membership Rewards® points. That's an extra half point per dollar, on each eligible purchase of $5,000 or more. You can get up to 1 million additional points per year.
35% Airline Bonus: Use Membership Rewards® Pay with Points for all or part of a flight with your selected qualifying airline, and you can get 35% of the points back, up to 500,000 bonus points per calendar year when you book on amextravel.com.
Breeze through security with CLEAR® where available and get up to $179 back per year on your membership when you use your Card.
Enroll to get up to $200 in statement credits annually by getting up to $100 semi-annually for U.S. purchases with Dell. Terms apply.
Pay Over Time Option: A flexible payment option to help manage cash flow on purchases of $100 or more.
Terms Apply.
Regular APR
14.24% - 22.24% Variable
Recommended Credit
Good, Excellent