The complete history of credit cards, from antiquity to today
This post contains references to products from one or more of our advertisers. We may receive compensation when you click on links to those products. Terms apply to the offers listed on this page. For an explanation of our Advertising Policy, visit this page.
Update: Some offers mentioned below are no longer available. View the current offers here.
The Points Guy has been reporting on credit cards since 2010, to help you maximize purchases for future travel. But points and miles are a relatively new offering in the grand scheme of the history of credit cards.
While credit cards haven't always looked the way that they do now, credit has been a key financial tool, helping people purchase goods and services for thousands of years. From ancient civilizations to the modern-day, credit has been – and will continue to be – a sustaining driver of the economy.
For more TPG news and deals delivered each morning to your inbox, sign up for our daily newsletter.
Ancient credit cards
When you think of "credit cards," you probably consider them to be a modern financial innovation. But the concept of a credit card dates back to ancient civilizations. Credit has been around for almost as long as money itself.
The Mesopotamian and Harappan civilizations used clay tablets to track trade, much like modern-day credit cards. According to Jonathan Mark Kenoyer, an archaeologist and Professor of Anthropology at the University of Wisconsin—Madison, earthen tablets bore seals from each civilization and were used out of necessity. Trade volumes were so large between the two civilizations that trading physical money would have been too cumbersome.

During the Babylonian empire, some of the first written rules regarding lines of credit appeared in the Code of Hammurabi. These lines of credit worked more like a modern-day loan than a credit card. Meanwhile, many of the rules around delinquencies and fraud mirrored in modern credit-card protections and regulations.
The 1800s: Charge coins and the birth of American Express
It's only fitting that credit-card giant American Express should be an important part of the industry's history. American Express started as a merger between three companies – Wells & Company, Livingston, Fargo & Company, and Wells, Butterfield & Company – on Mar. 18, 1850. Since then, the company has become a globally integrated payments company that had $43.5 billion in revenue in 2019.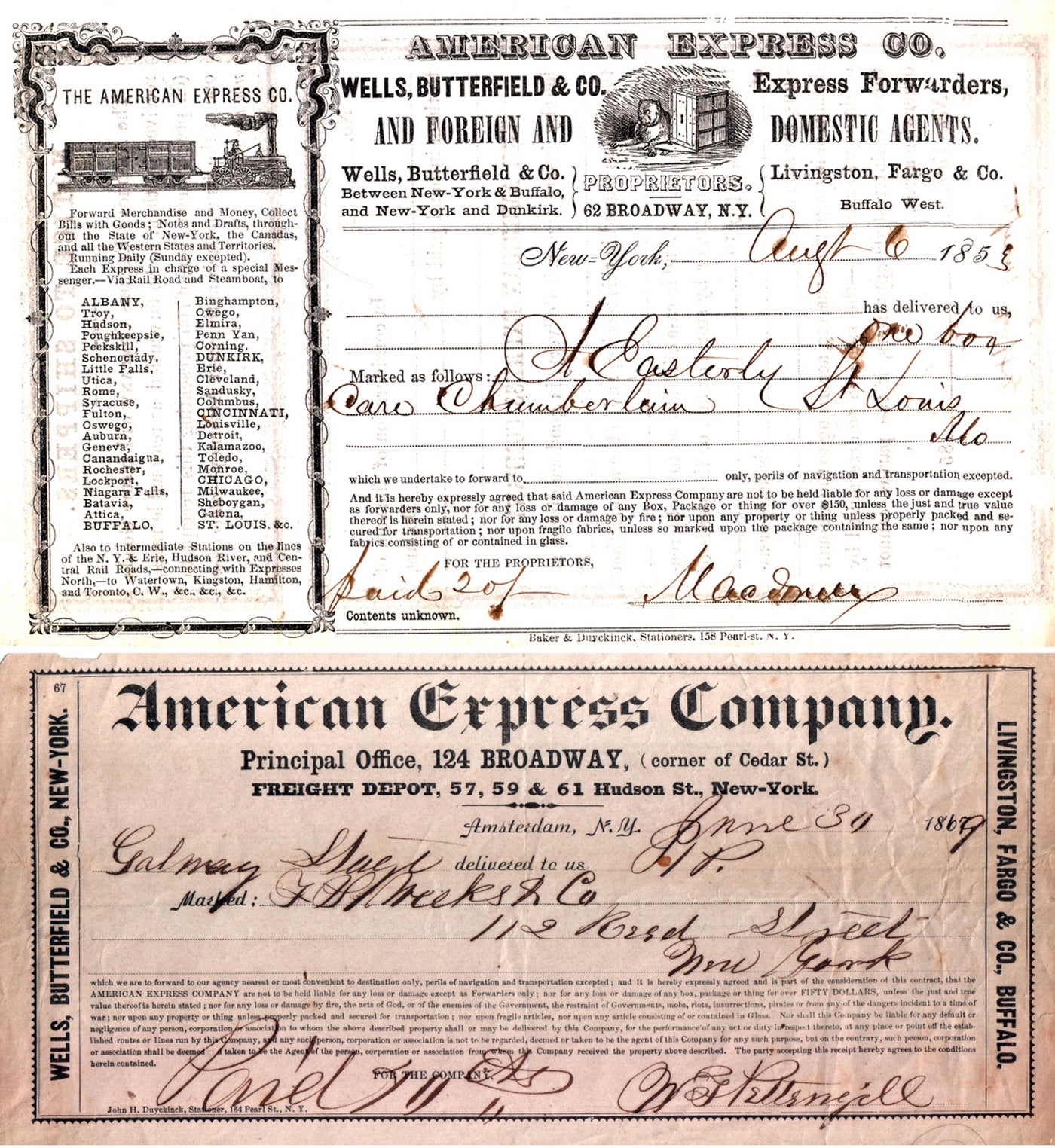 By 1865, the company boasted more than 900 offices in 10 states. That same year, American Express introduced the first charge coin. These were mainly issued by department stores and displayed a customer's identification number and an image connected with the merchant.
Meanwhile, in 1868, the company had merged with Merchants Union Express Company to become American Merchants Union Express Company. Five years later, it took on the name American Express Company.
Also in the 19th century, American Express created the first money order and the first traveler's checks. In 1895, the first office European office opened in Paris, with expansions to England and Germany occurring by 1898.
The 1900–1940s: Shoppers plates and the first travel rewards credit card
The period between 1900 and 1940 saw an increase in credit as a payment form. Many department stores and gas stations began offering shopper's plates to regular customers. These metal plates were similar to modern credit cards, measuring 2 ½ x 1 ¼ inches and containing customers' names and billing addresses.
Merchants kept shopper's plates in-store and used them to generate receipts and track the amount each customer owed.
The first airline credit card
The first travel credit card debuted in 1934 when American Airlines introduced the Air Travel Card. The card contained a unique number tied to each customer's account – just like modern-day credit cards.
The Air Travel Card was valid on American Airlines purchases. Eventually, 17 other airlines began accepting it as a payment form for airfare. In place of earning points on flights, cardholders received a 15% discount on airfare purchases charged to the card.
How does that stack up against the modern-day Citi® / AAdvantage® Platinum Select® World Elite Mastercard®? If you charged a $500 fare to the Air Travel Card, you would have earned a $75 discount. Meanwhile, charging $500 in American Airlines airfare to the Citi AAdvantage Platinum Card earns 1,000 miles, which TPG values at $14.
While the Air Travel Card from 1934 was more rewarding on airfare purchases, it didn't offer a sign-up bonus or earn rewards on non-airfare purchases. In that regard, we're much better off today.
The information for the Citi AAdvantage Platinum Select card has been collected independently by The Points Guy. The card details on this page have not been reviewed or provided by the card issuer.
Related: The best airline credit cards
The 1950s: Diners Club introduces the first charge card
The first multi-purpose charge card, the Diners Club Card, was introduced in 1950. Legend has it that it was created by a businessman named Frank McNamara, who forgot his wallet while dining out in NYC and resolved never to face the same embarrassment again. A year later he returned to that same restaurant and paid with the first cardboard Diners Club Card. The story is apocryphal, but McNamara did indeed co-found the first modern charge card. Enrollment required for select benefits.

Initially, the Diners Club card was valid at a few dozen restaurants in New York and had around 200 cardholders. The company made money by charging customers an annual fee of $3 and restaurants a 7% transaction fee. By 1953, the Diners Club Card became internationally accepted in the UK, Canada, Cuba and Mexico.
1958 was a monumental year for Diners Club Card. The company had its first TV ad as a sponsor of the NY Giants. Diners Club then entered the travel market, partnering with travel agencies in major cities who accepted the card for the purchase of airline, steamship (the jet age was just starting!), and cruise tickets.
American Express and Bank of America join the competition
Meanwhile, American Express launched its first charge card in the U.S. and Canada. At first, the card was purple cardboard, but by 1959 it had already become the plastic green card we know today. Enrollment required for select benefits.
That same year, Bank of America in California launched what became the first nationally licensed credit card program, called BankAmericard. The card was valid at a variety of merchants and a leader in introducing the 25-day grace period and installment payments. Following rapid and adoption and growth, the program expanded around the globe and eventually became known as Visa.
Also in the late 1950s, Chase and many other banks started credit card programs but most quickly failed. By 1959, Diner's Club reached a million cardholders and was listed on NYSE.
The 1960s: The growth of the credit card industry
The 1960s was a major decade in the credit card industry.
Following the launch of the BankAmericard in California, almost a million BankAmericards were in circulation by the end of 1960. Just six years later, Bank of America began licensing it as the first general-purpose credit card across the country. By June 1966, 61,000 merchants across 42 states accepted the BankAmericard.
Citi and American Express also launched new cards during this time. First National City Bank (now Citi) began issuing the "Everything Card". Meanwhile, Amex established its first corporate-card program for commercial customers in 1966. First National City Bank would eventually join a new association of banks — Interbank Card Association (ICA) — to launch Mastercard.

The Truth in Lending Act
In response to the influx of credit card accounts, the Truth in Lending Act (TILA) was enacted in 1968. The Federal Reserve Board implemented this set of regulations in the hopes of protecting consumers as they dealt with creditors. Most notably, TILA requires card issuers to disclose certain information before issuing a consumer a credit card, including the APR and fees associated with the card account.
The same year TILA went into effect, the ICA formed partnerships with banks from around the world. In the following decade, the ICA would revamp its brand to MasterCard.
From 1966 until 1970, more than 100 million credit cards were mass-produced and mailed, unsolicited, to customers the banks had deemed creditworthy — a far cry from the sometimes stringent application process of the current credit-card landscape. Not surprisingly, this mass distribution invited a wave of white-collar crime, privacy concerns, and legislative debates.
By 1970, the practice of issuing credit cards unsolicited had been banned. Issuers could only send out application requests — a practice that has continued in full force ever since, as our mailboxes full of application solicitations can attest.
In 1969, IBM developed magnetic-stripe technology, which would play a large role in the evolution of credit card tech as a whole in the 1970s and beyond.
The 1970s: Credit cards evolve
The 1970s were a decade of improved regulation, technological advances, and rebranding of some credit card networks into names that we recognize today. Now, let's consider each of these three advancements in slightly more detail.

Regulation
Until the 1970s, many credit-card issuers would mail unsolicited credit cards to consumers, who were left to destroy or mail back the cards they didn't want. The Unsolicited Credit Card Act of 1970 stopped the unsolicited distribution of credit cards issued by oil companies, retailers, and most other creditors — but common carriers and banks were both exempted due to jurisdiction issues.
The 1970s saw various other credit card regulations including the:
Fair Credit Reporting Act (1970) to ensure accuracy and fairness of credit reporting as well as require consumer reporting agencies to adopt reasonable procedures such as consumer access to their credit reports.
Equal Credit Opportunity Act (1974) to prohibit lending discrimination based on sex or marital status. This act was amended in 1976 to also prohibit lending discrimination based on race, color, religion, national origin, age, the receipt of public assistance income or exercising one's rights under certain consumer protection laws.
Fair Credit Billing Act (1974) to protect consumers from unfair credit billing practices and provide a pathway for consumers to dispute charges from credit-card issuers.
Fair Debt Collection Practices Act (1977) to eliminate abusive debt collection practices by debt collectors and to promote consistent State action to protect consumers against debt collection abuses.
Related: Why a credit card is a smarter choice than a debit card
Technological advances
In 1971, IBM partnered with the banking and airline industries to develop an international standard for magnetic-stripe credit cards. This would soon allow cardholders to use their credit cards worldwide. Likewise, throughout the 1970s various credit-card networks implemented electronic authorization systems which could then facilitate the use of electronic clearing and settlement systems; for example, National BankAmeriCard debuted this technology in 1973.
Rebranding
First, BankAmeriCard rebranded to Visa in 1976; then the Interbank Card Association became Mastercard in 1979. Both credit-card networks rebranded to facilitate international growth and acceptance.
The 1980s: The travel loyalty boom
In the 1980s, the financial services industry boomed, making it a competitive time for credit card issuers as they introduced new products. The '80s also ushered in the era of travel-loyalty programs as we know them today, including frequent flyer, hotel, and car rental rewards programs.
American Express, Visa, and Mastercard all introduced premium credit-card products in the early-to-mid 1980s. Amex already appealed to a more affluent customer base and the 1984 debut of The Platinum Card® from American Express solidified this notion. The card carried a $250 annual fee and offered 24-hour concierge service, travel insurance, and access to private clubs around the world. Adjusted for inflation, the annual fee would be $630 – more than the $550 you'd pay today (see rates and fees).
While most credit cards up to this point were aspirational products aimed at affluent customers, Discover bucked this trend in 1983 by introducing the no-annual-fee Discover Card by Sears, Roebuck, and Co. The card was widely promoted in a 1985 ad during the Superbowl XIX.
The mid-to-late 1980s also saw the launch of affinity and co-branded credit cards. In 1986, Continental Airlines teamed up with Marine Midland Bank (now part of HSBC) on the Continental TravelBank Gold MasterCard, and American partnered on a card with Citi a year later.
Finally, the mid-1980s saw the first credit-card rewards program, with Diners Club Rewards.
The 1980s was a huge decade for card issuers and consumers alike. These new products and loyalty programs set the tone for the ensuing decades and for the current iteration of cards, points, and miles that we know and love today.
The 1990s: Credit cards get high-tech (and high-end)
The 1990s saw two of the biggest changes to the world of credit-card rewards: the programs we use to redeem our miles and the physical card themselves. Amex kicked off the decade by launching "Membership Miles" in 1991, the precursor to today's hugely popular Membership Rewards program.
You can tell how much has changed by looking at the original seven Amex transfer partners, only two of which are still in business: Delta and Southwest. Continental, Northwest, Pan Am, Midway, and MGM Grand Air are all gone. While the program has changed a lot over the years, Amex struck gold with the idea of transferable points. Nowadays nearly every major issuer has followed suit in some form or another.
Combating fraud with EMV technology
As credit cards continued to gain popularity around the world, fraud became a larger concern. EMV chip technology, which stands for "Europay, Mastercard and Visa," debuted in Europe in the mid-90s. This technology, which has since become commonplace on credit cards, creates a unique transaction code for each purchase to help mitigate the risk of fraud. While most cards continue to offer the traditional magnetic stripe on the back, many payment processors insist that you use your card's chip instead of swiping.

The Black Card hits the market
Building on the success of its premium Platinum card and Membership Miles program, Amex recognized an opportunity to further segment the premium credit card market. The company began targeting ultra-wealthy and high-spending businesses and individuals.
The exclusive Amex Centurion Card was launched in the late '90s. According to an urban legend, we may have Jerry Seinfeld to thank for it. We tried to confirm this, but he was likely one of several. The invite-only Centurion card remained highly secretive for years, but TPG founder and CEO Brian Kelly has given us an inside look at how he uses his Business Centurion Card to help support TPG's travels.
The 2000s: The Golden Age of credit cards
The 2000s marked the beginning of the golden age of credit cards. Competition has grown immensely, forcing issuers to step up their game and make credit cards more rewarding than ever. During this time, issuers introduced completely new rewards programs, bonus spending categories, unique card benefits, and all-time-high welcome bonuses.
Rewards programs shifted to be more travel-focused. Many of the biggest card issuers introduced airline and hotel transfer partners. Some even made travel benefits like automatic elite status and complimentary entrance into airport lounges more accessible.
By the early 2000s, American Express Membership Rewards, Chase Ultimate Rewards, and Citi ThankYou Rewards each offered over a dozen airline and hotel partners. And all three issuers offered multiple credit cards ranging from basic to premium. Capital One followed suit shortly after.
Citi made a splash in 2011 by introducing the Citi Premier® Card and the Citi Prestige® Card. But what really shook up the industry was the launch of the Chase Sapphire Reserve in 2016. It debuted with a whopping 100,000-point sign-up bonus (now 60,000 bonus points after you spend $4,000 in the first three months from account opening). It offered 3x Ultimate Rewards points on travel and dining, a flexible $300 annual travel credit and other perks. The response was overwhelmingly positive, to the point that Chase temporarily ran out of the metal used to make the cards.
The information for the Citi Prestige Card has been collected independently by The Points Guy. The card details on this page have not been reviewed or provided by the card issuer.
Technology has also evolved. Nearly all credit cards now have an embedded smart chip for greater security, and many also allow for contactless payments. Google pioneered the idea of digital wallets with the launch of Google Pay.
Summary
Over the past century, credit cards have advanced tremendously. In 2018, 83% of Americans age 30-49 owned a credit card, making it an essential part of personal finance and our economy.
With so many advancements, it will be interesting to see how technology will shape the industry. Pretty soon, we may ditch our beloved plastic cards altogether, as credit card technology will provide improved smartphone integration. While the physical form of cards may look different, the TPG team is optimistic that the future of credit cards will bring in even better rewards and value for its customers.
Reporting by Benet Wilson, Ariana Arghandewal, Summer Hull, Madison Blancaflor, Ethan Steinberg, Benji Stawski, Katie Genter, Stella Shon.
For rates and fees of the Amex Platinum card, click here.
Featured photo of a man with his Diners Club cards in the 1960's by Jochen Blume/Ullstein Bild/Getty Images.
Sign-up Successful!
Welcome to The Points Guy!
The All-New United Quest℠ Card
WELCOME OFFER: Up to 100,000 bonus miles
TPG'S BONUS VALUATION*: $1,040
CARD HIGHLIGHTS: 3X miles on United® purchases
*Bonus value is an estimated value calculated by TPG and not the card issuer. View our latest valuations here.
Apply Now
More Things to Know
Earn 80K bonus miles after you spend $5,000 on purchases in the first 3 months your account is open. Plus, an additional 20K bonus miles after you spend $10,000 in the first 6 months
$250 Annual Fee
Earn 3X miles on United® purchases, 2X miles at restaurants, on select streaming services & all other travel, 1X on all other purchases
Earn 3X miles on United Airlines purchases
Earn 2X miles at restaurants and on select streaming services
Earn 2X miles on all other travel
Earn 1X mile on all other purchases
Each year, receive a $125 credit on United® purchases and two 5k-mile anniversary award flight credits. Terms apply.
Regular APR
16.49% to 23.49% Variable
Balance Transfer Fee
Either $5 or 5% of the amount of each transfer, whichever is greater.
Recommended Credit
Excellent, Good