How a Disney World Annual Pass Can Save Your Family Money
This post contains references to products from one or more of our advertisers. We may receive compensation when you click on links to those products. Terms apply to the offers listed on this page. For an explanation of our Advertising Policy, visit this page.
Update: Some offers mentioned below are no longer available. View the current offers here.
Early in the Disney World planning process, families sort through which type of tickets to buy. There's one day, multiday, multi-park, peak and off-peak, discounted-four-park tickets, etc. You can buy directly with Disney, potentially save some money going through sites like Undercover Tourist, use your points or even buy discounted Disney gift cards to reduce the total cost of tickets.
These big ticket decisions are all an essential part of a family's Disney World strategy, but there might be a better route than any of these options. Instead of pricing Disney tickets just for one trip at a time, consider an annual pass — even if you don't plan on visiting Disney World all that often. The math may not favor a whole family having a Disney World annual pass, but maybe one person gets it in order to cash in on some annual pass discounts that can be used for the whole family.
---
FOR NO COST ASSISTANCE WITH PLANNING AND BOOKING YOUR NEXT DISNEY VACATION, CHECK OUT TPG'S DISNEY BOOKING PARTNER, MOUSE COUNSELORS.
---

Disney World Annual Pass Types
Let's start with the Disney World annual pass basics. If you live in Florida or are a Disney Vacation Club owner, you can get a pretty solid deal on an annual pass. For everyone else, the prices aren't for the faint of heart (but don't pass out on us yet). Before we dive into prices, know that unlike park tickets that are slightly cheaper for kids 9 and under, Disney World annual pass prices are the same for children or adults (those under 3 are free). Note that these numbers are for Disney World, but you could do the same exercise for Disneyland.
Disney Platinum Pass: $894
Admission for a year to all four Disney World theme parks (no blackout dates)
Park hopping permitted
Includes Disney PhotoPass downloads
Up to 20% off on select dining
Up to 20% off select merchandise in-store or online at Shop Disney Parks
Free standard theme park parking
Disney Platinum Plus Pass: $994
Admission for a year to all four Disney World theme parks, two Disney waterparks, ESPN Wide World of Sports Complex and Disney's Oak Trail Golf Course (no blackout dates)
Park hopping permitted
Includes Disney PhotoPass downloads
Up to 20% off on select dining
Up to 20% off select merchandise in-store or online at Shop Disney Parks
Free standard theme park parking
The primary difference in these two passes is access to the waterparks, ESPN Wide World of Sports and Disney's golf course. The waterparks are the most common reason people would consider the Platinum pass. For perspective, a single day at a Disney World waterpark will set you back $65 per adult, $59 per child. If you've never been, know that Disney World does a pretty darn good job with its waterparks. The math on whether it makes sense to jump to the Platinum Plus Pass is pretty straightforward based on whether you will ever use the waterparks or not.
Disney Premier Passport
If you're feeling really adventurous and have some extra cash to spend, you can spring for a Disney Premier annual pass that gives you access to both Disneyland and Disney World for the same year. Due to recent price increases, that'll set you back more than $2,000 once you figure in taxes. That one is a bit out of our price range, but if you're feeling daring and want to hit up Star Wars Land at both parks in 2019, it is an option.

Is a Disney World Annual Pass Worth It?
Before buying a Disney World annual pass, think about the regular ticket type you'd need to buy for your trip. Disney World has a variety of ticket options. For example, Disney World brought back a ticket option that allows you to visit all four Disney World parks, though only one day per park. The Park Hopper, on the other hand, is one of the most popular ticket options because it allows you to visit multiple parks in one day. Exact math can be hard with Disney World's recent move to a date-based system for pricing tickets.
For comparison purposes, let's say you are looking at a five-day vacation during a typical spring break week. The cost for an adult for a five-day Park Hopper from Disney during a spring break week is $541.15. Dropping to a four-day Park Hopper on the same date range would only drop your out-of-pocket total to $520.02. If you were trying to save money and went without the Park Hopper option, you'd be able to snag a five-day ticket for around $450.
Your number will vary, but we think it's fair to say that the average family is going to spend close to $500 per ticket for their multiple day Disney World vacation. That means you need to find another $400 to $500 in savings per person to make an annual pass the right decision for at least one person in the group, which might be easier than you think.

Free Parking at Disney World Theme Parks
Disney World annual pass holders get free parking at Disney World theme parks (though sadly not at Disney Resorts). If you're staying off-site and rent a car (which is a good choice for many of the best points hotels near Disney World), theme park parking will normally set you back $25 a day. Four days of free parking will net $100 in savings.
If you upgrade to closer-in preferred parking, you will just pay the difference between standard and preferred parking, currently $25 per day.
Dining Discounts
Disney World has an exhaustive list of restaurants where you can earn up to a 20% discount on dining with your annual pass. In reality, many of the restaurants on the list offer a 10% discount. This discount is good for the pass holder and up to three guests. Be Our Guest, Cinderella's Royal Table and Chef Mickey's are a few of our favorite Disney restaurants. Dinner for a family at these spots can easily approach or exceed $200. If only one family member grabbed an annual pass, you could save $20 to $30 on a meal you already planned on enjoying. You'll also find the annual pass discount good at other places not on the list from time to time, though not usually at the food carts located throughout the park.

Shopping Discounts
The list of stores at Disney World that offer up to a 20% discount is much longer than the list of restaurants. Bonus points here for the fact that almost all the stores offer a 20% discount. Again, carts and kiosks throughout the park will be a bit less reliable, but the main shops that line places like Main Street USA are a virtual lock for discounts on most merchandise. Use the Shop Disney Parks app to locate where that special Mickey Mouse stuffed animal can be found and snag 20% off.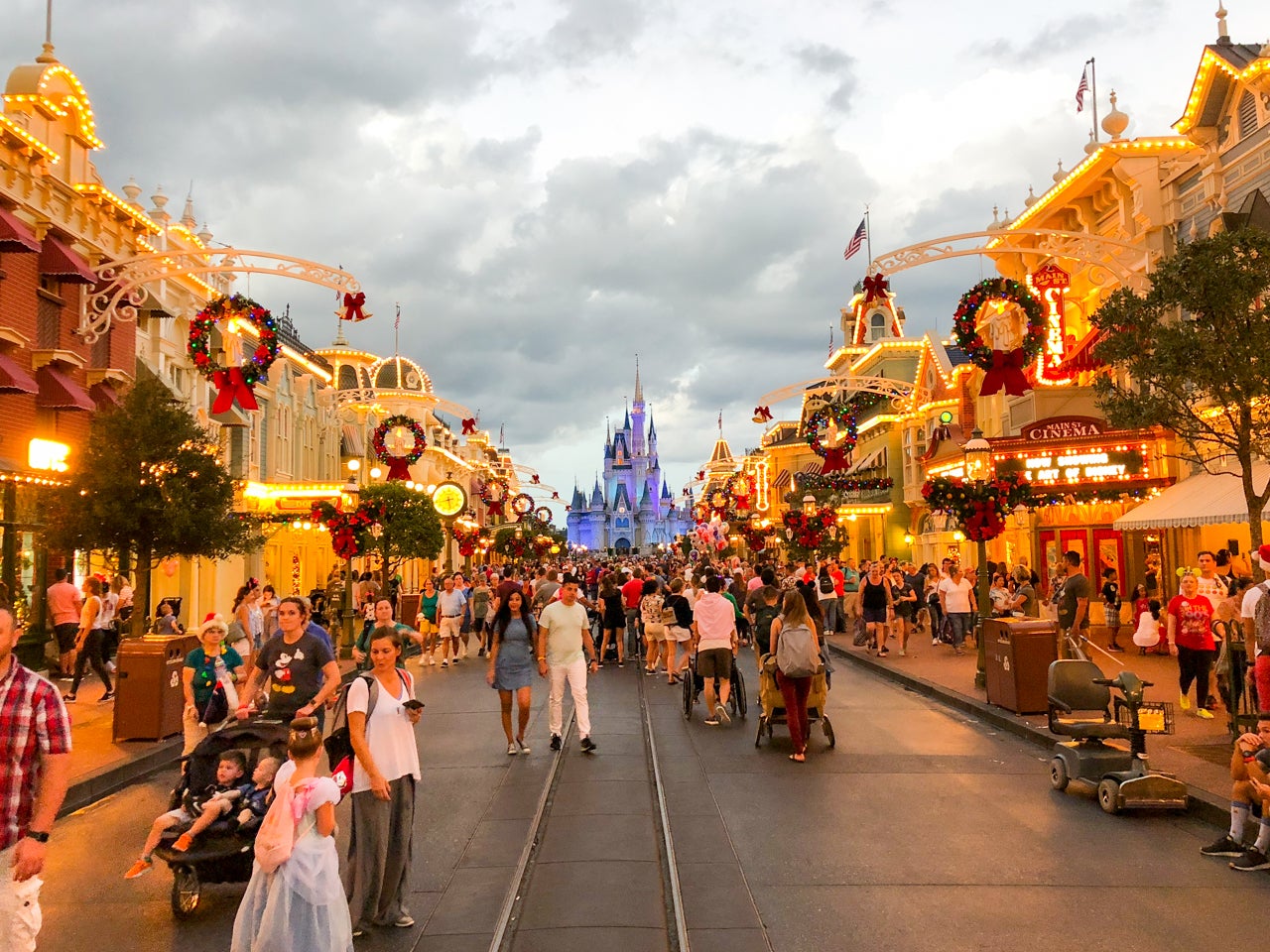 Picture Perfect Moment
The photographers at Disney World are great at grabbing that perfect family memory sans selfie arm. You'll find a few special tricks up their sleeves, like being able to make Tinkerbell appear next to your daughter's outstretched hands.

The use of technology also means you'll be able to take your Magic Band to many kiosks throughout the park to view those pictures and decide whether you want to purchase them. Disney World sells a package called Memory Maker that allows you to download all your pictures when you get home and have them printed wherever you like. If you buy it at least three days ahead of time, it'll cost you $169 for your Disney World vacation. Buying at the last-minute will set you back $199.
However — your annual pass entitles you to all of those downloads for free, and you get a discount on printing in the parks. I'm not sure picture downloads are worth $169 to our family, but they do add value to our experience. If you were going to purchase Memory Maker then that is worth at least $169 in savings if even just one person in the group has the pass.

Hotel Discounts
Disney World frequently offers hotel discounts to annual pass holders. We've saved more than $100 per night on recent Disney Resort stays. Once you have an annual pass, you can login on the Disney World website to see discounted room options. They'll appear in a separate column alongside other rate choices.


We have seen even more extreme examples of hotel savings for pass holders, but we've also seen some times when the savings haven't been very impressive so your savings will vary with this one.

Special Event Tickets
Disney World has a number of special events, including Mickey's Not So Scary Halloween Party and Mickey's Very Merry Christmas Party. They've also started adding Early Morning Magic and After Hours packages to some parks that must be purchased separately from regular park tickets. Annual pass holders generally receive discounts on all of these types of special events. Our family just purchased four tickets for Disney After Hours at Hollywood Studios and saved $30 per ticket off the advance ticket purchase price thanks to having an annual pass.

V.I.Passholder Events
Aside from the discounts pass holders receive on special-ticket events, Disney World also occasionally hosts extra-hours events similar to Disney After Hours, except only open for season pass holders and, most importantly, these events are free. When TPG contributor Ross Binkley recently attended a V.I.Passholder night at Magic Kingdom, the majority of rides had no waits at all. Only Seven Dwarfs Mine Train, Big Thunder Mountain, and Peter Pan's Flight had measurable waits and those ranged from around 20 minutes for Big Thunder Mountain to around 40 for Seven Dwarfs Mine Train. Unlike some extra-hours events where only a select few attractions are open, nearly all rides and shows across the park were operating throughout the night.
Admission to the V.I.Passholder events typically requires prior registration and the events usually fill up within hours of the registration opening, so make sure to register quickly if you get an email about one of these events.
Everything Else
Disney World has a whole slew of discounts for annual pass holders that ranges from discounted movie tickets, a price break on VIP tours, spa treatments, boat rentals, bonus gifts and even on Aulani stays in Hawaii certain times of the year — it's a long list. These are divided up into "Events and Entertainment" and "Sports, Recreation & Spa" on the annual pass discount page.

Doubling Up
Of course, the easiest way to save money using a Disney World annual pass is to plan more than one trip to Disney World in a year. Frequent visits to Disney World might be out of the budget for some families, but you can get creative with the calendar. Even if you purchase an annual pass well in advance of an upcoming trip, your 12 months of free park access don't start until the first day you walk through the turnstiles.
One of the best ways to double up the savings for families living a school calendar life is to plan a summer trip two years in a row, where you hit the parks in August of year one and then in July about 11 months later. Your ticket cost for that second trip weighs in at an easy $0. Add in a quick trip during the winter and you've squeezed out even more value from your pass. (Perhaps your Disney annual pass your should also be your Southwest Companion Pass year. )

Admittedly, the souvenirs and Dole Whip will still make money disappear out of your pocket — even with the annual pass.

Lest you think Disney annual passes are only for die-hard Disney families, remember that your family could visit Disney World a few times in 12 months with the annual pass to get it out of your systems and then take a year or two off. Having an annual pass for one year doesn't mean you have to do it again, though there may be renewal discount incentives … Mickey is a sly mouse.
To recap the relatively conservative math for an example four-night Disney trip, here's some savings/costs avoided if one person in the family has an annual pass.
$450 four-day ticket (could easily be more expensive with Park Hopper)
$200 Disney Resort savings over four nights with pass holder discount (sub in parking savings if staying off-site)
$169 Memory Maker cost avoided
$75 savings on dining ($30 alone for a family of four at Cinderella's Royal Table)
$25 saved on in-park purchases
$40 saved on special event tickets, after-hours access or VIP tours
While your numbers will vary from those examples, that comes to $959 and the Disney World annual pass without the waterpark access sells for $894. You've basically covered your costs with one four- to five-day family trip to Disney World, and potentially saved money depending on your spending patterns. A second (and third, etc.) Disney World trip in the same 12 months would result in additional value to having the pass.
Bottom Line
Planning a Disney World vacation can be a daunting proposition, especially when you start adding up all the expenses. You'll pull your wallet (or flash your Magic Band) plenty during your visit. If you add up all of the charges and potential discounts, you may find that buying an annual pass (at least for one person) can be a much better deal than just buying individual park tickets.
With all of the new attractions at Disney World, don't be surprised if ticket prices go up again at some point later this year. Annual pass prices may increase as well, but we anticipate the savings proposition to remain pretty similar to today even if prices creep upward.
Finally, if you do buy a Disney World annual pass, know that it is most likely going to code as entertainment, not travel. So, pay with a card that awards a bonus on entertainment such as the 2 points per dollar on the Citi Premier® Card or 4% back on the Capital One Savor Cash Rewards Credit Card. Or better yet, purchase it with discounted Disney gift cards to ramp up the savings.
The information for the Capital One Savor Cash Rewards Credit Card has been collected independently by The Points Guy. The card details on this page have not been reviewed or provided by the card issuer.
Want to read more about Disney parks around the world? Check out our other Disney guides…
This App Could Help Shorten Lines at Disneyland
Featured image by Matt Stroshane / Walt Disney World
For more TPG news delivered each morning to your inbox, sign up for our daily newsletter here: https://thepointsguy.com/mailing-list//
Sign-up Successful!
Welcome to The Points Guy!
Delta SkyMiles® Platinum American Express Card
Earn 90,000 bonus miles after you spend $3,000 in purchases on your new Card in your first 3 months. Offer ends 8/3/2022.
With Status Boost™, earn 10,000 Medallion Qualification Miles (MQMs) after you spend $25,000 in purchases on your Card in a calendar year, up to two times per year getting you closer to Medallion Status. Earn 3X Miles on Delta purchases and purchases made directly with hotels, 2X Miles at restaurants and at U.S. supermarkets and earn 1X Mile on all other eligible purchases. Terms Apply.
Apply Now
More Things to Know
Limited Time Offer: Earn 90,000 bonus miles after you spend $3,000 in purchases on your new Card in your first 3 months. Offer ends 8/3/2022.
Earn up to 20,000 Medallion® Qualification Miles (MQMs) with Status Boost® per year. After you spend $25,000 in purchases on your Card in a calendar year, you can earn 10,000 MQMs up to two times per year, getting you closer to Medallion® Status. MQMs are used to determine Medallion® Status and are different than miles you earn toward flights.
Earn 3X Miles on Delta purchases and purchases made directly with hotels.
Earn 2X Miles at restaurants worldwide including takeout and delivery in the U.S., and at U.S. supermarkets.
Earn 1X Miles on all other eligible purchases.
Receive a Domestic Main Cabin round-trip companion certificate each year upon renewal of your Card. Payment of the government imposed taxes and fees of no more than $80 for roundtrip domestic flights (for itineraries with up to four flight segments) is required. Baggage charges and other restrictions apply. See terms and conditions for details.
Enjoy your first checked bag free on Delta flights.
Fee Credit for Global Entry or TSA PreCheck® after you apply through any Authorized Enrollment Provider. If approved for Global Entry, at no additional charge, you will receive access to TSA PreCheck.
Enjoy an exclusive rate of $39 per person per visit to enter the Delta Sky Club® for you and up to two guests when traveling on a Delta flight.
No Foreign Transaction Fees.
$250 Annual Fee.
Terms Apply.
Regular APR
17.24%-26.24% Variable
Recommended Credit
Excellent/Good