Tips for visiting Disney World at Christmas: Disney Very Merriest After Hours and beyond
This post contains references to products from one or more of our advertisers. We may receive compensation when you click on links to those products. Terms apply to the offers listed on this page. For an explanation of our Advertising Policy, visit this page.
What happens when you visit the "Most Magical Place on Earth" during the "Most Wonderful Time of the Year"? Holiday enchantment, of course.
During the Christmas season, Disney World goes all-in with around 29 large custom trees (up to 70 feet tall), 596 smaller trees, hundreds of wreaths and more. In fact, there's so much Christmas and holiday decor that there are teams and warehouses that run around the year devoted just to holiday decorating.
Disney World is a world-class family destination 365 days a year, but it gets extra special at the holidays — especially for the 27 nights out of the year when the Magic Kingdom hosts an after-hours event called "Disney Very Merriest After Hours."

I haven't been able to resist diving into the holiday season headfirst with several quick Christmas at Disney World visits that included tickets to the nighttime Christmas party and a stay at a Disney resort.
If you also need a little Disney Christmas, right this very minute, here are tips for visiting Disney World during all of the winter holiday fun.
Related: How to use points for Disney tickets
Maximizing the Disney Very Merriest After Hours party
You don't need to go to the after-hours holiday party at the Magic Kingdom to enjoy the holidays at Disney, but it is worth considering. Until the pandemic, this was known as Mickey's Christmas Party. This year it has evolved into Disney Very Merriest After Hours with later starting and ending times – which comes with pros and cons. This party runs on select nights from Nov. 8 to Dec. 21 from 9 p.m.-1 a.m.
Just having regular park admission tickets to the Magic Kingdom won't get you into the special evening party, as you have to leave the park before the party begins if you don't have a ticket to the shindig. So on that note, make your party night a day when you chill at the resort or explore Disney Springs before heading to the Magic Kingdom – you'll need your rest for the evening's activities. Tickets to the after-hours Christmas Party get you into the Magic Kingdom beginning at 7 p.m. The party officially starts at 9 p.m, giving you a few hours to enjoy rides without missing any of the themed party fun.

Disney Very Merriest After Hours includes treats (snickerdoodle cookies, hot chocolate, popcorn, Mickey ice cream bars, etc.) passed out at designated spots around the Magic Kingdom. There are also special stage shows four times a night, 11:15 p.m. fireworks, two rounds of the Once Upon a Christmastime Parade, Club TInsel dance parties and more — essentially it is the holidays on Mickey steroids.

Buy tickets in advance
Several of the Christmas party dates sell out every year, so don't drag your feet if you know you want to go.
In fact, for this year, most of the November parties and some of the December parties are already sold out. As you are looking at the calendar, now is a good time to warn you that Christmas at Disney World is very, very popular. If you have the ability to avoid weekends and peak holiday weeks, do it.
In fact, the week of Christmas and New Year's is the one week of the year we hope to never visit Disney World.
Also, know that Disney Very Merriest After Hours tickets are expensive – very expensive. Prices price range from $189 to $249 per person. If that seems like an increase, it is. In fact, this is almost double what Mickey's Christmas Party tickets cost before the pandemic. You can make an educated guess as to which party nights are the most popular by checking the prices online. Pricier generally means busier, so go on a weekday night early in the season to enjoy slightly smaller crowds and lower prices.
Related: Best credit cards for theme parks

Use points to score tickets to Disney World or pay with a credit card that awards a bonus on entertainment purchases such as 4% cash back on the Capital One Savor Cash Rewards credit card.
If you purchase your party tickets from Undercover Tourist, they should code as a travel expense, earning you 3 points per dollar on a Chase Sapphire Reserve. Alternatively, you can purchase discounted Disney gift cards and pay with those directly from Disney.
The information for the Capital One Savor Cash Rewards Credit Card has been collected independently by The Points Guy. The card details on this page have not been reviewed or provided by the card issuer.
Christmas treats included
During Disney Very Merriest After Hours, they hand out several different included treats at various points in the Magic Kingdom, including cookies, hot chocolate, popcorn, sodas, water and a couple of different ice cream bars. It's not a full meal, but I do recommend leaving plenty of room for those treats – and many a bottled drink for the road.
It's about the shows, not rides, but …
The parades, castle show and treats at the Disney Very Merriest After Hours are the highlights. You can dance at Club Tinsel, sample all the food, check out the holiday decorations without lots of crowds and let some of the rides wait for another day.
That said, there are a few rides you may not want to miss. For one, don't miss Jingle Cruise, one of the few rides to transform into a holiday-themed experience.

Additionally, you can make Genie+ reservations until the official park closing time, if you wish. My strategy has been to do as many rides as you want before the party really starts and then shift your attention to the unique elements of the evening. That said, if there are a few rides you want to hop on, waits range from essentially nothing on many rides to 10-20 minutes for the more popular ones, so you can certainly get a few rides in if you want to use your time that way.

Go to the first parade if you aren't sure you can stay up until 1 a.m.
The old strategy was to go to the late parade during the Christmas party, but that was when the event started and ended earlier in the day. Now I'd say go to the first parade at 9:45 p.m., as the 12:05 a.m. version can feel awfully late for kids and parents who don't usually make it past 10 p.m.

Don't miss the fireworks show
The Minnie's Wonderful Christmastime Fireworks display for Disney Very Merriest After Hours is incredible. In fact, it's one of my favorite fireworks shows I've ever seen. Even if you aren't going to stay awake for the whole party, don't leave before this show at 11:15 p.m. I'd say if you can't stay up that late to enjoy the holiday-themed display, I'd skip the party this year, as this was one of the biggest highlights of the night.

Because the crowd level at the after-hours party was so manageable, even on the sold-out night I attended, we were able to easily get a spot right in front of the castle just a few minutes before the show began. The show is virtually guaranteed to put you in a festive mood with holiday music, projections, fireworks and the best darn display that money can buy.
Disney Very Merriest After Hours worth it?
At around $200 per ticket (or more on some dates), the after-hours party can easily cost $800+ for a family of four. Is that really worth it for some treats, parades and fireworks? Your budget will be the largest driver of this answer, but if you are already dealing in Disney pricing for your trip, it is worth it in some cases.
First, you have to be able to stay up late or it certainly isn't worth it. If your group can't be in the park from at least 7 p.m.-11:30 p.m. at the earliest then skip it.

Second, it's more worth it if it can serve as your theme park ticket for the day. For example, a single-day ticket to the parks is generally $130-$150 per day, depending on dates, so if you are paying for this ticket instead of that then you're "only" adding on $70 or so to your daily total – and that difference can be worth it if you are into all things holiday and fine with a late night.
Finally, you have to want to see the parades and fireworks and do the special party things. If all you want are rides, then definitely skip this pricier ticket. While it's true the crowds are smaller and you can enjoy shorter lines for the rides, there are better ways to avoid lines at Disney if you are on a budget than ponying up for this ticket.
All that said, I 100% loved this party and was so happy to be soaking in all the aspects of the celebration. In fact, I didn't do a single ride that night and don't regret that decision one bit.
Where to see Christmas decorations at disney World
When the final Mickey's Halloween Party ends on Nov. 1, Disney transforms the Magic Kingdom virtually overnight into a holiday wonderland. It takes a little longer for the decorations to make their way around the entire Disney World property, but by mid-November, there's usually holiday decor at every turn.
Some Disney World Christmas decor highlights include Main Street USA, which is absolutely not to be missed. The Magic Kingdom alone has 590 garlands (measuring a total of 5,188 feet), 40 Christmas trees and 147 wreaths.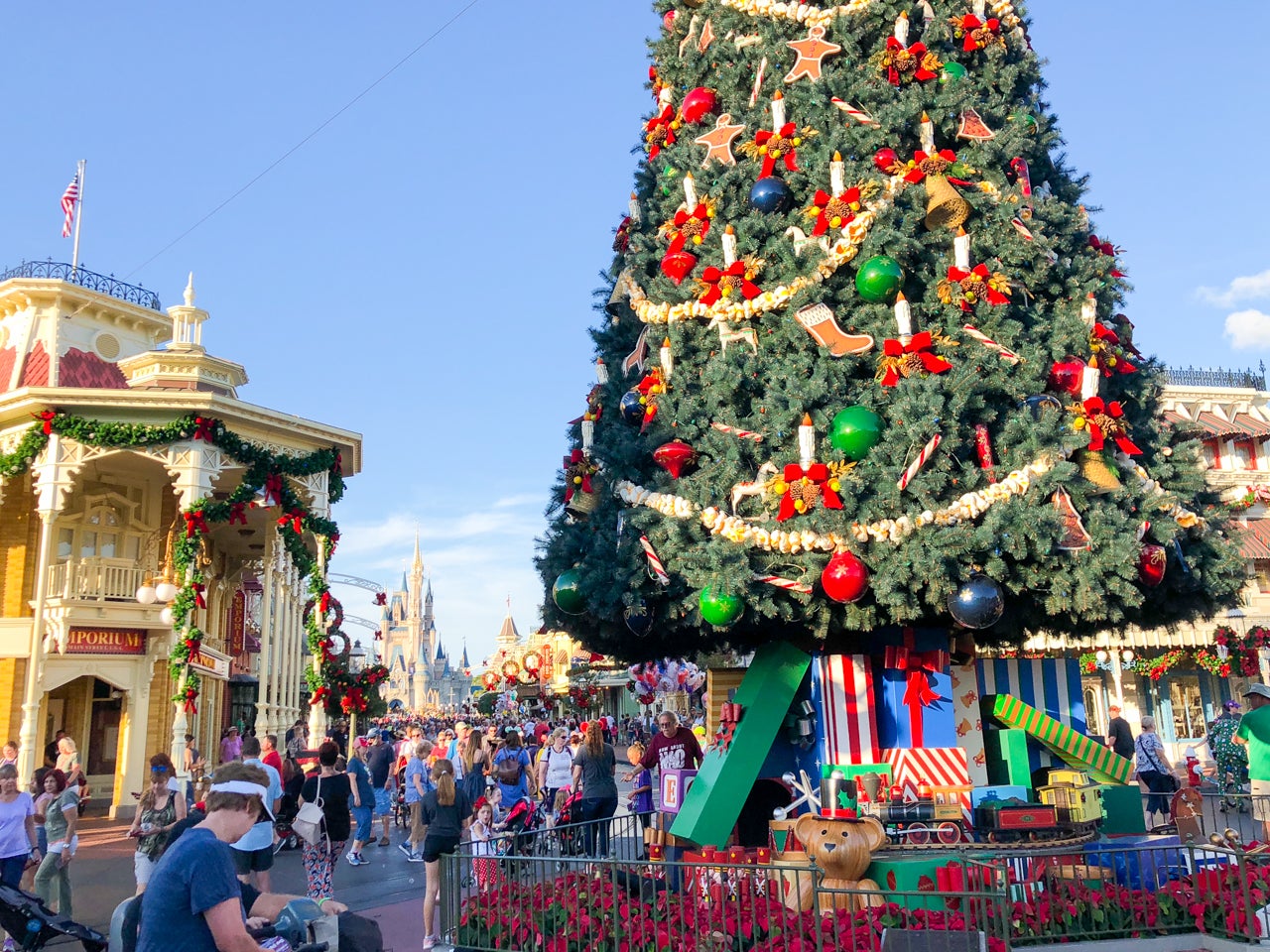 Other holiday must-visits are the life-size gingerbread house at the Grand Floridian, the massive Christmas trees in the lobby of the Wilderness Lodge (take the boat from Magic Kingdom) and Animal Kingdom Lodge and the Christmas tree and decorations in and around Echo Lake at Disney's Hollywood Studios.

When you make a stop at the Grand Floridian to see those impressive decorations, you can even buy some gingerbread of your own to munch on as you take it all in — just be ready for a wait to check out, as it's quite the popular spot.


You can also head to Disney Springs to enjoy the Christmas Tree Stroll with 17 different themed trees.
The thermometer may often say 85 degrees in Central Florida during the holiday months, but it still snows during the holidays thanks to Disney magic. While celebrating Christmas at Disney World, make time to play in the snow on Main Street USA and Sunset Boulevard in Hollywood Studios. Sunset Seasons Greetings is pretty spectacular, as the Tower of Terror has been transformed with festive themed lights and projections.
If you are in Disney Springs, you may also catch a flurry in the Town Center.

For extra fun in the snow, check out the Frozen Sing-Along at Hollywood Studios where it even snows indoors — my girls loved that snow the best.
Enjoy a holiday-themed meal
A good way to enjoy Christmas at Disney World without too long of a line is to make a dining reservation at a restaurant that goes all out for the holidays. That way you get to sit down to eat while the characters come to you. One possibility is Minnie's Seasonal Dining at Hollywood & Vine in Hollywood Studios.
This meal normally isn't considered one of the best restaurants at Disney World, but with the Fab Five characters all dressed in holiday attire, it's a fun and festive choice.

In years past, we did this meal and enjoyed crab legs, peel-and-eat shrimp, shrimp macaroni and cheese and more from the buffet, along with the characters in their holiday best. These days they don't come up and hug you but they will stroll around for socially distanced photos.

Meet Santa at Disney
Given how many boys and girls visit Disney each holiday season, it makes sense that Santa stops in from time to time. However, lots of boys and girls want to meet Santa at Disney, so to avoid the three-to-four-hour waits of years gone by, Disney has a new system.
Santa is now available via a virtual queue with openings available at both 9:00 a.m. and 4:00 p.m. for those at Disney Springs to come and pose for a photo and turn in a wish list. Because this is an indoor interaction, masks will be required this year.

Santa can also sometimes be seen in the parks and will attend a special breakfast at both the T-Rex (Dec. 11) and Rainforest Cafe (Dec. 18) at Disney Springs.
Related: Most rewarding credit cards for dining
Epcot Candlelight Processional
From Nov. 26 to Dec. 30, a celebrity narrator leads the telling of the Christmas Nativity story, and a live orchestra and choir make the holidays come alive within the America Gardens Theatre in Epcot.

You can guarantee seating by booking a Candlelight Processional Dining Package for lunch or dinner. Based on our experiences, you want to do this to guarantee a seat unless you are OK with lines and gambling with availability. Prices for the dining and seat packages range from $62 to $74 per adult and $25 to $46 for children, depending on the meal and restaurant.
You'll find some of our favorite restaurants at Disney World on the list, such as Garden Grill and Rose & Crown Dining Room. Although it isn't my all-time favorite food, the Biergarten Restaurant in Germany can also be an entertaining spot for a holiday meal.

The 2021 Epcot processional narrators are:
Auli'I Cravalho: Nov. 26 to Nov. 28
Chita Rivera: Nov. 29 to Dec. 1
Jodi Benson: Dec.2 to Dec. 4
Alton Fitzgerald White: Dec. 5 to Dec. 7
Bart Millard: Dec. 8 to Dec. 10
Lisa Ling: Dec. 11 to Dec. 13
Andy Garcia: Dec. 14 to Dec. 16
Ana Gasteyer: Dec. 17 to Dec.19
Courtney B. Vance: Dec. 20 to Dec. 22
Steven Curtis Chapman: Dec. 23 to Dec. 25
Blair Underwood: Dec. 26 to Dec. 28
Pat Sajak: Dec. 29 to Dec. 30
Keep in mind that the processional itself is free to Epcot guests. Buying a dining package simply guarantees a seat. You also need a theme park ticket and Epcot park pass reservation (or park hop) for this one. While it is a lovely evening, know that this is something that may not thrill some younger children.
When to visit Disney at Christmas
The bad news mixed in with all this magic is that it gets painfully busy at Disney during portions of the holidays. Think five-hour waits for rides in pre-pandemic times and parks hitting max capacity.
Common sense will tell you when the parks are busiest during the holidays – over school breaks and on weekends. If you're planning for the future, know that less busy times include the week before Thanksgiving and midweek during the first two weeks of December.
December is the most festive time, with the Epcot candlelight processional up and running in late November. You don't have to wait that long, however, as most of the Christmas decorations around the parks and resorts are up and the after-hours Christmas Party is in full swing by mid-November.

Bottom line
If you like Christmas, the winter holidays and all things Mickey Mouse, you'll likely love Christmas at Disney World.
With the exception of 2020, we've gone during the holiday season every year for the last several years, so I can attest that spending a few days late in the year at Disney World can really jumpstart the holiday cheer. There's too much to see and do to take in all in on one visit, which is fine because there's always next Christmas.
Featured image by author.
Sign-up Successful!
Welcome to The Points Guy!
Delta SkyMiles® Platinum American Express Card
Earn 90,000 bonus miles after you spend $3,000 in purchases on your new Card in your first 3 months. Offer ends 8/3/2022.
With Status Boost™, earn 10,000 Medallion Qualification Miles (MQMs) after you spend $25,000 in purchases on your Card in a calendar year, up to two times per year getting you closer to Medallion Status. Earn 3X Miles on Delta purchases and purchases made directly with hotels, 2X Miles at restaurants and at U.S. supermarkets and earn 1X Mile on all other eligible purchases. Terms Apply.
Apply Now
More Things to Know
Limited Time Offer: Earn 90,000 bonus miles after you spend $3,000 in purchases on your new Card in your first 3 months. Offer ends 8/3/2022.
Earn up to 20,000 Medallion® Qualification Miles (MQMs) with Status Boost® per year. After you spend $25,000 in purchases on your Card in a calendar year, you can earn 10,000 MQMs up to two times per year, getting you closer to Medallion® Status. MQMs are used to determine Medallion® Status and are different than miles you earn toward flights.
Earn 3X Miles on Delta purchases and purchases made directly with hotels.
Earn 2X Miles at restaurants worldwide including takeout and delivery in the U.S., and at U.S. supermarkets.
Earn 1X Miles on all other eligible purchases.
Receive a Domestic Main Cabin round-trip companion certificate each year upon renewal of your Card. Payment of the government imposed taxes and fees of no more than $80 for roundtrip domestic flights (for itineraries with up to four flight segments) is required. Baggage charges and other restrictions apply. See terms and conditions for details.
Enjoy your first checked bag free on Delta flights.
Fee Credit for Global Entry or TSA PreCheck® after you apply through any Authorized Enrollment Provider. If approved for Global Entry, at no additional charge, you will receive access to TSA PreCheck.
Enjoy an exclusive rate of $39 per person per visit to enter the Delta Sky Club® for you and up to two guests when traveling on a Delta flight.
No Foreign Transaction Fees.
$250 Annual Fee.
Terms Apply.
Regular APR
17.24%-26.24% Variable
Recommended Credit
Excellent/Good