A 16-hour red-eye: Reviewing United Polaris on the Boeing 787-9 Dreamliner
This post contains references to products from one or more of our advertisers. We may receive compensation when you click on links to those products. Terms apply to the offers listed on this page. For an explanation of our Advertising Policy, visit this page.
Before the pandemic, South African Airways offered daily service from New York-JFK to Johannesburg, making it easy to fly nonstop between the U.S. and South Africa.
Now, the airline is bankrupt, and United Airlines is picking up the slack — including a new daily nonstop flight between Newark (EWR) and Johannesburg (JNB), along with new service between Washington (IAD) and Accra, Ghana (ACC), another former South African Airways route.
Both flights offer travelers a better experience throughout the plane, but you'll definitely want to lock in a business-class seat if you can, where flyers are guaranteed to travel in Polaris, United's latest business cabin.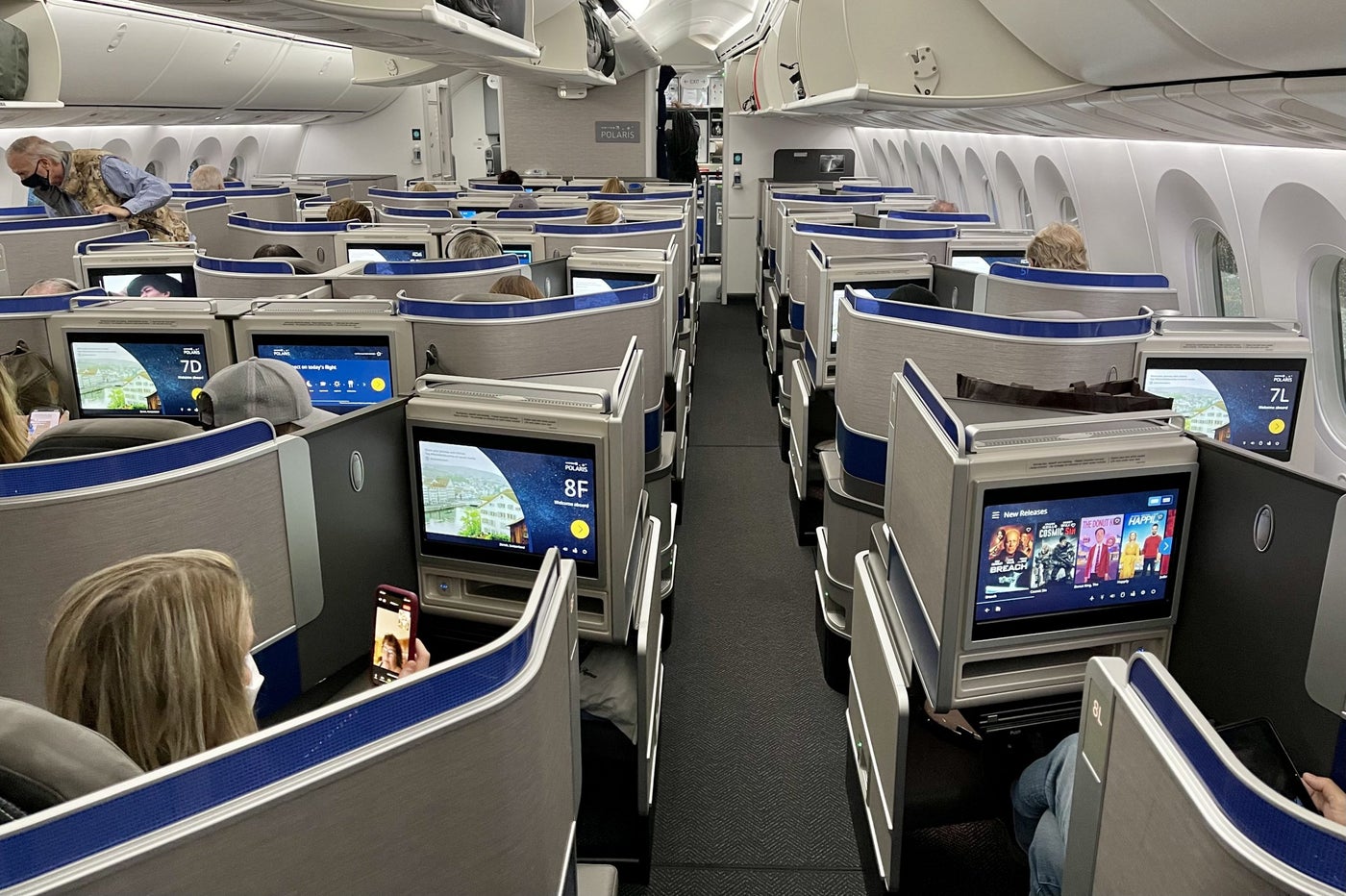 Business-class travelers fly the 15-16 hours to and from Johannesburg in one of 48 private, spacious seats, with a 1-2-1 configuration spread between two cabins. That's the product I'll review today.
Note that while we have resumed adding scores to certain flight reviews, you won't find one here, since United is still operating long-haul flights with modified service — Polaris lounges remain closed and dining has been scaled back, even on the airline's longest flights. We'll revisit the experience, including a new scored review, once the complete business-class experience returns.
Booking
I booked my trip as soon as United announced the latest launch date for its Johannesburg service, so I could lock in a seat on the inaugural flight, which I covered in great detail here.
I paid $1,856 for the outbound flight in business class and the return in economy, confirming an upgrade to Polaris using 40 PlusPoints I earned as a Premier 1K.

I could have booked an upgradeable economy itinerary for around $1,150 round-trip, but I was expecting my outbound flight to go out full, so I spent about $700 more to confirm business class on that leg — netting 1,192 Premier Qualifying Points and 13,112 redeemable miles in the process.

Since the fare for my economy return flight was considerably less expensive, I took home fewer than half the number of PQPs and redeemable miles.

In total, I earned 19,316 redeemable miles, worth just over $250, according to TPG's valuations. I also earned 5x points by paying with The Platinum Card® from American Express — those 9,280 Membership Rewards points are worth just over $185. (You can earn 5x points on airfare when booking directly with the airline or via Amex Travel on up to $500,000 on these purchases per calendar year.)
Saver availability has been a bit hit-and-miss recently, but you could previously book business-class awards for 70,000 MileagePlus miles each way. For the time being, awards seem to be pricing just above 155,000 miles each way, but I'm hopeful United will open up saver space in the future.
Similarly, confirmed upgrade space had once been plentiful, but now it's especially difficult to come by. In fact, I ended up misconnecting and had to move my return flight to the next day — my upgrade was waitlisted until shortly before departure, even though there were roughly 20 unsold business seats.
Ground experience
Johannesburg's OR Tambo International Airport was fairly empty when I arrived around 5:30 p.m., 2 1/2 hours ahead of our scheduled departure. Currently, all travelers must sanitize their hands and undergo a quick temperature screening as they enter the terminal.

I found the United check-in counter quickly, and it was almost completely empty. An agent waived me up after a minute or two.
In addition to my passport, the agent asked for the results of a negative COVID-19 test, as required for all U.S.-bound flights. Although my test had previously been accepted by United's "Travel-Ready Center," you might need to show it at the airport as well.

I had brought along Abbott's BinaxNOW COVID-19 Home Test, but I ended up getting a PCR test at my hotel, since there was some last-minute confusion about the South African government's requirements for departing flights — ultimately, I was able to confirm that rapid tests are allowed.
Rapid antigen testing is available at the airport as well, priced at 350 rand (about $25) for 15-minute results.

Since I had previously submitted my certificate and received an electronic boarding pass through United's app, I probably could have skipped the check-in counter entirely on this trip and walked straight into the terminal, saving a few minutes.

Most of the stores and restaurants were closed, but there were still a few options, including a duty-free store and a souvenir shop called Out of Africa.

I ended up doing all of my souvenir shopping at the duty-free store. South Africa produces some absolutely phenomenal wine, and I was able to find a few great bottles for less than $15. I'd definitely make sure you have some time to drop in before your flight.

While United partner South African Airways operates a lounge of its own, which Star Alliance Gold flyers are eligible to enter, Polaris customers get access to the superior Slow Lounge, located on the second level of the international terminal.

All passengers were asked to undergo a temperature check and complete a COVID-19 form before entering. With that complete, I was able to come and go from the lounge as I pleased.

Most of the guests seemed to be clustered in the main room just past the front desk, while two of the side rooms were completely empty.

There were also two private phone rooms — I was tempted to grab one initially, until I noticed that the large bar area was completely open.

Guests could choose between bar seating, tables and groupings of chairs. Alternating chairs and stools were blocked to enforce distancing.

There was also a "VIP room" at the back of the bar area. I asked to take a look, but the staff wasn't clear on who could enter, and didn't have access to the door.

You don't need to be a VIP to take advantage of the top-notch amenities, though, including a handful of well-appointed individual shower rooms.

There was also a solid selection of beverages and snacks, including salads and sandwiches.

They even had one of my all-time-favorite lounge amenities, an automated pancake machine!

A mix of frozen meals was available, too — you could make your pick from the display, with an attendant heating up your selection.

Since it looked like my flight was going to be delayed (more on that later), I decided to have the chicken and veggies — it tasted like it was cooked in the microwave, which it was.

There was also a great selection of South African wines, which an attendant served via a wall dispenser. I had a fantastic Boschendal Brut Rose from Franschhoek, near Cape Town. You could also order cocktails and other beverages at the bar.

After some dinner, drinks and work in the lounge (the Wi-Fi was excellent!) I ventured out to the main terminal. It was a roughly five-minute walk to my gate, but with the rest of the terminal empty, I decided to walk back and forth a few times as I waited for boarding to begin, to get a bit of exercise before our very long flight.

As with many U.S.-bound international flights, a security team was on hand to inspect everyone's luggage as we entered the gate area. I appreciated that the officer handling my bag check sanitized her hands before she began poking through my belongings, and was very friendly and quick.

As I mentioned, our flight was delayed. There were thunderstorms in Newark the previous evening, so our incoming plane didn't end up getting out in time.
In total, we ended up with a roughly 90-minute delay — not ideal, but I certainly didn't need to be in Newark at 5:45 a.m., so I didn't mind getting in a bit late.

Because of the delayed arrival, we boarded around 8:45 p.m., 45 minutes after the original departure time. I had an absolutely incredible time in South Africa, but after misconnecting the night before, I was eager to step aboard N29977, our roughly 1-year-old Boeing 787-9 Dreamliner.

Cabin and seat
United uses a special 787-9 subfleet for Johannesburg flights, with newer aircraft that have a bit more engine thrust and are guaranteed to offer a Polaris cabin and Premium Plus. The airline's new and retrofitted 787-9s have a total of 48 seats — 32 of them are in the forward section, and then there's a far more intimate "minicabin" behind Door 2 with just 16 seats.

I grabbed a spot in the smaller rear cabin. There were 12 seats left over after United processed all of the waitlisted upgrades, and several of them happened to be right around where I was sitting. In a bit of a gamble, I grabbed 11F, a seat in the center section, hoping 11D next to me and 11L across the aisle would stay empty.

Fortunately nobody ended up sitting nearby — but had I ended up with a neighbor, I could have raised the large partition, closing my seat off.

With 11D and 11F to myself, I ended up traveling with a lot more personal space. I found it cozier to sleep with the partition up, though, so I raised it up just before bed.

Speaking of sleep, you simply slide a control wheel to move between upright and bed modes — release the wheel to lock in your current position. There are also individual controls for the leg rest, lumbar support and lighting.

Storage wasn't an issue on this flight, since I had access to 11D as well, but I would have been all right either way.

There's a storage cabinet next to each seat, just above the large side table. There's also a large compartment under the ottoman, which you could use to store a small bag, while a smartphone and small tablet can fit quite nicely on the shelf beneath the 16-inch TV.

While I generally prefer bulkhead seats, since they have a larger space for your feet, I didn't have any issues stretching out on this 787-9.

I also ended up stashing my amenities and personal items on and under the seat next to me, giving me even more room to stretch out.

I love how private United's Polaris seats feel. 10F, the seat directly in front of me, and 10L across the aisle were both occupied, but I saw very little of those passengers during the nearly 16-hour flight.

Another fantastic feature: dedicated air vents. They're powerful, too — I actually had to turn mine down a few minutes into the flight.

The one downside is the lavatories. This version of United's 787-9 doesn't have the large midcabin lavatory I'm used to seeing on the airline's longer-range Dreamliner — plus, there's just one lav between the cabins, instead of two. There are still three lavatories available for 48 flyers, but two of them are at the very front of the plane.

Amenities and inflight entertainment
Just as on the outbound flight, there was a special "Team USA" amenity kit, including an eye mask, earplugs, tissues, pen, dental kit, socks and Sunday Riley creams and lip balm. I really liked the bag itself, too — far more useful than the usual amenity pouch.

United's also handing out Team USA pajamas on its longest flights, including this Johannesburg-Newark hop.

The quality is similar to the airline's regular PJs, and the pants don't have pockets, unfortunately, but they're still nice enough to wear on the flight.

Each seat has a 16-inch TV — if you score a "no neighbor" pair like mine, you get two TVs! (I kept the moving map going on one.)

With the latest version of United's inflight entertainment, you have to tap through a few screens before you can get to the content, including an outline of what to expect on the flight.

From there, you can choose from hundreds of movies, TV shows and other content. There's more available to stream to your own device via Wi-Fi, too.

The selection of new releases was especially modest, likely due to the fact that studios have scaled back production considerably during the pandemic.

Films were broken out into several other genres and categories as well, including a handful from HBO and 10 movies that were highlighted as part of the airline's Pride selection.

There was also a seemingly endless list of TV shows — "collections" are probably your best bet, since they include several episodes of multiple shows.

United also offers some wellness content of sorts — you can choose from a few relaxing themes, where the airline pairs music with a slideshow on the display.

While the seatback screen performed very well, the airline's headphones did not. They may look nice, but United's headphones feel (and sound) especially cheap. I definitely recommend bringing your own.

You can plug your headphones in directly above the side table, where you'll also find a universal power outlet, a USB charging port and a wired remote (though I prefer using the touch screen).

There's a second USB port below the TV — helpful for charging your gadgets as you store them on the adjacent shelf.

Best of all, United's Wi-Fi is an enormous improvement on long-haul aircraft. It used to barely work at all, but I was able to upload photos, email and chat with colleagues and browse the web throughout the flight.

A full-flight pass will run you $22 on this flight, while two-hour and one-hour passes can be had for $9 and $5, respectively.
Food and beverage
Here's where the experience doesn't quite hit the mark. Many airlines have scaled back inflight service — initially, it was intended to minimize interactions between passengers and crew, but the flight attendants were in the cabin constantly on this trip, so that argument doesn't hold up in my book.
One challenge is that United isn't handing out menus — instead, flight attendants are reading out options, but I've found descriptions to be a bit lacking. Rather than short ribs with mashed potatoes, haricots verts and heirloom tomatoes, that option might be reduced to a simple "beef," leaving a lot to the imagination.

In this case, my options were presented as "chicken, short rib or, I think a couscous with veggies." I went with the short rib, which was served sealed on a single tray alongside a salad, drinks and dessert about 45 minutes after takeoff.
The Häagen-Dazs ice cream was absolutely delicious, and I love that United is serving a "decent" Scotch at the moment — a 12-year-old Glenfarclas — but the rest of the meal left a lot to be desired. The beef was tough, the veggies were mushy and the bread was stale. It was filling, but a bit of a miss, overall.

After dinner, I asked for a water bottle — "one of the big ones." The flight attendant sure did deliver!

Before the pandemic, United would have served hot snacks on a flight of this length — you could order dishes like lobster mac and cheese, and a grilled cheese sandwich with tomato soup.

Those hot snacks have been replaced by cold sandwiches, which, this time around, were very soggy and barely had any meat or cheese. I munched on some potato chips and snack mix, instead.

As I was digesting, I requested another giant water bottle — this one was even bigger!

About 90 minutes before landing, the crew came through to take breakfast orders. Our options were a frittata or, as the flight attendant explained, "something they're calling a blintz" — it's usually a thin pancake stuffed with sweet ricotta cheese. I ordered coffee, which arrived right away, and the frittata, which came a few minutes later.

Like dinner, breakfast arrived completely sealed. The entree was wrapped in foil, and served alongside a bowl of fruit, a small container of yogurt and a cold, wrapped croissant. I also requested a can of tomato juice — my go-to inflight breakfast treat!

I enjoyed this dish a bit more than dinner, but it was similarly overcooked. The sauce was very flavorful, though, and I appreciated being able to drizzle it on myself.

After breakfast, I decided to make my way across the aisle to 11L, so I could catch our sunrise approach into Newark.

This was a long flight! After what seemed like an eternity flying over the Atlantic Ocean, I was eager to capture the moment we made landfall above the coast of New Jersey.

Service
This was a fantastic flight — having so much personal space certainly helped, as did having an especially friendly crew.
That said, almost as soon as I made it on board, it became clear that I wouldn't be reviewing this flight anonymously. As it turned out, the flight attendant working my aisle was one of the biggest points and miles enthusiasts I've encountered during my travels.
Within a few minutes, she was chatting about her lifetime Marriott elite status, credit cards and preferred loyalty programs, and it didn't take her long to mention that she was a long-time TPG reader and had recognized my name.
While I had already determined that this wouldn't be a scored review, since United has yet to bring back its full Polaris service, I would have made the same determination after realizing I wasn't flying anonymously.

As you'd expect, the service was excellent. "My" flight attendant seemed to suspect I was there to work on a review, given that I was taking pictures of the amenities and all of the food, and she seemed determined to ensure the airline would be getting high marks.
From observing the crew's interactions with other passengers, I have no doubt that it would have been a pleasant flight either way, but I definitely felt like I was getting a bit more attention than I might have had I truly been traveling anonymously.
Overall impression
While 16 hours is an awful lot of time to spend sitting in one place, I was thrilled to be flying long-haul again — I was ready to get off the plane when we landed, but I left happy and full, and eager for my next trip.

For travelers looking to make their way between the U.S. and South Africa, this new United flight is more than an experience — it's a significant time-saver, especially compared with itineraries that connect in Europe or the Middle East. Having a new, quiet, well-equipped plane to make the trip is just icing on the cake.
Featured photo by Zach Honig/The Points Guy.
Sign-up Successful!
Welcome to The Points Guy!
Chase Sapphire Preferred® Card
WELCOME OFFER: 80,000 Points
TPG'S BONUS VALUATION*: $1,600
CARD HIGHLIGHTS: 3X points on dining and 2x points on travel, points transferrable to over a dozen travel partners
*Bonus value is an estimated value calculated by TPG and not the card issuer. View our latest valuations here.
Apply Now
More Things to Know
Earn 80,000 bonus points after you spend $4,000 on purchases in the first 3 months from account opening. That's $1,000 when you redeem through Chase Ultimate Rewards®.
Enjoy benefits such as a $50 annual Ultimate Rewards Hotel Credit, 5x on travel purchased through Chase Ultimate Rewards®, 3x on dining and 2x on all other travel purchases, plus more.
Get 25% more value when you redeem for airfare, hotels, car rentals and cruises through Chase Ultimate Rewards®. For example, 80,000 points are worth $1,000 toward travel.
With Pay Yourself Back℠, your points are worth 25% more during the current offer when you redeem them for statement credits against existing purchases in select, rotating categories
Count on Trip Cancellation/Interruption Insurance, Auto Rental Collision Damage Waiver, Lost Luggage Insurance and more.
Regular APR
16.24% - 23.24% Variable
Balance Transfer Fee
Either $5 or 5% of the amount of each transfer, whichever is greater.
Recommended Credit
Excellent/Good