Why I Didn't Cancel My Trip to the Big Island
This post contains references to products from one or more of our advertisers. We may receive compensation when you click on links to those products. Terms apply to the offers listed on this page. For an explanation of our Advertising Policy, visit this page.
Despite desperate pleas from our parents, my wife and I decided not to cancel our family trip to Kona, on the Big Island, where the Kilauea Volcano has been erupting since early May. Soon after we arrived on June 11, I made sure to call my parents to assure them the lava was flowing slowly enough that the kids could avoid its path, and that the hotel was providing all guests with silver hooded fire proximity suits.
I think they actually believed me at first.

What's really happening on the Big Island
After being inundated with a seemingly endless stream of photos depicting violent lava flows, burning homes and toxic "laze" clouds, it's understandable that many visitors decided to cancel their trips to the island of Hawaii (often called the Big Island) after Kilauea's eruption. But to appreciate why Kilauea isn't a serious threat to tourists, you have to understand the geography of this island.
When viewing a map of the Pacific, the Hawaiian islands look incredibly small. But they call this the Big Island for a reason, as it's 63% of the Aloha State's total land mass (4,028 square miles). To put that in perspective, the Big Island is larger than the states of Delaware and Rhode Island combined — collectively only 3,200 square miles.
Kilauea is nearly 50 miles away from Kona, one of the primary destinations for tourists on the island. And though, admittedly, the conditions at Kilauea could shift suddenly, at this time its impact is very localized. Air quality in Kona, for example, is currently between "good" and "moderate," meaning only "unusually sensitive" travelers should be concerned about prolonged stretches of time spent outside. It's also not in the path of any lava flows, or at risk for being pummeled with rockfall.

How Kilauea affected our trip
After spending more than a week in Kona and exploring other parts of the island, I'd venture to say that, had we not heard about the eruption in the news, we may not have even known it was happening. On most days, we enjoyed clear blue skies when looking out toward the west over the ocean. At times, it was somewhat hazy along the mountains (though they're often veiled in clouds and fog).
My wife claimed the vog — hazy fog with volcanic emissions — hurt her eyes a bit one day, but I personally didn't notice it. The haze appeared much like what you would expect to see along the beaches of the East Coast on a hot summer day, but it's a bit unusual for an island where it's usually blown offshore. Evening rain showers, which we experienced several times, seemed to clear the vog a little, and some days were generally better than others. (Air quality reports can fluctuate throughout the day, however, and the quality in Kona did, for brief times during our vacation, become "unhealthy for sensitive groups.")
Travelers with compromised respiratory disorders and cardiovascular diseases may want to be cautious.
The vog reduced visibility to roughly 10 miles in many places, interrupting what would have otherwise been panoramic views. But, on the other hand, the vog created some truly magnificent sunsets.

I'll admit that I've always wanted to see an active volcano. But ironically, I still haven't. For me, the single greatest downside of visiting the Big Island during the eruption was the closure of Volcanoes National Park.
Neighborhoods that have been directly affected by the volcano are also closed to everyone but residents and relief workers, and we chose to respect the closures, and to steer clear of any actual danger during our stay. Unbelievably, more than 40 people have been arrested for violating the closures and taking selfies by the lava flows. The only way to (legally) view the volcano is by scheduling a pricey helicopter tour. Officials are considering creating a public viewing area, but it isn't likely to happen soon.
Ultimately, our family enjoyed the vast majority of activities that haven't been affected. We went swimming and snorkeling; spotted turtles and dolphins; and toured the area's famous coffee and chocolate farms. But mostly, we enjoyed the warm, sunny weather and let the kids spend the afternoons splashing around in the hotel's six swimming pools.
Why it's actually a great time to go
With the constant coverage of the eruption at Kilauea, tourism has plummeted. (Between May and June, the island has already lost an estimated $5 million from lodging, activities and tours. And that estimate was from mid-May.) While we saw plenty of other travelers, one local resident told us that Kona has been eerily quiet. Normally, she would expect huge crowds this time of year.
What's also clear? There's an abundance of available award flights.
Last fall, we booked five economy class saver seats with United, which were only available to United MileagePlus credit card holders who receive access to extra saver level award space.


Thanks to the numerous change fee waivers related to the eruption, we were able to postpone our trip for a week to accommodate an unrelated scheduling conflict. Yet finding additional award space turned out to be easy.
United appears to have opened up nearly all available economy class seats to Kona as awards. What's remarkable is that, while these United flights to Kona are nearly full, most if not all of the unsold seats appear to be available as saver awards for 22,500 miles each way.

But far from being an anomaly, I also found MileSAAver award space for our family of five to be wide open on American as well.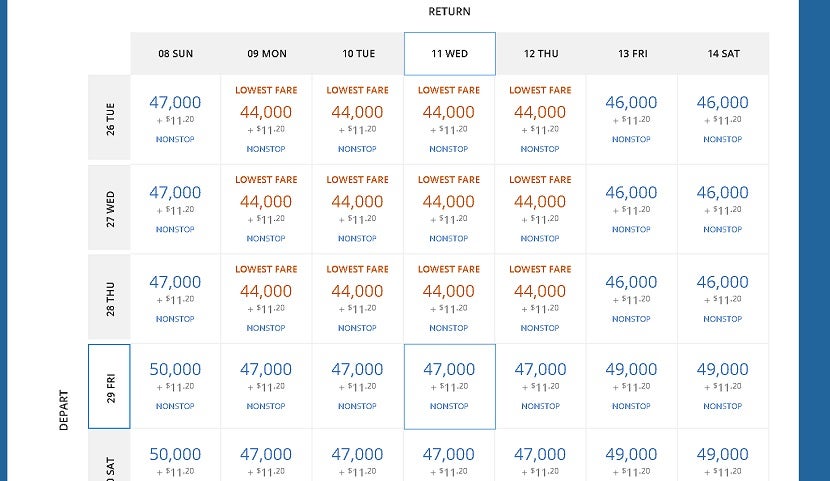 And while Delta no longer publishes award charts, a search of flights from Los Angeles (LAX) to Kona (KOA) shows that five economy class awards are available on all dates for 50,000 miles round-trip, or less.
You should also be able to find last minute hotel space as well. We stayed at the Holua Resort at Mauna Loa Village, for example, which is bookable with Wyndham Rewards, and were able to find plenty of award space just a few weeks ago.
For more information about how to best use your points and miles, check out our guide to the top transfer partners for booking flights to Hawaii.
Bottom line
Despite the vog, we had a great vacation on the island of Hawaii, and we're glad we didn't heed my parents' nervous pleas to cancel our trip. And since it's notoriously difficult to redeem points and miles for flights to Hawaii, now could actually be a great time to take advantage of the increased award availability.
While snagging solid flight deals and awards, travelers can also feel good about frequenting local businesses that rely on tourism. There are few better ways to support the island than by sticking with your Hawaiian travel plans — or making some new ones.
Feature image by Sam Antonio Photography / Getty Images.
Sign-up Successful!
Welcome to The Points Guy!
Delta SkyMiles® Platinum American Express Card
Earn 90,000 bonus miles after you spend $3,000 in purchases on your new Card in your first 3 months. Offer ends 8/3/2022.
With Status Boost™, earn 10,000 Medallion Qualification Miles (MQMs) after you spend $25,000 in purchases on your Card in a calendar year, up to two times per year getting you closer to Medallion Status. Earn 3X Miles on Delta purchases and purchases made directly with hotels, 2X Miles at restaurants and at U.S. supermarkets and earn 1X Mile on all other eligible purchases. Terms Apply.
Apply Now
More Things to Know
Limited Time Offer: Earn 90,000 bonus miles after you spend $3,000 in purchases on your new Card in your first 3 months. Offer ends 8/3/2022.
Earn up to 20,000 Medallion® Qualification Miles (MQMs) with Status Boost® per year. After you spend $25,000 in purchases on your Card in a calendar year, you can earn 10,000 MQMs up to two times per year, getting you closer to Medallion® Status. MQMs are used to determine Medallion® Status and are different than miles you earn toward flights.
Earn 3X Miles on Delta purchases and purchases made directly with hotels.
Earn 2X Miles at restaurants worldwide including takeout and delivery in the U.S., and at U.S. supermarkets.
Earn 1X Miles on all other eligible purchases.
Receive a Domestic Main Cabin round-trip companion certificate each year upon renewal of your Card. Payment of the government imposed taxes and fees of no more than $80 for roundtrip domestic flights (for itineraries with up to four flight segments) is required. Baggage charges and other restrictions apply. See terms and conditions for details.
Enjoy your first checked bag free on Delta flights.
Fee Credit for Global Entry or TSA PreCheck® after you apply through any Authorized Enrollment Provider. If approved for Global Entry, at no additional charge, you will receive access to TSA PreCheck.
Enjoy an exclusive rate of $39 per person per visit to enter the Delta Sky Club® for you and up to two guests when traveling on a Delta flight.
No Foreign Transaction Fees.
$250 Annual Fee.
Terms Apply.
Regular APR
17.24%-26.24% Variable
Recommended Credit
Excellent/Good