Airlines Issue Waivers as Winter Storm Warnings Issued for 7 States
This post contains references to products from one or more of our advertisers. We may receive compensation when you click on links to those products. Terms apply to the offers listed on this page. For an explanation of our Advertising Policy, visit this page.
Update: Some offers mentioned below are no longer available. View the current offers here.
The first major winter storm of the year is sweeping across the South and into the Midwest United States, with the Northeast in the cross-hairs for a snowy Thursday and Friday. The storm is named "Avery" by The Weather Channel — but the National Weather Service remains adamant that winter storms not be named. And the storm threatens to hamper travel through the Midwest and Northeast over the next few days.
The National Weather Service has issued winter storm warnings for at least seven states:

While Houston got its earliest snow on record on Tuesday, the real snowfall is going to be falling Thursday and Friday across the Northeast. Snowfall totals of more than 12 inches are expected in parts of Pennsylvania and New York: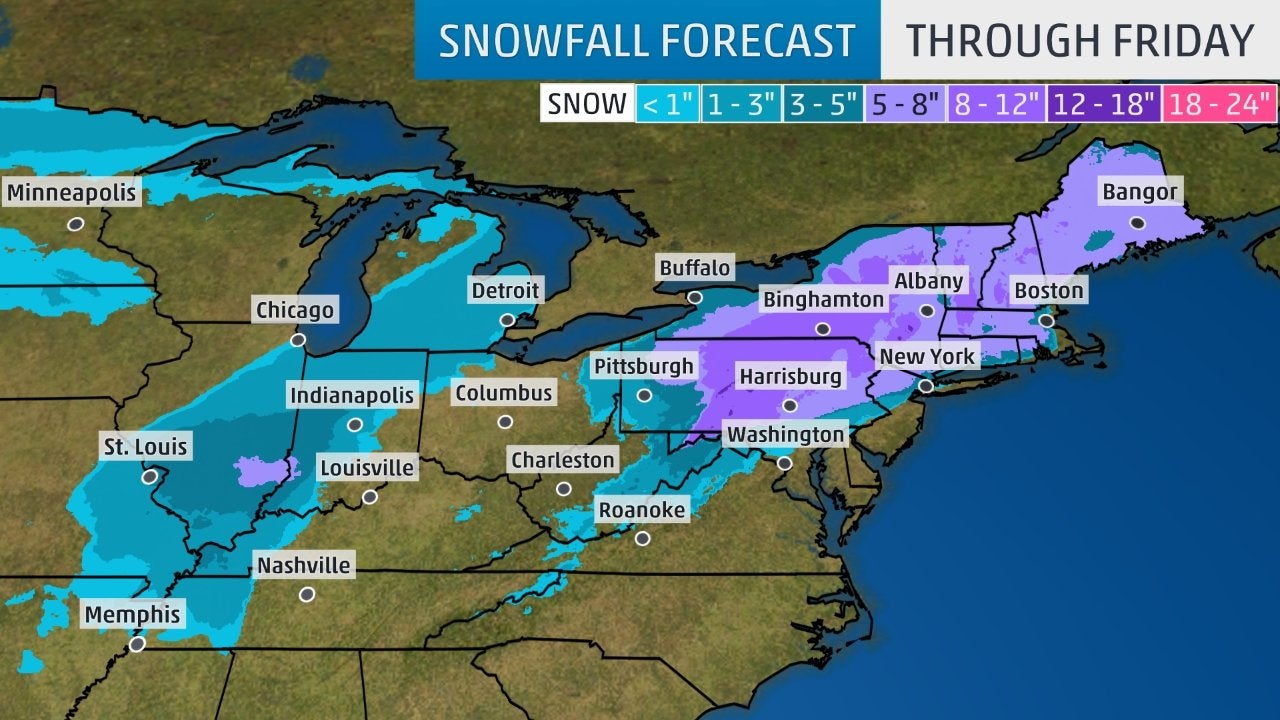 FlightAware's cancellation tracker has already recorded 52 cancellations for Thursday, 35 of which are Southwest flights in/out of St. Louis (STL).
As of 6pm ET Wednesday evening, three airlines have issued waivers for this storm:
Travel dates: November 15
Airports covered: Baltimore, MD (BWI); Boston, MA (BOS); Harrisburg, PA (MDT); Hartford, CT (BDL); New York Kennedy, NY (JFK); New York LaGuardia, NY (LGA); Newark, NJ (EWR); Philadelphia, PA (PHL); Providence, RI (PVD); Scranton, PA (AVP); Stewart, NY (SWF); Washington Reagan, DC (DCA); Washington Dulles, DC (IAD); White Plains, NY (HPN)
Must have purchased your ticket by November 14
Ticket must be reissued on or before: November 18
Rebooked travel must begin no later than: November 18
When rescheduled travel occurs beyond November 18, 2018, the change fee will be waived. However, a difference in fare may apply. Final travel must be completed by end of ticket validity, one year from date of original issue.
If travel is not able to be rescheduled within these guidelines, customers may cancel their reservation and apply any unused value of the ticket toward the purchase of a new ticket for a period of one year from the original ticket issuance. Applicable change fee and fare difference will apply for new travel dates.
Travel date: November 15
Airports covered: Baltimore, MD (BWI); Hartford, CT (BDL); New York, NY (JFK); New York, NY (LGA); Newark, NJ (EWR); Newburgh, NY (SWF); Philadelphia, PA (PHL); Providence, RI (PVD); Washington, DC (DCA); Washington, DC (IAD); Westchester County, NY (HPN); Worcester, MA (ORH)
Must have purchased your ticket by November 14
Rebook travel anytime through November 17
To rebook travel or request a refund online, click here. If you are already checked in for your flight, call JetBlue at 1-800-JETBLUE (538-2583) for assistance with rebooking or a credit.
Travel date: November 15
Airports covered: Akron/Canton, OH (CAK); Baltimore, MD (BWI); Cleveland, OH (CLE); Hartford, CT (BDL); Newark, NJ (EWR); New York, NY (LGA); Philadelphia, PA (PHL)
Modification Charge/Fare Difference waived through: November 17
Guests can make changes to their reservations affected by this event by going to [Spirit's] Manage Travel page, or by calling the Spirit Reservations Center at 801-401-2222 to make their flight changes. To make changes to Spirit Vacation packages contact Spirit Vacations at 954-379-8866.
Travel dates: November 14-15
Airports covered: Cincinnati (CVG); Columbus (CMH); Indianapolis (IND); Louisville (SDF); Nashville (BNA); St. Louis (STL)
Customers who are holding reservations to/from/through the cities listed above on the corresponding dates, may rebook in the original class of service or travel standby (within 14 days of their original date of travel between the original city-pairs and in accordance with [Southwest's] accommodation procedures) without paying any additional charge.
Customers who purchased their itinerary via Southwest.com or [Southwest's] mobile app are eligible to reschedule their travel plans online or from their mobile device. Customers who did not purchase a ticket via Southwest.com can call 1-800-435-9792 to speak with a Customer Representative.
No waivers yet from: Alaska, American Airlines, Frontier or United.
Protect Your Travels
This winter storm is another reminder to book flights with a card that offers solid trip delay and cancellation insurance. When I got stuck in Japan for four extra days due to a typhoon, I was very grateful for the Citi Prestige's trip delay protection, which reimbursed $1,000 of our expenses.
Although Citi Prestige used to be my go-to for booking flights, a recent devaluation to the card's travel benefits knocked it out of its top spot. Currently, I'm using my Chase Sapphire Reserve to book my flights going forward. Other top choices are the Chase Sapphire Preferred Card, Citi / AAdvantage Executive World Elite Mastercard and the Citi Premier® Card.
Featured image by Andrew Burton via Getty Images.
Sign-up Successful!
Welcome to The Points Guy!