Non-alliance partners added: Singapore Airlines devalues KrisFlyer loyalty program, raises award prices by more than 10%
This post contains references to products from one or more of our advertisers. We may receive compensation when you click on links to those products. Terms apply to the offers listed on this page. For an explanation of our Advertising Policy, visit this page.
Editor's note: This story updates a previous TPG report on Singapore award devaluations to include additional information on Alaska and Virgin Atlantic redemptions.
---
Singapore Airlines awards have become more expensive on the airline and its Star Alliance partners — and soon with its non-alliance partners as well.
The airline just released new partner airline award ticket charts set to take effect on Aug. 1, 2022. These increased awards will affect those looking to redeem miles on Alaska Airlines and Virgin Atlantic, among other carriers.
Last month, the airline announced several "revisions" to its award charts and stopover feature. Changes include raising the price of some award tickets by more than 12% effective July 5, 2022. Its stopover feature will also become more restrictive on Aug. 1, 2022.
Let's take a closer look at these devaluations and what they mean for you.
For more TPG news delivered each morning to your inbox, sign up for our daily newsletter.
New KrisFlyer award charts for Alaska and Virgin Atlantic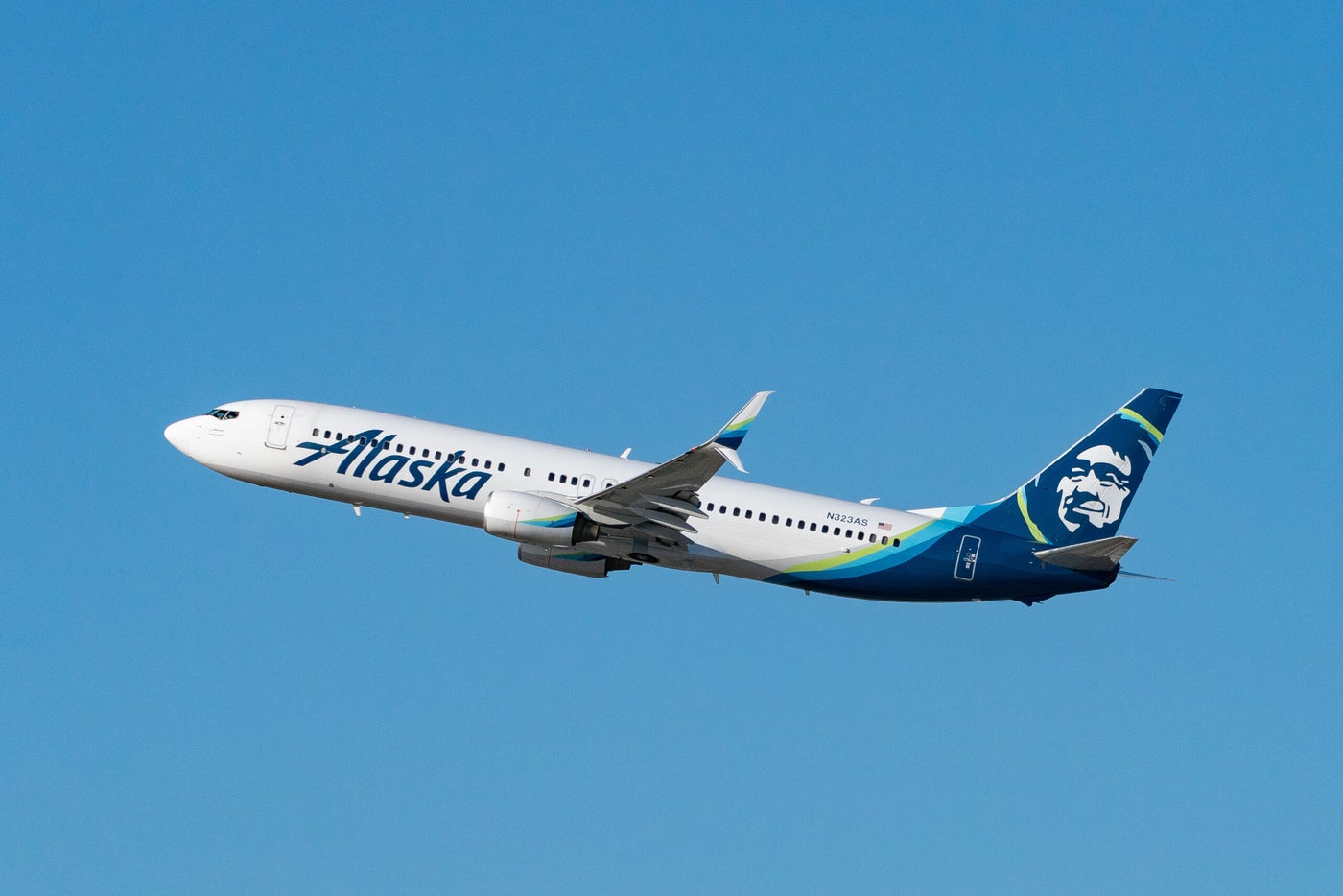 In Singapore Airlines' previous award increase announcement, the airline warned that "upward revisions will be made to Award Levels for non-alliance partners," which would be "implemented progressively."
Sure enough, Singapore just released updated charts for Alaska (PDF link), Virgin Atlantic (PDF link), Virgin Australia, Vistara and Juneyao Air redemptions. The new award rates will be in effect for tickets booked from Aug. 1, 2022. These changes were first reported by Loyalty Lobby.
For Alaska Airlines, the new award rates (as seen on the screenshot below) will reflect increases of 14-18% for flight redemption costs.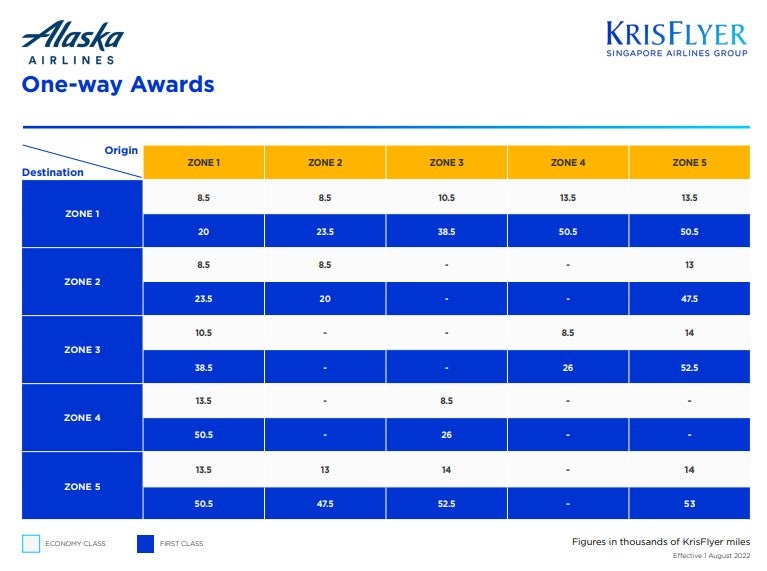 As an example, booking a one-way Singapore KrisFlyer award flight on Alaska Airlines from Zone 4 (which includes California to Hawaii and New York to California) to Zone 5 (Alaska and Hawaii) from Aug. 1 will increase in cost. Prices will go from the current 12,000 to 13,500 miles for economy and from 44,500 to 50,500 miles for first class.
Additionally, KrisFlyer's new Virgin Atlantic award chart incorporates a similar increase in redemption costs for consumers, with new rates averaging about 17.5% above previous levels.
U.S. customers will focus on the increase from 25,000 to 29,500 miles to book a one-way economy flight from North America to Europe on Virgin Atlantic. Upper Class tickets on the same route will increase from 50,000 to 58,500 miles. Note that all redemptions have significant fuel surcharges.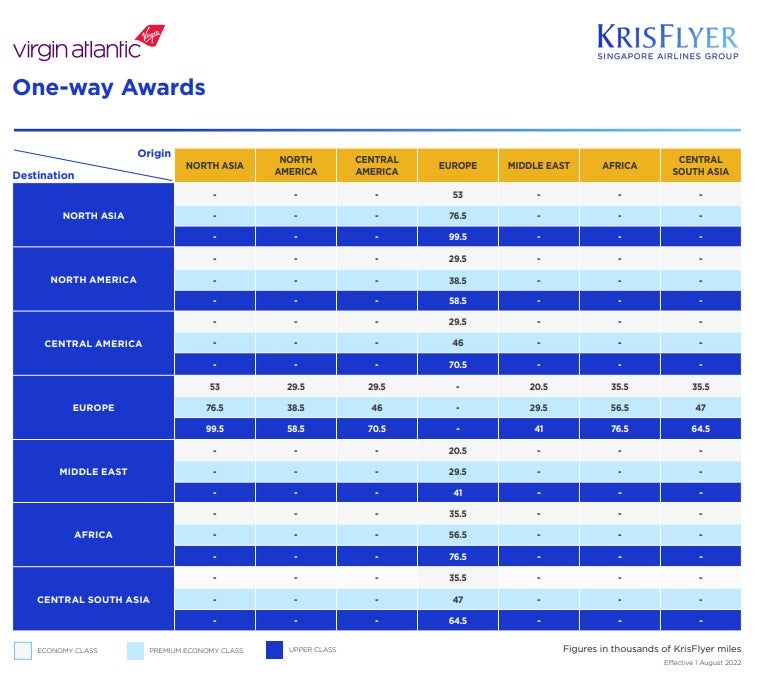 Related: Sweet Spot Sunday: Book Alaska Airlines flights to Hawaii on the cheap
Singapore Airlines raises overall award rates
Effective July 5, 2022, award rates for Singapore Airlines flights, upgrades and partner flights increased by approximately 10%.
Singapore Airlines states that these changes are in response to higher costs and are "necessary to ensure the KrisFlyer programme remains sustainable."
The updated Singapore Airlines award chart can be found on the airline's website (PDF link). For U.S.-based travelers, the most notable changes include:
| | | | | |
| --- | --- | --- | --- | --- |
| Route: | Economy (one-way): | Premium economy (one-way): | Business class (one-way): | First class (one-way): |
| New York and Newark to Singapore. | 40,000 to 44,000 miles. | 73,000 to 80,500 miles. | 99,000 to 111,500 miles. | 132,000 to 148,500 miles. |
| Los Angeles, San Francisco, Seattle and Vancouver, British Columbia, to Singapore. | 38,000 to 42,000 miles. | 68,000 to 75,000 miles. | 95,000 to 107,000 miles. | 130,000 to 146,500 miles. |
| Los Angeles to Tokyo. | 35,000 to 38,500 miles. | 66,000 to 73,000 miles. | 92,000 to 103,500 miles. | 107,000 to 120,500 miles. |
| San Francisco to Hong Kong. | 33,000 to 36,500 miles. | 63,000 to 69,500 miles. | 89,000 to 100,500 miles. | 104,000 to 117,000 miles. |
| Houston to Manchester, England, and New York to Frankfurt, Germany. | 22,500 to 25,000 miles. | 47,000 to 52,000 miles. | 72,000 to 81,000 miles. | 86,000 to 97,000 miles. |
While this is not the biggest devaluation we've seen in recent years, this increase takes Singapore Airlines' already higher-than-average award chart and makes it even more expensive.
For example, you'll now pay 148,500 Singapore Airlines miles to fly Singapore Suites first class from John F. Kennedy International Airport (JFK) to Singapore Changi Airport (SIN) via Frankfurt Airport (FRA) in Germany on the airline's flagship A380 aircraft. That represents a 12.5% increase over the airline's existing award chart (PDF link).
A Singapore Airlines spokesperson told TPG that if a waitlisted award clears on or after July 5, the new award rates will apply.
Star Alliance partner awards (PDF link) also became more expensive as of July 5. There are too many routes to list all of the changes, but some of the most notable devaluations for American travelers include:
| | | | |
| --- | --- | --- | --- |
| Route: | Economy (one-way): | Business class/domestic first class (one-way): | First class (one-way): |
| U.S. domestic | 12,500 to 14,000 miles. | 23,000 to 26,000 miles. | n/a |
| U.S. to Europe | 27,500 to 30,500 miles. | 72,000 to 81,000 miles. | 107,500 to 121,000 miles. |
| Mainland U.S. to Hawaii and Central America | 17,500 to 19,500 miles. | 34,500 to to 39,000 miles. | n/a |
| U.S. to the Middle East and North Africa | 45,000 to 52,000 miles. | 76,500 to 88,000 miles. | 99,000 to 114,000 miles. |
The partner award devaluation is particularly difficult for those flying from the mainland U.S. to Hawaii. Historically, Krisflyer has offered one of the best award deals on these flights, letting members book flights on United Airlines for just 17,500 miles one-way. Now, you'll pay 19,500 miles, which is still a solid deal but represents an 11.5% increase.
Singapore Airlines and Star Alliance upgrades increased in price on July 5. However, these awards were rarely a good use of miles before the change.
Related: Ultimate guide to Singapore KrisFlyer
Stopovers limited to 30 days
Singapore Airlines offers stopovers on its award tickets, with some award types requiring a $100 stopover fee. Previously, you could enjoy a stopover for as long as you wanted on these award tickets, effectively allowing travelers to book two trips for the price of one.
For example, you could book New York to Frankfurt in July and take a "stopover" in Germany for six months, resuming your ticket the following January and flying from Frankfurt to Singapore. (Of course, there are more creative ways to use Singapore's stopover feature.)
However, this trick will go away come Aug. 1. From that date forward, all stopovers are limited to 30 days. Thankfully, stopovers remain unchanged for those looking to book a stopover for a few days (or weeks) en route to another destination.
Related: How to plan a free stopover on your next trip abroad
Bottom line
This devaluation to both Singapore Airlines awards and non-alliance partner awards is unfortunate but expected. After more than two years of handing out miles through cobranded partnerships and other promotions during the pandemic, airlines are starting to see the added weight of miles on their balance sheets. This, combined with rising fuel and operations costs, means airlines need to reduce the value of miles on their balance sheets. The main way of doing this is by raising the cost of award tickets.
Regardless, this hurts Singapore Airlines' frequent flyers and those hoping to transfer credit card points to KrisFlyer to book high-end awards like Singapore Suites and business class on the world's longest flight. Remember, Singapore Airlines partners with almost all major transferable points programs.
This serves as a reminder to consistently redeem points and miles as you earn them. They rarely increase in value, so the longer you hold onto them, the more likely they will go down in value.
Additional reporting by Bill Fink.
Featured photo by Singapore Airlines via Getty Images.
Sign-up Successful!
Welcome to The Points Guy!
Citi Premier® Card
This card offers a 80,000-point bonus after spending $4,000 in the first three months. Plus, earn 3 ThankYou points per $1 at gas stations, restaurants, supermarkets and on air travel and hotels. 1 ThankYou point per $1 on all other purchases.
Apply Now
More Things to Know
For a limited time, earn 80,000 bonus ThankYou® Points after you spend $4,000 in purchases within the first 3 months of account opening
Earn 3 Points per $1 spent at Restaurants and Supermarkets
Earn 3 Points per $1 spent at Gas Stations, Air Travel and Hotels
Earn 1 Point per $1 spent on all other purchases
Annual Hotel Savings Benefit
80,000 Points are redeemable for $800 in gift cards when redeemed at thankyou.com
No expiration and no limit to the amount of points you can earn with this card
No Foreign Transaction Fees on purchases
Regular APR
18.24% - 26.24% (Variable)
Balance Transfer Fee
Balance transfer fee applies with this offer 5% of each balance transfer; $5 minimum.
Recommended Credit
Excellent, Good