8 easy New York City escapes you can get to in three hours or less
This post contains references to products from one or more of our advertisers. We may receive compensation when you click on links to those products. Terms apply to the offers listed on this page. For an explanation of our Advertising Policy, visit this page.
There's nothing like leaving New York City to make you realize how much you appreciate it.
Let's face it: This city can be exhausting. For all of its magic and energy, it sure can leave you feeling exhausted and overwhelmed from time to time. Sometimes all it takes is a road trip to clear your head, relax and, let's be real, get some much-needed space.
Whether you're eyeing a road trip from the Big Apple after being cooped up in your apartment for the last few months or just looking for a low-stakes weekend trip, these spots will fit the bill pretty nicely. Better yet, they're only three hours or less away from the city by car and a great choice no matter the season.
For more TPG news delivered each morning to your inbox, sign up for our daily newsletter.
Cornwall-on-Hudson, New York

Distance from New York City: 1.5 hours
What to do: This riverfront town boasts scenic views and Storm King Art Center, one of the biggest outdoor open-air museums in the country. It's only 50 miles outside of New York City and is home to more than 100 different sculptures and artworks installed along the rolling hills. It also features work from some of the world's most acclaimed and influential artists, including Maya Lin, Mark di Suvero and Zhang Huan.
If the weather allows it, the grounds are also perfect for a picnic. You can bring food or visit the café at the visitor's center.
The park also offers bike rentals and tram rides if you're looking for an efficient trip around it.
Once you've had your art fix, be sure to head to Brotherhood Winery in Washingtonville. It's a 15-minute drive from Cornwall and claims to be the oldest winery in the United States, offering tastings and tours through its underground cellars for just $10.
­­­
Where to stay: There are a handful of charming boutique hotels and bed and breakfasts in the area, including the Cromwell Manor Historic Inn, The Thayer Hotel and the IHG Army Hotels Five Star Inn (not an IHG property). Rates start at $190, $209 and $101, respectively.
Naturally, there are also a handful of Airbnb properties, including this jaw-dropping "Glass House" for just $229 a night.
Related: Tips for families using Airbnb
Beacon, New York

Distance from New York City: 1.5 hours
What to do: If you want a mix of the arts and the outdoors, Beacon is your spot.
Art lovers, in particular, will fall in love with Dia Beacon, an art gallery housed in a former Nabisco box printing factory. You'll find a permanent collection of works from the 1960s to the present and can easily spend hours combing through all of the exhibits.
After you've had your art fix, it's time for a little physical activity. The 2,000-foot Beacon Mountain is the highest peak in the Hudson Highlands and offers stunning views of the Hudson River, plus an overlook of the century-old ruins of an abandoned, burned down casino on the aptly named "Casino Trail." If you're feeling particularly adventurous, you'll also find a 250-foot-high, 72-step fire tower that offers great views of the river, the Catskills and, on a clear day, the New York City skyline.
Don't forget to check out Bannerman's Castle located on the small 6.5-acre Pollepel Island in the middle of the Hudson River. It's a picturesque castle originally used as a military surplus and while much of it is in ruins today, the foundation of the structure is still intact.
Where to stay: As Beacon is relatively close to Cornwall-on-Hudson, many of the aforementioned properties would be worth looking into, as well.
The Hamptons, New York

Distance from New York City: 2 to 2.5 hours
What to do: The Hamptons, technically a group of villages and towns — including East Hampton, Westhampton, Southampton, Bridgehampton and Sag Harbor — is arguably New York City's most premier weekend retreat. Wealthy New Yorkers are known to essentially camp out "Out East" for days, weeks or months at a time throughout the summer. While it only takes about two and a half hours without traffic, be prepared for quite a lot of it, especially on holiday weekends.
Related: Race to the Hamptons — What's the best way to get there?
Deciding which "Hamptons" is right for you is an article in and of itself, but you really can't go wrong with any of them. During the day, you'll want to visit Wölffer Estate Winery, the docks in Sag Harbor, and, of course, soak up the sun either in your backyard or at one of the Hamptons' many beaches — that's what you're here for, after all.
There are so many fantastic restaurants out here, you might have a tough time deciding where to grab a bite to eat. We love Duryea's Lobster Deck, Nick & Toni's, Lunch, Candy Kitchen and Goldberg's Bagels, just to name a few. Save room for BuddhaBerry, Big Olaf's or Scoop du Jour for dessert. You'll thank us later.
Where to stay: While most people who "summer" in the Hamptons do have their own houses, there are a ton of Airbnbs available for rent in every corner, ranging from budget to luxe.
Hotels are definitely on the pricey end, but we're fans of Gurney's Montauk Resort & Seawater Spa, East Hampton Art House and The Surf Lodge. Rates start at $460, $397 and $325, respectively.
Related: Where to stay in The Hamptons this summer
Fire Island, New York

Distance from New York City: 1 hour and 45 minutes
What to do: While you'll have to drive (or take the Long Island Rail Road) from New York City and then a ferry from Bay Shore, it's well worth the trek. When you get to Fire Island, you'll feel like you're in a different country. There aren't any cars here, and the entire island is made up of quintessential beach towns. Ocean Beach is no doubt the most popular town, with plenty of bars, restaurants and shops to keep you and your friends occupied for days. A stark contrast to The Hamptons' luxury vibe, Fire Island is for the more laid-back and casual types.
Enjoy seafood on the water at Island Mermaid, or grab a burger at Maguire's. Whatever you do, though, be sure to get a slice (or two) of pizza from Town Pizza with cold mozzarella cheese sprinkled on it. We promise it will be one of the best slices you'll ever have.
Where to stay: While accommodations are somewhat limited, your best option is to rent a house via Airbnb or VRBO. We like this one, which sleeps up to 11 people, for $650 per night. If you'd rather stay in a hotel, though, The Palms Hotel Fire Island is your best bet, with rates starting at $305 per night.
Catskills, New York

Distance from New York City: 2.5 hours
What to do: There's nothing like a little trip up to the countryside to get some fresh air to clear your head. The Catskills, a mountain range in upstate New York, has had a period of ups and downs but is undoubtedly making a comeback as of late. Whether Woodstock is on your radar or Bethel, where the actual Woodstock Festival took place, there are so many quaint towns to find a cabin to cozy up in.
The Catskills has a bunch of mouth-watering spots you'll want to keep in mind, such as Phoenicia Diner, Sweet Sue's, SushiMakio and Cucina.
Related: 6 things to do when you need a break from New York City
Where to stay: No matter your budget and style, there's something for you here. Our top picks are Scribner's Catskill Lodge (rates start at $204 per night) or Urban Cowboy Lodge (rates start at $345 per night).
Poconos, Pennsylvania

Distance from New York City: 2 hours
What to do: Similar to the Catskills, the Pocono Mountains in Pennsylvania are also a great summer hideout. Home to many of the country's sleepaway camps, get ready to nestle up in a quaint bed and breakfast, boutique hotel or Airbnb. Go tubing in the Delaware River at Skinners Falls, or enjoy a hike at Bushkill or Hickory Run Boulder Field.
As far as food goes, we like The Wheel, Mi Casa Restaurant and Peter's Europa House. And if you end up in a town in the middle of nowhere called Tyler Hill, be sure to stop at Dutton's Tyler Hill Diner and get a Louie Bagel. Trust us on this.
Where to stay: It doesn't get much better than The Lodge at Woodloch in Hawley. It's a luxury retreat, complete with a spa and dining room. With rates starting at $738 a night, it's certainly not cheap, but you'll end up feeling relaxed and refreshed. If you want something more budget-friendly, the Inn at Jim Thorpe has rooms starting for just $117 a night.
New Hope, Pennsylvania

Distance from New York City: 1.5 hours
What to do: Nestled about halfway between New York City and Philadelphia, New Hope is the quintessential classic rural Pennsylvania town. Visit the Bucks County Children's Museum or take a stroll through Bowman's Hill Wildflower Preserve for some fresh air and nature. Catching a show at the Bucks County Playhouse is a must, too — be sure to grab a bite at Nektar Wine Bar across the street.
Related: Things to do in Philadelphia with kids
At TPG, we also love Black Bass Hotel and Restaurant in nearby Lumberville. In fact, it was the site of our 2018 holiday party. No trip to New Hope, though, is complete without a stop at Nina's Waffles & Ice Cream.
Just beyond the borders of New Hope, you'll find Easton and the famed "Crayola Experience." If you're feeling adventurous, Hersheypark is about a two-hour drive away from there, too. It's a trip your kids are sure to love.
Where to stay: We're fans of the aforementioned Black Bass Hotel, where rates start at $215 per night. You also can't go wrong with the Ghost Light Inn ($360), a luxury boutique hotel right on the water in New Hope, or the Logan Inn ($195), one of the oldest continuously run inns in the United States.
Berkshires, Massachusetts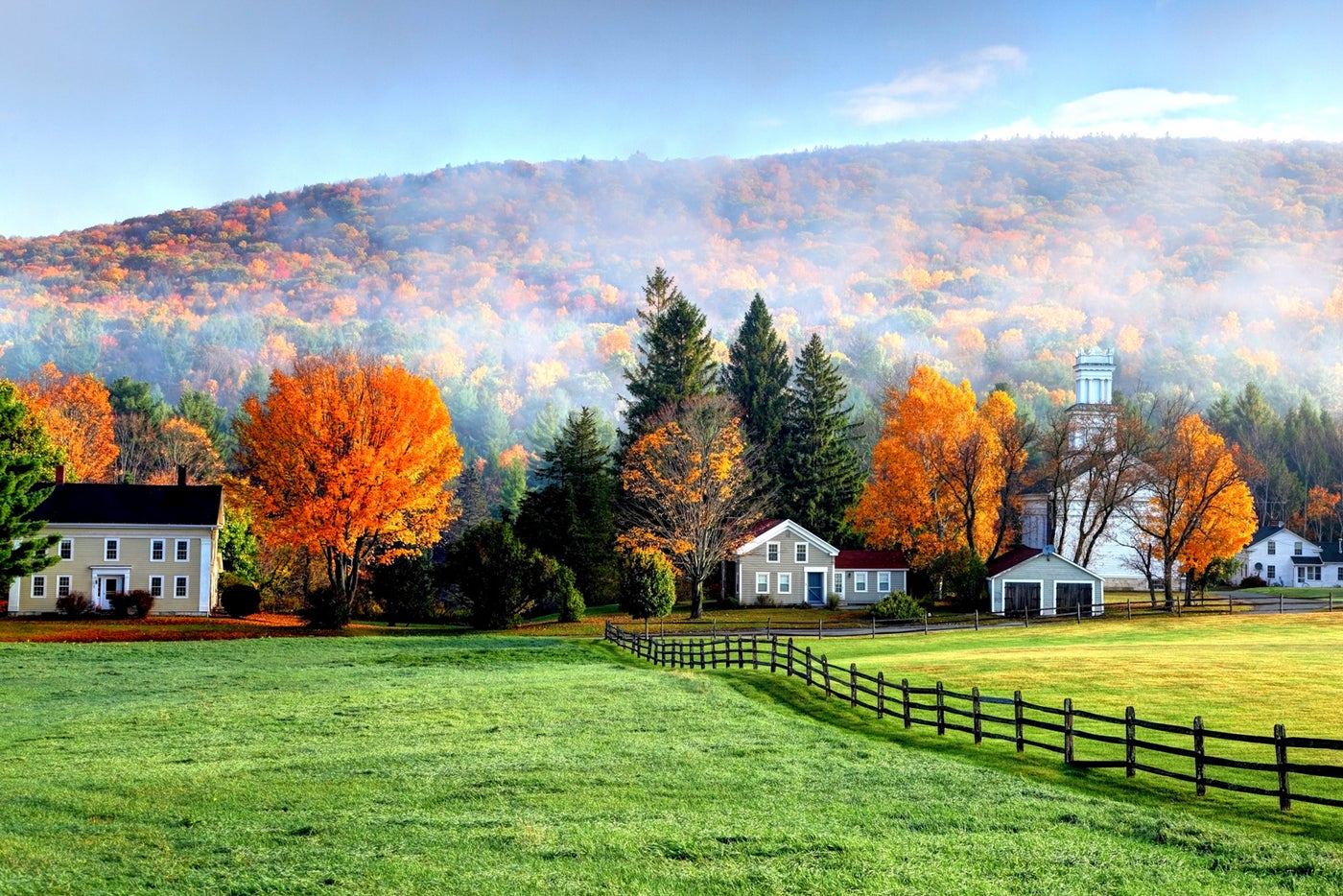 Distance from New York City: 3 hours
What to do: The Berkshires are undoubtedly one of the most stunning destinations in the country. Ask anyone who's been here, and there's a reason their eyes light up when they talk about it.
Enjoy museums such as the Animagic Museum of Animation & Special Effects, Berkshire Botanical Garden and MASS MoCA, the largest contemporary art museum in the country.
Even if you're not staying there, you'll want to grab a bite at The Old Inn on the Green, a stagecoach stop from the 1700s turned refined and serene hotel. The restaurant is entirely lit by candles, proving it to be one of the most romantic spots in the Berkshires. We're also fans of Baba Louie's Sourdough Pizza and, of course, Alta Restaurant & Wine Bar. It's a favorite for a reason.
Where to stay: There are a handful of charming places to stay in the Berkshires, ranging from Airbnbs to hotels, resorts, inns, bed and breakfasts and more. Of course, you'll want to find an accommodation that fits your personal preferences, but we have some suggestions up our sleeve.
We also recommend Yankee Inn ($87) and Seven Hills Inn ($109) in Lenox, and the Courtyard Marriott (rates start at $105 per night at this Category 5 hotel where it costs from 30,000 to 40,000 points Marriott Bonvoy points per night for a redemption).
Related: The award traveler's guide to Marriott Bonvoy
Hyatt is also set to open the Miraval Berkshires this year.
Bottom line
There are so many great options for a quick weekend getaway from New York City that it's hard to pick just one — the good news, though, is that you don't have to. Since all of these destinations are only a few hours from the city, you can easily sprinkle them in throughout your summer. Many of them can be booked somewhat last minute, too, although you'll want to be mindful of hotel cancellation policies before you do commit.
Whether you're staying at a luxury hotel or quaint bed and breakfast, you'll also want to be sure to use a card that earns bonus points on travel and hotel purchases, such as the Chase Sapphire Reserve® (3x) or Chase Sapphire Preferred® Card (2x).
With additional reporting by Xander Zellner.
Featured photo by Tim Robberts/Getty Images.
Sign-up Successful!
Welcome to The Points Guy!
Delta SkyMiles® Platinum American Express Card
Earn 90,000 bonus miles after you spend $3,000 in purchases on your new Card in your first 3 months. Offer ends 8/3/2022.
With Status Boost™, earn 10,000 Medallion Qualification Miles (MQMs) after you spend $25,000 in purchases on your Card in a calendar year, up to two times per year getting you closer to Medallion Status. Earn 3X Miles on Delta purchases and purchases made directly with hotels, 2X Miles at restaurants and at U.S. supermarkets and earn 1X Mile on all other eligible purchases. Terms Apply.
Apply Now
More Things to Know
Limited Time Offer: Earn 90,000 bonus miles after you spend $3,000 in purchases on your new Card in your first 3 months. Offer ends 8/3/2022.
Earn up to 20,000 Medallion® Qualification Miles (MQMs) with Status Boost® per year. After you spend $25,000 in purchases on your Card in a calendar year, you can earn 10,000 MQMs up to two times per year, getting you closer to Medallion® Status. MQMs are used to determine Medallion® Status and are different than miles you earn toward flights.
Earn 3X Miles on Delta purchases and purchases made directly with hotels.
Earn 2X Miles at restaurants worldwide including takeout and delivery in the U.S., and at U.S. supermarkets.
Earn 1X Miles on all other eligible purchases.
Receive a Domestic Main Cabin round-trip companion certificate each year upon renewal of your Card. Payment of the government imposed taxes and fees of no more than $80 for roundtrip domestic flights (for itineraries with up to four flight segments) is required. Baggage charges and other restrictions apply. See terms and conditions for details.
Enjoy your first checked bag free on Delta flights.
Fee Credit for Global Entry or TSA PreCheck® after you apply through any Authorized Enrollment Provider. If approved for Global Entry, at no additional charge, you will receive access to TSA PreCheck.
Enjoy an exclusive rate of $39 per person per visit to enter the Delta Sky Club® for you and up to two guests when traveling on a Delta flight.
No Foreign Transaction Fees.
$250 Annual Fee.
Terms Apply.
Regular APR
17.24%-26.24% Variable
Recommended Credit
Excellent/Good