Living the Dream: A Review of The St. Regis New York
This post contains references to products from one or more of our advertisers. We may receive compensation when you click on links to those products. Terms apply to the offers listed on this page. For an explanation of our Advertising Policy, visit this page.
To The Point
For 60,000 Marriott Rewards points per night, you can be transported to a time of classic luxury at The St. Regis New York. Pros: opulence, perfect location, amazing food, world-class service. Cons: so expensive!
Update: Some offers mentioned below are no longer available. View the current offers here.
No one needs a luxurious hotel stay in a historic property with loads of world-class attractions and shows within easy walking distance, but darned if it isn't fun every once in a while. Being greeted by the doorman, enjoying afternoon tea from the butler, grabbing a cup of hot cider from the lobby for the four-block walk to Central Park and so much more is your (temporary) reality when you stay at The St. Regis New York.
My family recently enjoyed our second stay at this Marriott property that exudes classic Manhattan charm dating back to when the shiny golden doors first opened in 1904.

Just as parents don't at least officially have a favorite child, it's hard for me to name a favorite hotel, since I like so many for different reasons. But if I absolutely had to pick one property as my top points-friendly pick in Manhattan, The St. Regis New York would get that nod, especially for a visit around the holidays.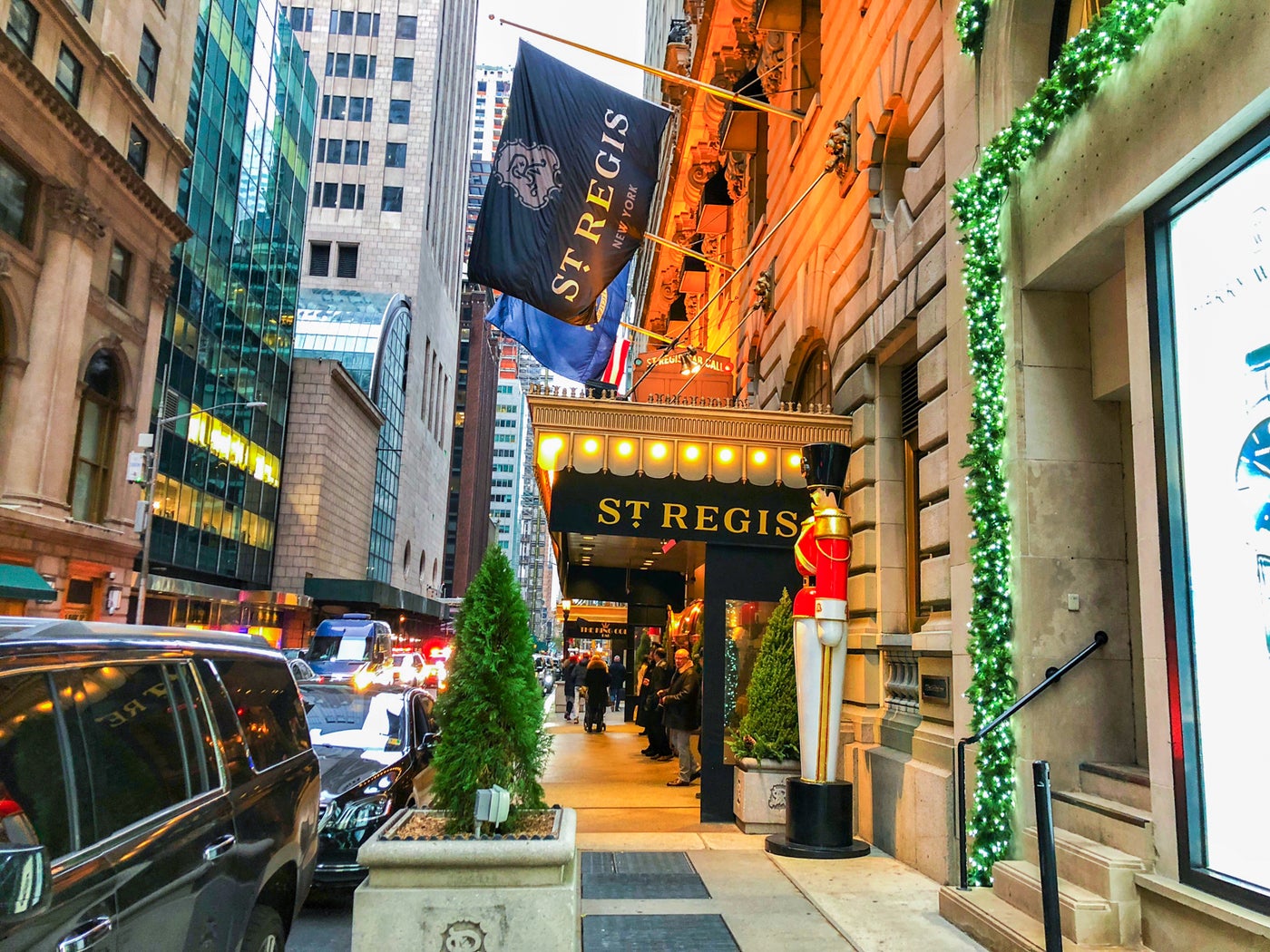 Booking
Expect a cash booking at The St. Regis New York to set you back at least $1,000 per night. That wasn't within my travel budget, so we used 60,000 Marriott Rewards points instead (award rates have since increased). TPG valued Marriott Rewards points at 0.9 cents each, so that was still $540 worth of points per night, but it was better than cash rates.
The hotel is now bookable for 70,000 to 100,000 Marriott Rewards points per night, depending on the season.
You can earn Marriott Rewards points to fund your next St. Regis stay via the Marriott Bonvoy Boundless™ Credit Card, Marriott Bonvoy Business™ American Express® Card or the Marriott Bonvoy Brilliant™ American Express® Card.
Families looking to use points should note that the standard rooms are 430-square-foot king superior rooms that come with a small sitting area and a couch. The hotel does have rooms with two double beds available, so my advice is to contact the hotel directly if you need two doubles. You can also call Marriott Rewards and check availability and pricing for nonstandard award rooms.

Location
For a holiday trip to New York City, like the one we enjoyed just after Thanksgiving, the location of this Midtown Manhattan hotel, on East 55th Street and Fifth Avenue, couldn't be beat. This put us one avenue off the Macy's Thanksgiving Day Parade route, four blocks south of Central Park, four blocks north of Radio City Music Hall and five blocks north of Rockefeller Center (and the famous tree).

Of course, we were also surrounded by stores and shops every which way we turned in that part of Manhattan. I love other parts of NYC (such as Union Square) for some trips, but for others, this location can't be beat.

Check-in
The lobby of the St. Regis New York was not a sterile afterthought, but a bit of a classical masterpiece. Really. Don't forget to look up, down and all around in the lobby when you go, as it is timelessly beautiful.



And for luxury we could taste, we didn't forget the complimentary hot chocolate and cider directly behind the lobby near the elevators each afternoon.

After soaking in for a minute that we were actually lucky enough to be staying here (again), it was time to check in. If we weren't on Cloud 9 already, things were about to get luckier, as our award room had been upgraded from a standard room to a 975-square-foot Madison Suite. This was not one of those rooms that's called a suite but is really just a room — it was a two-room, two-bathroom suite. It sells for a few thousand dollars per night should you wish to book it with cash.

We had also booked a second room for a portion of our stay for Grandma and at least one of the girls, as we obviously couldn't fit five people in the standard room we had originally booked. The hotel had changed our king room to a room with two double beds, which was perfect for our needs (though obviously not guaranteed).
At check-in, we were also informed of the $50-per-day destination fee. I already knew about this fee and had decided to not get worked up about it long ago, but it is gnarly to have to pay $50 per day on top of your points. This particular destination fee gave us the following use-or-lose credits daily: $50 food and beverage credit to use for room service, restaurant or bar (but not minibar); $50 dry cleaning and laundry credit; $25 hair-salon credit; free local and long-distance calls; two tickets each day to the Metropolitan Museum of Art or Museum of Modern Art. Note that we couldn't accumulate multiple days worth of credits for one blowout meal — they had to be consumed (or lost) one day at a time. So go have that drink in the bar or order that room-service omelet.
Rooms
Let's start at the top with the Madison Suite. In St. Regis fashion, our butler was expecting us and met us in the elegant hallway to take us to our room and help us get situated.

I was absolutely floored at how many square feet we were going to enjoy in NYC for the next couple of days. When I was in grad school at New York University, I lived in a room in Brooklyn that was less than 100 square feet, so having almost 1,000 square feet at our disposal was hard to comprehend.

That said, the decor would not be for everyone. It was very old-school, with lots of brass, deep tones, rich textures, marble, chandeliers and furnishings that looked like they might be from your rich old uncle's house.

The decor wasn't what I would want at home, but it fit The St. Regis just fine. I mean, who wouldn't want to lounge under a chandelier for a couple of days?

The bed itself was more than fine, a fluffy, white, delicious pile of sleeping heaven for kids or adults.

Thankfully, the old had met up with the new, as there were power outlets next to the bed, though I would have loved access to a few more, as we ended up with devices plugged in here, there and everywhere.

The living room was down a short hallway from the bedroom and well-used on our stay. We not only had the four of us in town, but also my mom and, on the first night, four family members visiting for the evening from Connecticut.

The living room utilized the same rich, bold decor (complete with chandelier) and contained a sitting couch with two chairs, a small desk, TV and several end tables.



We ordered takeout the first night and made great use of the sitting room for eating, laughing and watching the kids play.

Since room-service breakfast was included, as I was a Platinum Marriott Rewards member, and we also ordered room-service dinner one night, we actually used the sitting portion of the suite for a number of meals, making it a very practical space on this trip.


We were beyond spoiled with two full bathrooms in the suite at opposite ends of the entry hall. Each featured a separate tub and shower.

The bathrooms very much carried with them the old-school decor, this time in the form of marble and wallpaper emphasizing gray, black and white with accents of gold.




The water pressure and temperature was fantastic, along with ample soft robes and towels that were adorned by The St. Regis logo, naturally.

A strange element of the bathrooms that seemed easy to rectify was that the toilet paper was far from what you would expect from a luxury hotel. That's a little thing, but one that seems easy to get right and is noticed when it is wrong.
To ensure we had enough space, we also booked a room right across the hall that had two double beds. My oldest daughter and Grandma Points shared this room one night and found the beds to be just as delicious as our large king bed, though I do wish the beds were queen beds, as doubles are tight for most families.

Even the more standard rooms such as this one had sitting areas and offered significantly more square feet than your average NYC hotel room.

Food and Beverage
Let's begin this topic with the reality that meals, snacks and beverages at The St. Regis New York were expensive. Yes, coffee, tea and the like could be had for free, but once you got beyond that, we had to be ready for sticker shock. Case in point: the $23 child's macaroni and cheese from room service — and that was before tax, tip and room-service fees. (And yes, it was cheesy amazingness that tasted way more decadent than it looked.)

We didn't only eat macaroni but splurged on an entire room-service dinner one night that came to a couple hundred dollars for three adults and two kids, even with modest orders and no alcohol or desserts. Since we had two rooms that night, $100 of the charge came off via the destination fee ($50 per room), but still, it was Manhattan St. Regis-level prices.

The room-service food in general was above average, with breakfast being my favorite of the meals we enjoyed. In part that was because the American breakfast was complimentary with my Platinum elite status, but it was also delicious and presented in such a lovely way. Each morning, the table came with a rose that matched the orange juice.


While the included breakfast wasn't technically for a family of four, as it was two American breakfasts, once the bread basket was thrown in (also included), there was more than enough to go around for all of us.

We didn't make it to the King Cole Bar on our trip, but it is a spot you really shouldn't miss for the full St. Regis New York experience. Rumor is, the Bloody Mary is epic. But don't plan on bringing your kids in there while you enjoy an evening cocktail, as it is 21 years and up, with proper attire required after 4pm.

There was also the Astor Court, which did permit children but was still quite fancy. And I mean fancy as in there was a harp being played on our afternoon visit. A real harp. Suffice it to say, my kids did not go in that restaurant, though I snuck in there for a coffee and macarons while shooting photos for TPG. It was a delightful place that made me feel pretty darn fancy-pants for a few minutes, but not the kind of place where I'd necessarily want to bring multiple toddlers in high chairs.

Amenities
The St. Regis New York was not heavy on physical amenities such as a big pool complex, golf course or rock climbing wall — it was, after all, in the middle of the concrete jungle. Though there was a 24-hour gym on the 19th floor as well as an on-site hair salon, the best amenities of the property were the people.
Each room had access to a butler who could assist with everything from bringing complimentary tea or coffee to the room to unpacking and repacking to having your shoes shined to arranging for clothes to be cleaned or pressed, and everything in between.

If that were not enough, the on-site concierges were helpful and knowledgable. We could visit them to get our included museum tickets, help with printing boarding passes, restaurant reservations or whatever our hearts desired.
While we did not use this service, there was a Bentley house car available on a first-come, first-served basis for complimentary drop-offs within a 10-block radius of the hotel.
Outside of the butler service, my favorite amenities were the ones for kids. "St. Regis" may not scream family-friendly at first glance, but they take their Family Traditions program seriously. When they arrived, my two girls were each given a gift — a stuffed animal for our youngest and a bag and cap for our oldest.

While nothing is guaranteed, we have usually received similar gifts when checking to St. Regis properties with our girls both in and out of the United States. In addition, this time, the kids were given a checklist to complete and turn in to the front desk for a surprise. There were also vouchers to visit the on-site gift shop and pick out a prize of their choosing! On our visit, the selections in the shop were largely various candies, which they of course loved.


Last but not least, the girls received evening cookies one night in their room. These little touches don't cost the hotel very much, but they make a very big impression on families and are quite common across the brand.

Overall Impressions
The luxury and opulence here is something firmly out of my cash price range but still within reach, thanks to 60,000 Marriott Rewards points — at least until that award price increases in early 2019.
If you just need a bed to lay your head, keep on moving, as this is not the place for you. But if you want to step back in time into an age of doormen with hats and butlers with tea, and plan to actually enjoy your hotel while also exploring the surrounding area, then consider The St. Regis on a future trip to Manhattan.

Do know ahead of time that even if you stay on points, your stay will not be cheap. Not only is there the $50-per-day destination fee, but you will likely want to tip your butler and the doormen. If you order anything not included in your rate or via your status benefits, expect your final bill to start growing at a rapid rate.
The St. Regis New York will never be my go-to Manhattan hotel, as it is meant to be savored on special trips and it is just pretty pricey. But I love the hotel and hope to continue to periodically visit this special spot with my family, on points, of course.
Sign-up Successful!
Welcome to The Points Guy!