A World of Hyatt steal: A stay at the top-tier Alila Napa Valley
This post contains references to products from one or more of our advertisers. We may receive compensation when you click on links to those products. Terms apply to the offers listed on this page. For an explanation of our Advertising Policy, visit this page.
Update 7/20/21: This review originally stated that an accessible pool lift was not installed, as initially confirmed by the hotel. However, a TPG reader noted that the pool is indeed ADA compliant, and a front desk agent confirmed by phone that a lift is available.
---
It would have to be a very special occasion for me to consider forking over $1,000 for nightly accommodations for two people. Yet I've spent plenty of nights at hotels that cost at least that much — and sometimes considerably more.
Points and miles make it possible to experience these destinations on the cheap, and that's exactly what led me to a peak-season stay at one of Hyatt's most aspirational properties: Alila Napa Valley in St. Helena, California.
A pricey stay quickly goes from being a burden to being a treat when you can lock it in for an entirely reasonable number of points, but I still had high expectations for this top-tier Hyatt hotel — that weren't quite met.

We previously reviewed this same property when it was part of Marriott's Luxury Collection, a former Category 8 hotel known as Las Alcobas.
While the name and management have since changed, the rooms themselves are largely the same, though I was told that the hotel had made some improvements since our last visit (more on that later).
Booking
During peak season, paid rates can often exceed $1,000 for a base room, and climb well above $2,500 for a premium suite. Fortunately, many room types are available for award bookings, starting at 30,000 World of Hyatt points per night, worth $510 based on TPG's valuations.
At that rate, you can book a room with one king bed or one with two queens. While I didn't need two beds, that's the type that offered vineyard views that look quite spectacular on Hyatt's website, so that's the room I booked.

For 18,000 more points per night, worth an additional $306 based on TPG's valuations, you can confirm one of two mid-tier suites, including one with a vineyard view that commands a hefty premium with cash rates.

Finally, for 60,000 points per night, worth $1,020 based on TPG's valuations, you can book a phenomenal one-bedroom suite — one offers vineyard views, and otherwise comes along with cash rates approaching $3,000.

For our second night, my girlfriend and I ended up getting upgraded to an estate-view suite, so I'll be detailing that along with the balcony room with two queen beds as part of this review.
My colleague Zach Griff had booked the stay using his account — he has Globalist benefits, which Hyatt allows guests to share with a friend or family member as part of its Guest of Honor program.
The reservation wasn't booked as intended, however, which resulted in constant confusion at the hotel — if you're redeeming your points for someone else, be sure to call Hyatt to request a Guest of Honor booking, to avoid any hassle at check-in and during your guest's stay.
Finally, it's important to note that you can transfer points instantly from Chase Ultimate Rewards to World of Hyatt, making it possible to book a stay even if you don't already have enough points in your Hyatt account.
Location
Alila is located in the Napa Valley town of St. Helena, a roughly 10-minute walk from the cute downtown area, which has a number of restaurants and shops.

You're just steps from Beringer Vineyards — those are the vines you'll see from rooms and suites with a vineyard view.

The hotel even has a bridge that brings you directly to Beringer — tastings are available starting at $35 per person, but if you're traveling during a peak period or over any weekend, I'd recommend booking directly with the vineyard far in advance.

Check-in and lobby
As I mentioned, there was considerable confusion at check-in, because of the way this stay was booked. Eventually, the agent was able to complete the process, after I called Zach Griff and provided the hotel with the address listed on his World of Hyatt account.
Still, throughout the stay, I was referred to as "Mr. Griff," and there was no opportunity for me to earn points or elite credit for my stay — only Zach's World of Hyatt number could be attached to the reservation.
Ultimately, having both of our names attached even led to the general manager becoming aware that TPG employees were staying at the hotel, though I'm confident that the first half of the stay was entirely "under the radar," as you'll see below.

Check-in is completed in a small room just outside Acacia House, the hotel's on-site restaurant. I mention the size because the area was often full with other guests checking in and making inquiries — be prepared to wait outside until it's your turn.

All guests are offered wine upon arrival — white or red — which was served in a plastic cup. We came back to change rooms on the second day and were offered a second cup, so I suppose it wouldn't hurt to ask for a refill if you'd like.

After clearing up the booking-related confusion, we were issued keys for Room 311. At first, I didn't mind that it was on the ground floor, since it made for easier access — the benefits stopped there, however.
Room
All of the rooms are a short walk from the check-in area — the pool, fitness center and other amenities are all within walking range.

Our room is listed as 570 square feet on Hyatt's website, and while I didn't pull out my tape measure, I wouldn't question the size. It felt quite spacious, even with the second bed.

It quickly became clear that having a ground-floor room was less than ideal. For one, the view didn't match what Alila displays on its website — the vineyard view pictured there is captured from a higher floor, and it's far more dramatic from there.

It was still a lovely view, and we would have been fine staying in Room 311, had it not been for all of the noise. Footsteps traveled through the ceiling — when our upstairs neighbors got up for bathroom breaks, they unintentionally woke us up in the middle of the night. While it's unavoidable at some properties, it isn't something you'd expect at a $1,000-plus hotel.

Still, the room was visually stunning — finishes were of exceptional quality throughout, including in the oversized bathroom.

There was a large soaking tub, along with a separate shower area which included both a wall-mounted wand and a rainforest showerhead on the ceiling.

All of the amenities were from a company called Votary, which my girlfriend was thrilled about. I was a quick convert as well — I really loved the shampoo and conditioner.

The body lotion was also a big hit, as was the bar soap by the sink.

There was no shortage of space — especially helpful if multiple "costume changes" are also a component of your Napa stay.

The toilet was in its own room around the corner, along with a second mirrored sink — it's hard to believe this is the room you'll get with a base redemption.

The minibar was well equipped but expensive — fortunately, coffee, tea and bottles of water were free.

I wouldn't be caught dead spending $5 on a pouch of M&Ms at the store, but I suppose I could be persuaded to open the minibar in the event of a chocolate emergency.

I appreciated the "restaurant pricing" for the beers, rather than the $10-plus you might otherwise find at high-end hotels. Expect at least a 50% markup on everything else, including the On The Rocks cocktails, which we picked up for $12 en route to the hotel.

As I mentioned, the view wasn't quite what I expected. It was still beautiful, but I feel like the hotel would be better served by overdelivering on this front, and perhaps sharing the view from a ground-floor room.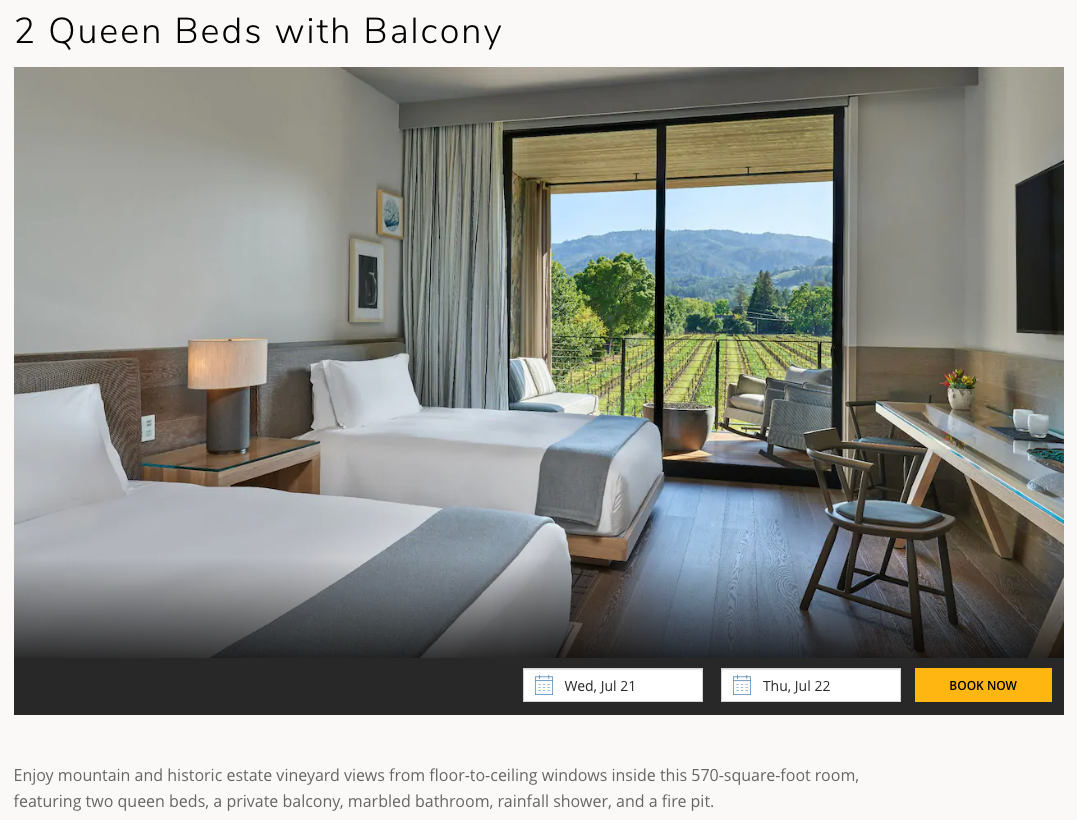 Compare the website view, above, with what we actually saw from the porch:

Normally, I'd feel a bit guilty complaining about such an incredible room, but I'm sure some travelers will arrive with high expectations — a reasonable approach, given the hotel's incredibly high cash rates.
Since I was there for a review and wanted to see how the hotel would handle the mismatch, I stopped by the front desk. I showed the agent the picture from the website, to which he responded, "Of course we're going to show the best view."
The agent explained that the hotel was fully booked — we'd have to learn to love Room 311. I left a bit disappointed until room service knocked on the door to present some bubbles — a $20 bottle of Louis Pommery, a brand notably absent from the hotel's 32-page wine list.

Admittedly, we enjoyed the bottle quite thoroughly, on our ground-floor patio.

Next time, I'll definitely be calling the hotel as soon as I book my stay, to ensure that we're assigned a vineyard-view room on the third floor. Notably, the "3" in our room number, 311, simply identifies the building assignment — only vineyard-view rooms and suites that start with "33" are actually located on the third floor.

As we learned after the first night, there are benefits to scoring the top floor — beyond the view.
Suite upgrade
As I mentioned, footsteps from the floor above traveled far too well through the ceiling and into our room, waking us up several times overnight. (Notably, when I asked one front desk agent about the noise, they said that the hotel had undergone extensive sound-dampening work while it was closed for a year during the pandemic — to no avail, it seems.)
Before we left for our winery adventures, I decided to check the Hyatt app, and noticed that an estate-view suite had opened up. Normally, these suites require an extra 30,000 points per night, but since Zach Griff booked the stay with his Globalist status, the hotel was able to move us. My mention of our nighttime awakening(s) likely didn't hurt.

When we returned to the hotel, our suite was ready, and our luggage arrived a few minutes later. At 948 square feet, the suite was as large as many apartments, before factoring in the oversized terrace.

The outdoor space was by far the highlight for me — there was even a soaking tub, though curiously the shades were fixed in place, and decorative blinds don't provide much relief when you're hoping for some privacy.

This particular suite doesn't have views of the vineyard — you'll need a vineyard-view suite for that. Still, we appreciated being on the top floor, and having so much extra space.

If privacy is what you're after as you bathe, you'll want to complete the ritual in the large interior tub, the centerpiece of a bathroom at least twice the size of the one we previously had.

Votary amenities abounded here as well, helping us build a robust "to-go" collection that's since found its way to our bathroom at home.

The robes stayed behind, but they were especially plush and comfy — the same as the ones available in our "regular" room.

We really appreciated the double sinks — again, a helpful addition in the hot Napa Valley, where you're more likely to bathe and get ready multiple times a day.

The suite also had a half-bathroom, just behind the entrance door, making it easy to tiptoe over to the toilet without waking anyone else up.

I was barely through taking pictures when the phone rang — the general manager, Ty, was eager to say hello. At first, I figured he had heard about the footsteps keeping us up the previous night, but when he mentioned that a TPG colleague had once been his neighbor, it became clear that someone on the team had fired up Google.
Fortunately, we had already made it through 24 hours before being discovered, and the experience reflected here was largely that of a guest-of-a-Globalist who wasn't happy with his vineyard view. If there's anything out of the ordinary, it'll be clearly noted — such as the Acacia House dinner that ended up being compliments of Ty.
Amenities
When I saw how well equipped the hotel was, I was worried the Alila would be adding a resort fee. Fortunately, that isn't the case — everything's included in the room rate, including Trek bikes, which you're free to use to explore the nearby wineries for the entire day.

The gym was large and never crowded. Everything was spotless, and while I appreciated that there were water bottles, I would have preferred to have a water dispenser to avoid wasting more plastic.

There were two Peloton bikes. They seemed almost brand-new, but unfortunately, they weren't activated, so I was only able to take one of three demo classes. I pointed out the issue to multiple staff members, including the general manager, so hopefully they'll be fully up and running soon.

The pool is on the smaller side, but there were always chairs available when I walked by.

There's an accessible pool lift available near the entrance stairs as well.

The minimalist design meant that there was a lot of open space, making most of the public areas feel anything but cramped.

Wi-Fi was included throughout the property and in the guest rooms, and it was consistently fast — in fact, it was among the speediest I've experienced at any hotel.

There are also several Tesla chargers available on-site — valets can plug in your car during your stay, if you'd like.

Food and beverage
One of the highlights of the stay was getting to enjoy breakfast by the fire on our balcony each morning — completely free of charge, thanks to Zach's Globalist status.

When I asked after check-in, I was informed that we could spend up to $88.20 (yes, 20 cents) each morning, either on breakfast at the restaurant or on room service, which was a very pleasant surprise.

Both mornings, I placed my order with Bob, the hotel operator. While it wasn't a speedy process — he took extreme care to confirm each detail of "Mr. Griff's" order — Bob's incredibly cheerful demeanor made these morning breakfast chats a clear highlight of the stay.

We managed to stick close to that budget while still ordering plenty of food, including two cold brew coffees and green juices, egg dishes, pastries and more.

While the total was a bit over $88 both days, especially after factoring in the delivery fee and gratuity, the front desk agent ended up removing both charges in full at checkout.

Alternatively, we could have enjoyed breakfast at Acacia House and avoided the delivery fee.

While we opted for room service both mornings, we did make a dinner reservation at the on-site restaurant. You can book Acacia House via OpenTable, or just call up the front desk.

I booked via OpenTable, but noted our reservation with the front desk, asking for a table with a great view, which they said wouldn't be a problem. I asked again when we arrived at the restaurant, but the hostess said all of the tables with views were already taken, and she showed us to the empty patio area. It ended up being OK, but I was a bit surprised that the request didn't make its way to the restaurant.

As we were seated, we were informed that our dinner was on the house. While we always pay for every component of a review stay, refusing the comped meal would have only attracted more attention, and I did overhear a front desk agent telling another guest that their meal would be comped after they experienced some challenges during their stay, too.
We started with a Mexico City margarita, which came topped with something called "salt air" — it was absolutely delicious.

Next, we ordered the chips and dip, burrata and tuna tartare, which I was especially excited about.

The chips ended up being a true favorite — the dip was creamy but light, and the salmon eggs added some saltiness and color. A fantastic dish!

The burrata was incredibly fresh, and the pickled strawberries were an excellent addition. I loved the tuna tartare as well, which was served with a "liquid olive" — it was very creative, releasing olive oil after we punctured the shell.

I was eyeing the Iberico pork schnitzel, but $56 was a bit too rich of a price tag — even for a comped meal.

Instead, we ordered the salad from the appetizer menu, which was light and delicious — the crunch of toasted seeds made for an unexpectedly complex dish.

The diver scallops were a treat as well, but at $36, I was expecting at least twice the number — two scallops would barely be reasonable for an appetizer, let alone a main course. (The LED table lamp was a nice post-sunset addition, and made it easy to light each dish.)

The desserts all sounded delicious, but we didn't want to indulge too much, so we ordered the cheese plate.

It was a bit of a letdown — there was just one tiny chunk of cheese, and it was bland and very cold, like it had just come out of the refrigerator. For $22, I was expecting more.

It's Napa Valley, so naturally some guests are going to want to bring their own bottles of wine. The hotel will allow it, with a $35 corkage fee for the first two 750-milliliter bottles, jumping to $50 per bottle after that. It's an odd distinction that reminds me a bit of an airline's checked bag structure, but I suppose once you're a couple of bottles in, you'll care less about the additional fee.
Service
We didn't get the warmest welcome, but the booking process was largely to blame — the hotel was expecting Zach Griff and got Zach Honig, so it wouldn't be too unreasonable to assume that something fishy was going on.
We were on our way fairly quickly once that was cleared up, but we didn't get any information about the property whatsoever — nothing about breakfast, or the fitness center or the bikes. We were handed our key and escorted by the bellman to our room, who similarly didn't share anything about the property, and instead focused on discussing his management aspirations.
Aside from the check-in experience, the biggest point of frustration was the mandatory car valet. There wasn't an additional fee, which was great, but aside from our final departure, the valets never ended up bringing the car around when requested in advance. I would have much preferred a self-park option, given that all of the cars were kept just steps from the front desk or guest rooms.

That said, some of the staff was truly fantastic. Bob, the operator, was incredibly warm during each of my calls — while we never met in person, he added a lot of personality to the stay, and promptly helped resolve an invoice issue (an incorrect $7 minibar charge) after checkout, too.
Meanwhile, during one gym visit, there wasn't any water — I asked a nearby housekeeper for some, and she brought two bottles right away. Similarly, when I called the front desk about the Peloton issues, they sent an "engineer" almost immediately. He wasn't able to figure out how to get the bikes online, but you can't fault the hotel for a speedy response.
Overall impression
Was it a flawless stay? No, not at all — I had very high expectations, given the hotel's World of Hyatt category and base rate, and they weren't met. Initially, the biggest disappointment was that the view didn't match the marketing photos, but the improper insulation between floors ended up being a more significant issue and far less of an overnight fix.

That said, I would absolutely return, especially now that I know which rooms to request. At 30,000 points per night, the vineyard-view room seems like the way to go, even though it has two double beds. Just be certain that you have a room on the third floor — while the second floor likely has decent views, there's a good chance you'll have to deal with noise overhead.
Meanwhile, for an even more spectacular stay, I'd redeem 60,000 points or use a Globalist suite night certificate to confirm a vineyard-view suite. In my opinion, it's worth the extra cost to guarantee a better view and far more space, especially if a third-floor vineyard-view room isn't available to book.
Featured photo by Zach Honig/The Points Guy.
Sign-up Successful!
Welcome to The Points Guy!
Delta SkyMiles® Platinum American Express Card
Earn 90,000 bonus miles after you spend $3,000 in purchases on your new Card in your first 3 months. Offer ends 8/3/2022.
With Status Boost™, earn 10,000 Medallion Qualification Miles (MQMs) after you spend $25,000 in purchases on your Card in a calendar year, up to two times per year getting you closer to Medallion Status. Earn 3X Miles on Delta purchases and purchases made directly with hotels, 2X Miles at restaurants and at U.S. supermarkets and earn 1X Mile on all other eligible purchases. Terms Apply.
Apply Now
More Things to Know
Limited Time Offer: Earn 90,000 bonus miles after you spend $3,000 in purchases on your new Card in your first 3 months. Offer ends 8/3/2022.
Earn up to 20,000 Medallion® Qualification Miles (MQMs) with Status Boost® per year. After you spend $25,000 in purchases on your Card in a calendar year, you can earn 10,000 MQMs up to two times per year, getting you closer to Medallion® Status. MQMs are used to determine Medallion® Status and are different than miles you earn toward flights.
Earn 3X Miles on Delta purchases and purchases made directly with hotels.
Earn 2X Miles at restaurants worldwide including takeout and delivery in the U.S., and at U.S. supermarkets.
Earn 1X Miles on all other eligible purchases.
Receive a Domestic Main Cabin round-trip companion certificate each year upon renewal of your Card. Payment of the government imposed taxes and fees of no more than $80 for roundtrip domestic flights (for itineraries with up to four flight segments) is required. Baggage charges and other restrictions apply. See terms and conditions for details.
Enjoy your first checked bag free on Delta flights.
Fee Credit for Global Entry or TSA PreCheck® after you apply through any Authorized Enrollment Provider. If approved for Global Entry, at no additional charge, you will receive access to TSA PreCheck.
Enjoy an exclusive rate of $39 per person per visit to enter the Delta Sky Club® for you and up to two guests when traveling on a Delta flight.
No Foreign Transaction Fees.
$250 Annual Fee.
Terms Apply.
Regular APR
17.24%-26.24% Variable
Recommended Credit
Excellent/Good