It just got easier to visit New Zealand, but you might still want to wait
This post contains references to products from one or more of our advertisers. We may receive compensation when you click on links to those products. Terms apply to the offers listed on this page. For an explanation of our Advertising Policy, visit this page.
After two years of closed borders and some of the world's strictest travel bans, New Zealand reopened to international visitors in May and dropped its pre-travel COVID-19 testing requirements for inbound travelers on Monday.
As I experienced during my own recent visit to the country, Kiwis are ready to welcome international travelers back with open arms. Those travelers, however, might need to prepare for a few curveballs when planning and taking their trips.
New Zealand's tourism sector is trying to bounce back from pandemic-related closures, layoffs and capacity constraints. Airlift is finally returning to its airports and hotels are staffing back up and opening more rooms for bookings. But the going is slow and you might not get to experience everything on your wish list.
Then there's always the prospect of possibly coming down with COVID-19 while you are there.
None of this means you should cross New Zealand off your travel list, but you might want to hold off until more flights and hotels come online.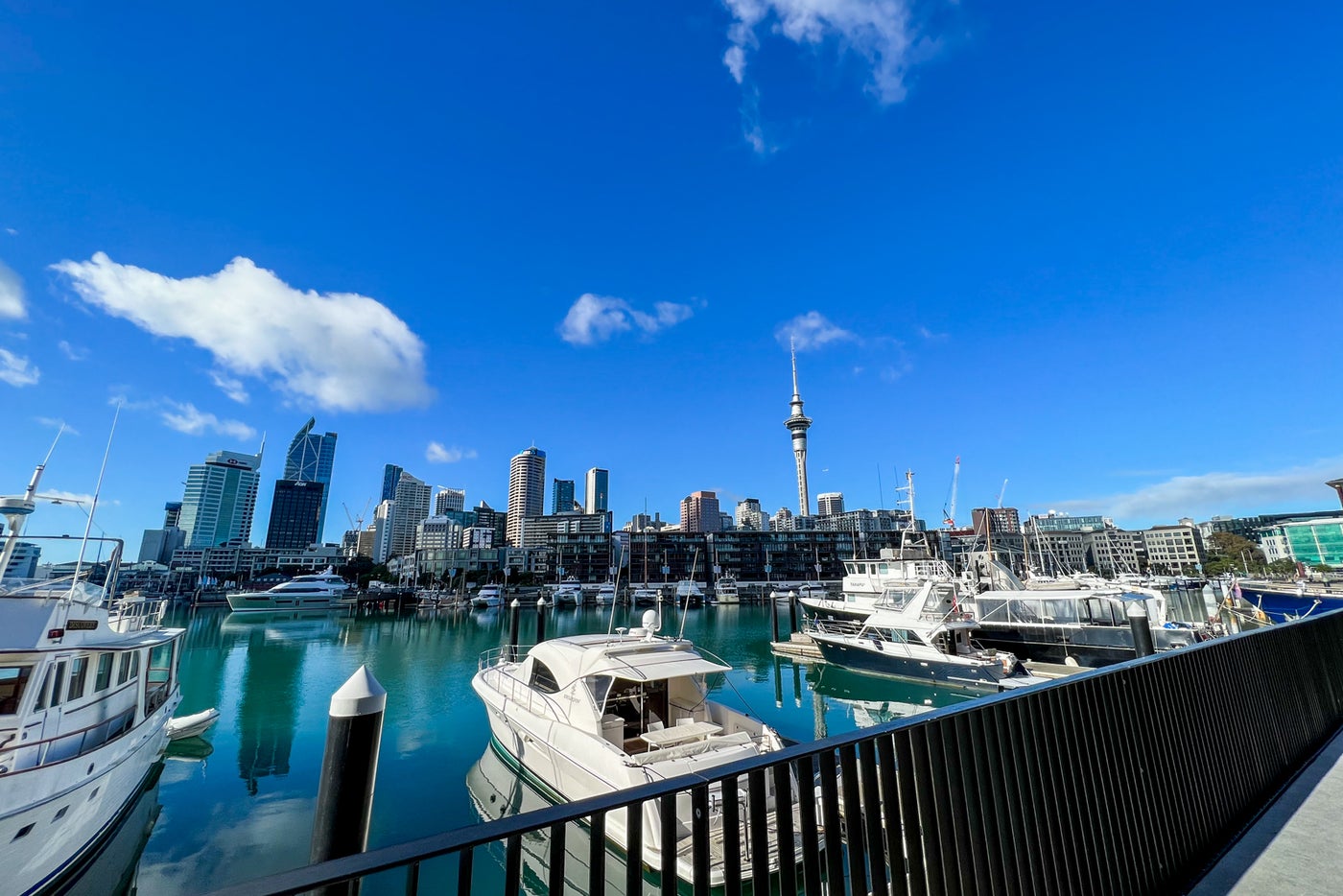 While I was in Auckland, I spoke to Tourism New Zealand's chief executive, Rene de Monchy, about the challenges tourism businesses there are facing now that international travel has returned and what visitors can expect during the coming months. He said the future looks bright, but 2022 will definitely be a rebuilding year for the country's tourism industry.
Get the latest points, miles and travel news by signing up for TPG's free daily newsletter.
Rebuilding the tourism industry will take time
International tourism spending in New Zealand dropped an astonishing 91.5% from 2019 to 2021, plummeting from around $10.3 billion to just $950 million according to Tourism Industry Aotearoa (TIA), an independent association that tracks the country's tourism sector using government statistics.
In the face of those trends, New Zealand's surviving tourism businesses had to downsize and pivot to the domestic market, which turned out to be a saving grace, de Monchy said. Even before the pandemic, domestic travel accounted for 60% of tourism spending in the country.
Now, the return of international travelers will depend on how quickly airlines bring back their long-haul routes to the destination.
"Realistically, for long-haul markets like North America, we're really going to see that ramp up as we get into our summer … allowing the airlines a bit of runway to prepare for our peak season," de Monchy said.
He noted that Air New Zealand is currently operating flights from Auckland to its two main U.S. hubs, Los Angeles and San Francisco, as well as resuming flights to Houston in July and Chicago in October. The airline has also announced plans for its new longest route, from Auckland to New York City, beginning in September.

What's more, United is set to restart flights to Auckland from San Francisco in October, Hawaiian Airlines is bringing back its route from Honolulu to Auckland in July and Air Canada will restore its route from Vancouver, British Columbia, to Auckland in November. American Airlines is reportedly considering a relaunch of its route from Los Angeles to Auckland as well, though there's no official word on that yet.
That said, the options for flying from the U.S. to New Zealand will remain fairly limited and rather expensive for the next six months. On Air New Zealand, round-trip economy flights from San Francisco to Auckland start at $1,324 and from Los Angeles to Auckland start at around $1,370. Round-trip economy flights with stopovers on other carriers from the U.S. to New Zealand, including Fiji Airways and Hawaiian Airlines, start at around $900 in that same time period.
Staffing remains an issue
Tourism and hospitality-supported employment in New Zealand dropped by over 33% from 2019 to 2021. It will take a while for businesses to staff back up after a cliff dive like that, de Monchy said.
"People are now actively trying to rehire previous staff or hire new staff, and that is challenging…. Again, we've got quite a long lead-up time to our summer, which I think will help some of these locations and operators scale back up," de Monchy said.
Speaking anecdotally, few of the hotels I stayed at during my 10-day visit around the country were open to full capacity yet, which led to some issues.
First, some hotels were simply leaving blocks of accommodations that they could not service empty, which limited availability and made it virtually impossible to book a stay of more than a single night in some instances.
There were also drastic room rate fluctuations from day to day, including swings from under $100 to over $230 for the same category of room at the DoubleTree Wellington.
With all that in mind, travelers heading to New Zealand in the next few months would be wise to nail down reservations as far in advance as possible to secure the flights and hotels they prefer.
How comfortable should you feel making plans?
Traveling to New Zealand can be a major undertaking, so some folks might understandably not want to take the risk, financially or time-wise, of booking a trip just yet.
It has already gotten much easier to visit the country thanks to loosening entry requirements. And with a population that is over 95% fully vaccinated, it seems unlikely that borders will close again, though health measures on the ground might evolve.
"From our perspective as the tourism board," de Monchy said, "we want it to be as easy as possible to get to New Zealand. The less barriers there are, the better."
That said, it will pay to be a little cautious for some time to come. Before the pandemic, around three-quarters of long-haul trips to the country were booked through travel agents and tour operators. That will likely remain the case as travelers opt for intermediaries who can help them navigate entry rules and requirements, cancellation and change policies as well as which tourism offerings are open and operating. A solid travel insurance policy might be a good idea, too.
The good news is that many hotels have relaxed their cancellation conditions, allowing visitors to modify or nix their plans up to the day before checking in, even on the least expensive room rates.
Some hotels promise full refunds should trips be canceled specifically due to COVID-19. The Lindis, a luxury lodge about two hours outside Queenstown where room rates start at over $1,300 per night, currently has a laxer-than-usual cancellation policy that provides a full refund or a 12-month credit if you are unable to travel to or within New Zealand due to COVID-19.

With those assurances in place, now might just be the time to book that long-awaited trip, especially while the U.S. dollar is strong and New Zealand remains a relatively affordable destination. It just may require you to be more flexible than usual in terms of your time on the ground and the destinations and activities you hope to experience.
For their part, "New Zealanders are looking forward to welcoming visitors back," said de Monchy. "They can see the value of tourism. They can see what they missed. So there's a strong desire to have visitors come back into the country."
I can certainly attest to that based on the number of friendly smiles my American accent elicited on my recent trip, and the hearty calls of "Kia ora!" I was greeted with nearly everywhere I went.
Featured photo by wnjay_wootthisak/Getty Images.
Sign-up Successful!
Welcome to The Points Guy!
Delta SkyMiles® Platinum American Express Card
Earn 90,000 bonus miles after you spend $3,000 in purchases on your new Card in your first 3 months. Offer ends 8/3/2022.
With Status Boost™, earn 10,000 Medallion Qualification Miles (MQMs) after you spend $25,000 in purchases on your Card in a calendar year, up to two times per year getting you closer to Medallion Status. Earn 3X Miles on Delta purchases and purchases made directly with hotels, 2X Miles at restaurants and at U.S. supermarkets and earn 1X Mile on all other eligible purchases. Terms Apply.
Apply Now
More Things to Know
Limited Time Offer: Earn 90,000 bonus miles after you spend $3,000 in purchases on your new Card in your first 3 months. Offer ends 8/3/2022.
Earn up to 20,000 Medallion® Qualification Miles (MQMs) with Status Boost® per year. After you spend $25,000 in purchases on your Card in a calendar year, you can earn 10,000 MQMs up to two times per year, getting you closer to Medallion® Status. MQMs are used to determine Medallion® Status and are different than miles you earn toward flights.
Earn 3X Miles on Delta purchases and purchases made directly with hotels.
Earn 2X Miles at restaurants worldwide including takeout and delivery in the U.S., and at U.S. supermarkets.
Earn 1X Miles on all other eligible purchases.
Receive a Domestic Main Cabin round-trip companion certificate each year upon renewal of your Card. Payment of the government imposed taxes and fees of no more than $80 for roundtrip domestic flights (for itineraries with up to four flight segments) is required. Baggage charges and other restrictions apply. See terms and conditions for details.
Enjoy your first checked bag free on Delta flights.
Fee Credit for Global Entry or TSA PreCheck® after you apply through any Authorized Enrollment Provider. If approved for Global Entry, at no additional charge, you will receive access to TSA PreCheck.
Enjoy an exclusive rate of $39 per person per visit to enter the Delta Sky Club® for you and up to two guests when traveling on a Delta flight.
No Foreign Transaction Fees.
$250 Annual Fee.
Terms Apply.
Regular APR
17.24%-26.24% Variable
Recommended Credit
Excellent/Good