Delta's New York-JFK expansion just got significantly scaled back
This post contains references to products from one or more of our advertisers. We may receive compensation when you click on links to those products. Terms apply to the offers listed on this page. For an explanation of our Advertising Policy, visit this page.
The pandemic has upended the entire airline industry, and it just claimed its latest victim.
Delta's expansion at New York-JFK, which was first announced just days before the coronavirus came stateside, won't happen as originally planned.
On Thursday, the Port Authority of New York and New Jersey, which oversees the major airports in the tri-state area around New York City, approved a resolution to scale back Delta's Terminal 4 expansion.
Stay up-to-date on airline and aviation news by signing up for our brand-new aviation newsletter.
The resolution breaks the planned expansion into two phases, one which is slated to begin in the third quarter of this year, and another which could be undertaken in the next few years, depending on the outcome of the pandemic and other factors.
The first phase of work is "60% smaller in investments," Derek Utter, the chief development officer for the Port Authority, said in Thursday's public board meeting.
The plan announced in February 2020 included 16 new narrowbody gates to be added to Concourse A in Terminal 4. Now, the current proposal includes just two new narrowbody gates and eight regional jet gates added to the end of Concourse A.
Delta's regional jet gates currently located at the end of Concourse B will be converted to narrowbody gates in the first phase of the updated plan.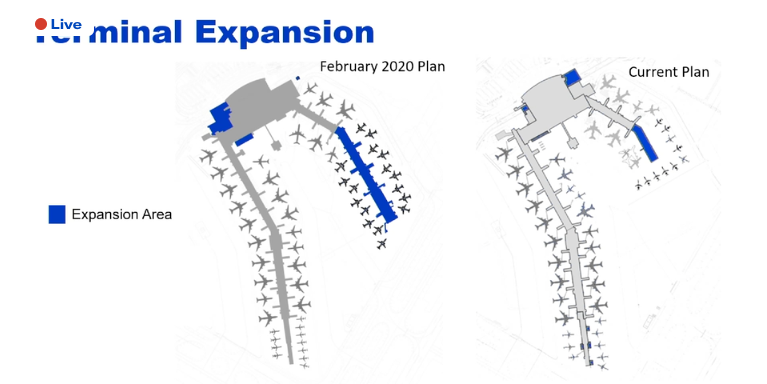 Other upgrades include $100 million in renovations of the existing check-in areas in Terminal 4, as well as a modified arrivals level curb to aid congestion. The previous plan included a new and expanded terminal entrance, as well as $400 million in passenger-facing terminal improvements, such as expanded seating areas, concessions and restrooms.
The details of the exact terminal upgrades included in the first phase are still being worked out. Rick Cotton, executive director of the Port Authority, told TPG that the terminal upgrades are "25% of what we originally wanted… much of that is still being designed by Delta and JFKIAT [the terminal operator]," he said.
Notably, the original plan called for a new Delta Sky Club at JFK, though it's unclear whether one will be built under the reduced project scope.

Altogether, the new plan calls for a $1.5 billion investment, compared to $3.8 billion in the original proposal. The project will be funded by bonds issued by the terminal operator, JFK International Air Terminal LLC.
The Port Authority predicts that the project should be completed in roughly two years. Groundbreaking is slated for the third quarter of this year, with the new gates opening at the end of 2022. The remainder of the work should be complete in 2023.
As the project begins, flyers may experience disruptions when traveling through JFK and Terminal 4. Cotton told TPG that traffic plans are being developed to minimize any disruptions. "Construction inevitably has impacts on airport operations, but hopefully passengers will recognize the inconvenience — which we will be seeking to minimize — will be worth the new airport facilities," he said.
Related: LaGuardia's new terminal is a major upgrade — see for yourself
By expanding Terminal 4, Delta will consolidate all of its JFK operations there, a move that's been contemplated for over ten years, according to Utter.
Before the pandemic, the Atlanta-based carrier split flights from both Terminal 2 and Terminal 4. In April 2020, Delta shuttered Terminal 2 due to the pandemic-related reduction in air traffic. The Port Authority plans to demolish Terminal 2 to make room for an expanded Terminal 1 at some point in 2022, according to Cotton.
The remainder of the Terminal 4 upgrades will be considered in a second phase of work, including ten new narrowbody gates, $300 million in additional passenger-facing terminal renovations and roadway improvements.
Thursday's announcement didn't discuss any of the other planned improvements for JFK, which New York Gov. Andrew Cuomo first unveiled in January 2017.
Despite the pandemic, Delta is charging ahead with airport infrastructure projects elsewhere. The carrier is working on new terminals in Los Angeles (LAX) and New York LaGuardia (LGA), among others. That work is getting accelerated due to the demand downturn and drop in air traffic related to the pandemic.
In recent months, Delta, along with local authorities, inaugurated a brand-new terminal in Salt Lake City, one of its "core" hubs. The second phase of the new SLC airport could wrap up to two years early, also thanks to an accelerated timeline due to the pandemic.
Featured photo by Ryan Patterson/The Points Guy
Sign-up Successful!
Welcome to The Points Guy!
Delta SkyMiles® Platinum American Express Card
Earn 90,000 bonus miles after you spend $3,000 in purchases on your new Card in your first 3 months. Offer ends 8/3/2022.
With Status Boost™, earn 10,000 Medallion Qualification Miles (MQMs) after you spend $25,000 in purchases on your Card in a calendar year, up to two times per year getting you closer to Medallion Status. Earn 3X Miles on Delta purchases and purchases made directly with hotels, 2X Miles at restaurants and at U.S. supermarkets and earn 1X Mile on all other eligible purchases. Terms Apply.
Apply Now
More Things to Know
Limited Time Offer: Earn 90,000 bonus miles after you spend $3,000 in purchases on your new Card in your first 3 months. Offer ends 8/3/2022.
Earn up to 20,000 Medallion® Qualification Miles (MQMs) with Status Boost® per year. After you spend $25,000 in purchases on your Card in a calendar year, you can earn 10,000 MQMs up to two times per year, getting you closer to Medallion® Status. MQMs are used to determine Medallion® Status and are different than miles you earn toward flights.
Earn 3X Miles on Delta purchases and purchases made directly with hotels.
Earn 2X Miles at restaurants worldwide including takeout and delivery in the U.S., and at U.S. supermarkets.
Earn 1X Miles on all other eligible purchases.
Receive a Domestic Main Cabin round-trip companion certificate each year upon renewal of your Card. Payment of the government imposed taxes and fees of no more than $80 for roundtrip domestic flights (for itineraries with up to four flight segments) is required. Baggage charges and other restrictions apply. See terms and conditions for details.
Enjoy your first checked bag free on Delta flights.
Fee Credit for Global Entry or TSA PreCheck® after you apply through any Authorized Enrollment Provider. If approved for Global Entry, at no additional charge, you will receive access to TSA PreCheck.
Enjoy an exclusive rate of $39 per person per visit to enter the Delta Sky Club® for you and up to two guests when traveling on a Delta flight.
No Foreign Transaction Fees.
$250 Annual Fee.
Terms Apply.
Regular APR
17.24%-26.24% Variable
Recommended Credit
Excellent/Good