Busy Alaska cruise port at risk for 'catastrophic' rockslide, geologists say
This post contains references to products from one or more of our advertisers. We may receive compensation when you click on links to those products. Terms apply to the offers listed on this page. For an explanation of our Advertising Policy, visit this page.
Cruise lines are working to alter plans this week after a geologist firm's report revealed a busy Alaska port could soon be in the path of a potentially "catastrophic" rockslide.
The threat involves one of Alaska's busiest and most storied cruise ports, geologists say, and local leaders are scrambling to devise a plan to ensure cruisegoers aren't seriously injured while on land.
The port at the center of concern is in Skagway, where multiple ships from numerous major cruise lines stop each day and passengers frequently disembark to go on land excursions.
For more TPG news delivered each morning to your inbox, sign up for our daily newsletter.
The concern stems from the fact that a section of a major dock in the port sits at the foot of a mountain and rock formation that "will eventually fail," or collapse, according to a report prepared for Skagway municipal officials by a geological consultant earlier this month.
Such a collapse would be "catastrophic," according to the report from the firm Shannon & Wilson, and could threaten both a dock in the port as well as waterfront businesses and the many passengers who congregate at the foot of the hill each day during the busiest months of the cruise season.
"We were flabbergasted at how vulnerable we are," Skagway assembly member Reba Hylton said in a public meeting last week about the problem.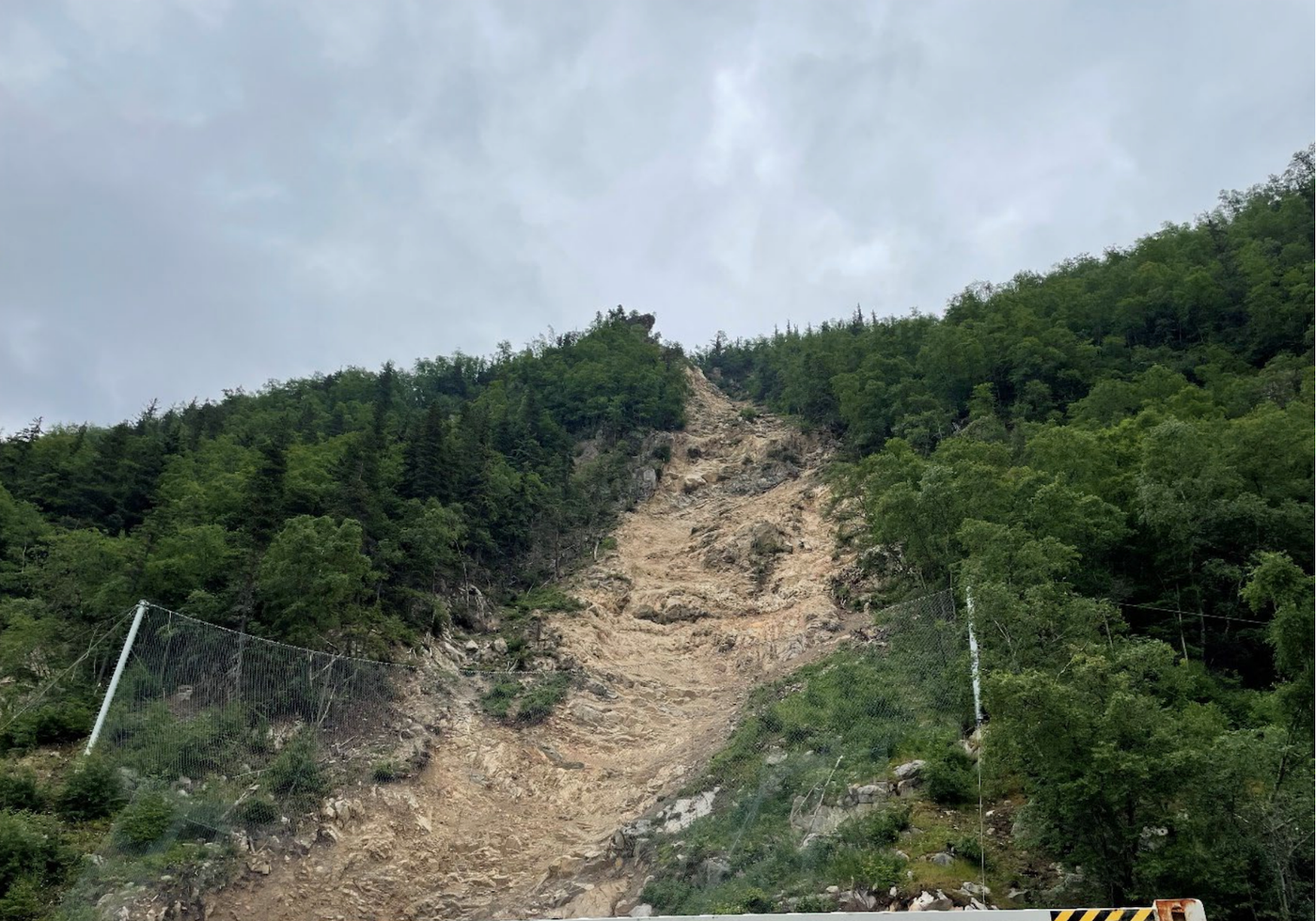 The slope threatening the port has rocks situated more than 600 feet above the dock, and the area has been subject to rockslides before, with local leaders pointing out two slides that happened in the fall of 2017. Juneau, Alaska-based KTOO reports another slide happened in June. Fortunately, no one was hurt.
Geologists noted that rock movement has accelerated of late, though, and predict a much more significant "failure" of the rock formation is likely to happen.
The "only reasonable option" would be a "controlled evacuation" of a section of the port while crews work to make the area safer, the report said.
It's a tough pill to swallow in Skagway, though, where the cruise industry — and the livelihood of those who rely on day excursions from passengers in port — has been shuttered the past two summers as the cruise industry got hit hard by the COVID-19 pandemic.
In an interview with TPG Monday evening, Skagway Mayor Andrew Cremata said protecting the safety of all who visit the area is the top priority. He noted the town has attempted to cut down on the risk to passengers by rerouting on-land foot traffic away from some of the most at-risk areas, as leaders work to figure out longer-term solutions.
"They're dramatic, they're severe," he said of the temporary measures, but added, "They're not perfect."
Municipal leaders, Cremata said, do not have the power to shut down the dock at risk, which he said is owned by White Pass & Yukon Route Railroad, a company that operates railroad excursions out of the port.
At present, the company continues to operate its railroad excursions, a White Pass & Yukon Route Railroad spokesperson told TPG Monday evening, while noting the company is "working towards safe short and long term solutions."
"Appropriate measures have been and are continuing to be taken to deal with this issue as we collaborate with the Municipality of Skagway," a company official told TPG Monday.
While Cremata stopped short of urging passengers against disembarking in Skagway, he also was quick to point out that he would not feel comfortable standing in the path of the area at risk for the rockslide — or spending an extended amount of time on a ship docked near the potential impact zone.
"If I were to have to go down there and spend 14 hours under it, I wouldn't feel safe," he said.
Cremata told TPG he heard from multiple cruise line executives Monday as companies, he said, began to learn more about the potential risks. He said some cruise lines have already pledged to help with solutions.
Princess Cruises announced itinerary adjustments Tuesday for port calls scheduled later this week. after the cruise line said The cruise line's Majestic Princess will instead call at Alaska's Icy Strait Point, a different port. The company is in the process of devising plans for other cruises for port calls scheduled later this week but said its priority is the safety of its guests and crew.
As of Monday, Skagway had been scheduled to have four ships in port, which has traditionally meant one ship would be using the at-risk dock.
"Nobody wants to put their passengers at risk," Cremata said Monday.
Cruise season in Alaska begins to wind down in mid-September but stretches into October. As leaders search for temporary solutions to protect passengers until then, Cremata said he's already been in touch with Alaska officials to discuss a more permanent — albeit complex and expensive — fix in time for the 2023 season.
We'll continue to monitor this developing story.
Planning a cruise? Start with these stories:
Featured photo of a cruise ship docked in Skagway in 2014 by DeAgostini/Getty Images.
Sign-up Successful!
Welcome to The Points Guy!
Citi Premier® Card
This card offers a 80,000-point bonus after spending $4,000 in the first three months. Plus, earn 3 ThankYou points per $1 at gas stations, restaurants, supermarkets and on air travel and hotels. 1 ThankYou point per $1 on all other purchases.
Apply Now
More Things to Know
For a limited time, earn 80,000 bonus ThankYou® Points after you spend $4,000 in purchases within the first 3 months of account opening
Earn 3 Points per $1 spent at Restaurants and Supermarkets
Earn 3 Points per $1 spent at Gas Stations, Air Travel and Hotels
Earn 1 Point per $1 spent on all other purchases
Annual Hotel Savings Benefit
80,000 Points are redeemable for $800 in gift cards when redeemed at thankyou.com
No expiration and no limit to the amount of points you can earn with this card
No Foreign Transaction Fees on purchases
Regular APR
18.24% - 26.24% (Variable)
Balance Transfer Fee
Balance transfer fee applies with this offer 5% of each balance transfer; $5 minimum.
Recommended Credit
Excellent, Good