Fantastic one-day sale: 29 great summer routes you can book for just 4,000 United miles each-way
This post contains references to products from one or more of our advertisers. We may receive compensation when you click on links to those products. Terms apply to the offers listed on this page. For an explanation of our Advertising Policy, visit this page.
When I saw the news this morning that United was offering round-trip flights for 8,000 miles for travel this summer, I was skeptical.
I've seen plenty of marketing gimmicks over the years, and this sale celebrating the 40th-anniversary promotion of MileagePlus felt like it could be one of those quite disappointing offerings with a big headline but only a handful of second- and third-tier routes on off-peak days that were actually included. After all, I've seen plenty of 20,000 mile one-way flights for simple routes out of my home airport of Washington-Dulles throughout the pandemic.
Want more travel news and advice from TPG? Sign up for our daily newsletter!
But, when I started digging in I also started singing a different tune. This sale is totally legit and deserving of attention.
First, some particulars on the offer, then I've got a few gems to share from pretty much every United hub:
These tickets need to be booked today (May 6, 2021).
No clear indication when "today" ends from a timezone standpoint, but I don't recommend pushing the limit to find out.
You need to purchase a round-trip flight.
Travel must be completed between June 1, 2021, and Aug. 31, 2021.
Saturday stay is required.
You can see the full list of city pairs on the United website, along with some international destinations on sale.
If you want to fly this summer and haven't booked anything yet, this could be the day that you hop to the computer and lock something in. I recommend viewing mileage price options in a 30-day calendar view to spot the cheapest days to fly.

For the purposes of my search, I only included cities that I verified round-trip availability as of the time of publication. In most cases, these are nonstop flights, though sometimes a connection is required to get the lowest rate. And, in my tests, it seems that folks who hold a MileagePlus credit card, like the United Quest Card, will absolutely see more availability at lower rates. Lastly, many of the dates I searched had four seats or more of availability. That's great for family travel!
Remember that Chase Ultimate Rewards points from cards such as the Chase Sapphire Preferred Card usually transfer instantly to United at a 1:1 ratio if you need to move some miles over to book.
Here are some of the best options I found for just 4,000 miles each way, round-trip purchase required:
Washington DC (IAD)
This might not be the first alphabetically, but it is my home airport so we'll start there. This origin didn't yield the best results, but there were some really interesting options, including one route I didn't even know United operated out of Dulles:
From IAD you can fly for 8,000 miles round trip to:
Hilton Head, SC
Savannah, GA
Fort Myers, FL
Presque Isle, ME

In case you're not familiar with Presque Isle, it's fairly far north in Maine, near the Canadian border.
It's almost a three-hour drive from Bangor and six hours from Boston. Award flights don't appear to drop in price very often right now to PQI and Maine is a beautiful place to visit in the summer months.
Hilton Head and Savannah are both great weekend destinations and Fort Myers has some nice hotels with beaches and pools if that's more your style.

Newark (EWR)
I found plenty of 8,000 mile round trip availability to three of the same cities as Dulles:
Fort Myers, FL
Presque Isle, ME
Savannah, GA
There were flight options in June, July and August. And, there were even some reasonable connections using IAD that expanded the available dates you could plan a vacation.
Chicago (ORD)
Chicago had one list of cities I wish we could take advantage of from Dulles. You can basically find 8,000-mile round-trip options to every city in Canada they fly to. Alas, the majority of Americans aren't allowed across the border, at least not without significant complications … for now.
Chicago residents can still book a weekend trip on multiple weekends to:
Charleston, SC
Fort Myers, FL
Pensacola, FL
Savannah, GA

Houston (IAH)
A healthy list of fun destinations from Houston and lots of nonstop availability:
Aspen, CO
Bozeman, MT
Charleston, SC
Fort Lauderdale, FL
Fort Myers, FL
Jackson, WY
New Orleans, LA
Pensacola, FL
Houston was also one of the hubs where certain destinations, such as Fort Lauderdale had multiple options at 4,000 miles per flight:

And, Houston is also another example of a hub where the flight times are pretty reasonable.

Frequently we'll see fare sales where you're flying at 6 a.m. or 9 p.m. to avoid the popular flights for business travelers. But, as long as you have the vacation time, this itinerary to Bozeman would probably get you some pretty good weather for exploring Montana in July:

Los Angeles (LAX)
Los Angeles was one of the tougher hubs to find desirable destinations with plenty of availability. The three best options I spotted were:
Aspen, CO
Jackson Hole, WY
Seattle, WA
Lodging might be a pricey proposition for Aspen and Jackson Hole, though you can always put hotel points to great use. Summers in Seattle can be great if you time it carefully.

Denver (DEN)
Denver wins the award for most interesting flight (and maybe destination) amongst the list.
Devils Lake, ND
West Yellowstone, MT
Los Angeles, CA
Devils Lake wasn't on my list of places to explore, but it might be now. And, the aviation geek in me wouldn't hate the 36-minute stop in Jamestown, North Dakota. Who knew that could be a connection point? Not me.

San Francisco (SFO)
San Francisco has an eclectic mix of cities with decent availability depending on what you're in the mood for:
Aspen, CO
Los Angeles, CA
Sun Valley, ID
Tuscon, AZ
Some folks refer to Sun Valley as the "poor man's Jackson Hole". While the prices have edged up a bit over the years, Sun Valley can be a beautiful place to explore. Just a two-hour flight from SFO means this one is an easy weekend getaway.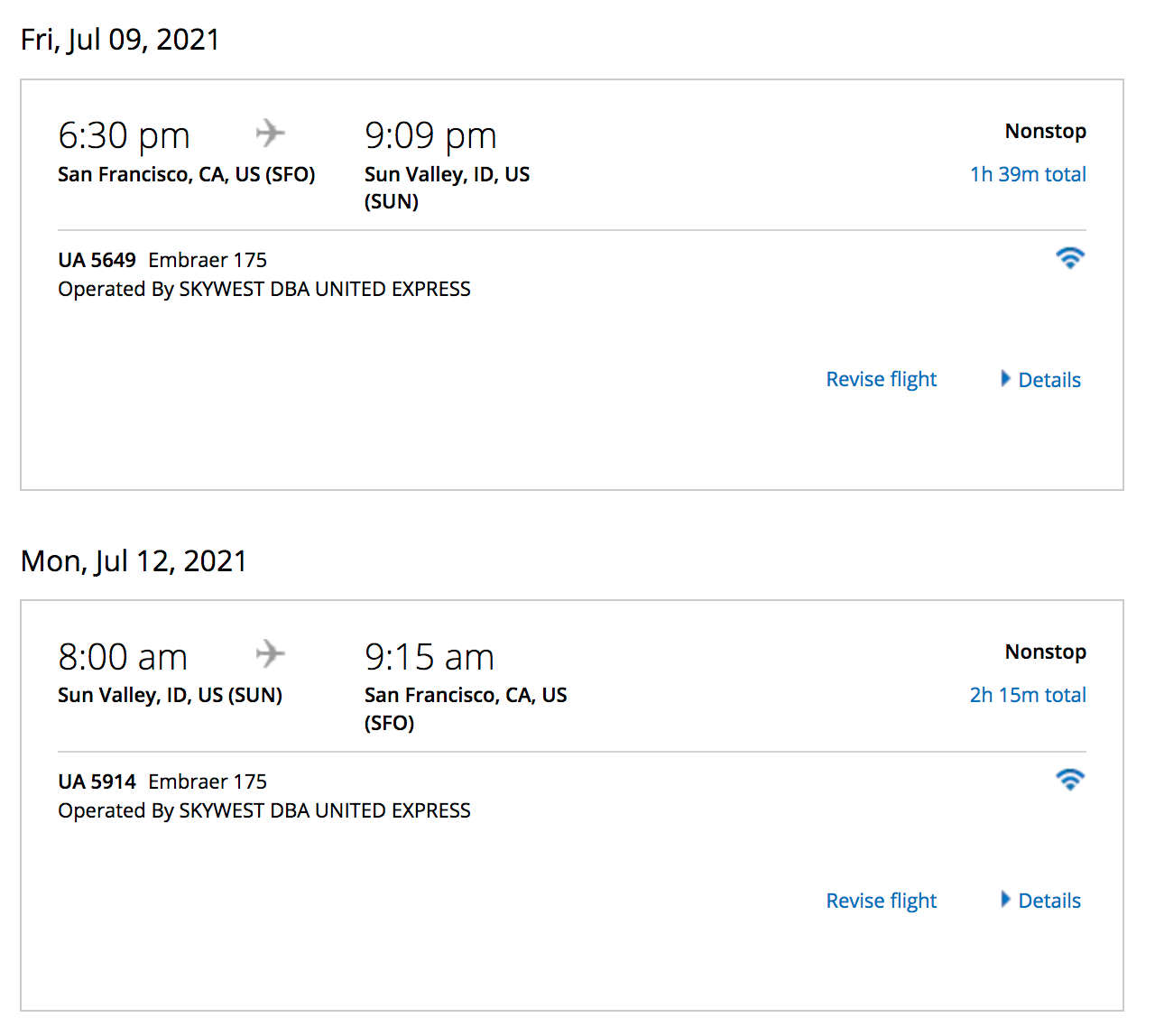 Bottom line
The most important piece of advice we can give about this award sale is if you're thinking about one of these trips, book it now.
This fare sale only runs through today, May 6th. It's doubtful we'll see as many cities on sale again for as many summer dates as what we see right now. Pre-pandemic you would have had 24 hours to make changes to itineraries like this. However, United changed these rules last year and you can now change domestic award tickets with no fee.
And, if you cancel 30 days ahead of time, you can redeposit the miles with no fee. So, if you're ready to travel, there's really no reason not to book something and give yourself the ability to change your mind later.
Featured image courtesy of Zach Griff/The Points Guy
Sign-up Successful!
Welcome to The Points Guy!
Delta SkyMiles® Platinum American Express Card
Earn 90,000 bonus miles after you spend $3,000 in purchases on your new Card in your first 3 months. Offer ends 8/3/2022.
With Status Boost™, earn 10,000 Medallion Qualification Miles (MQMs) after you spend $25,000 in purchases on your Card in a calendar year, up to two times per year getting you closer to Medallion Status. Earn 3X Miles on Delta purchases and purchases made directly with hotels, 2X Miles at restaurants and at U.S. supermarkets and earn 1X Mile on all other eligible purchases. Terms Apply.
Apply Now
More Things to Know
Limited Time Offer: Earn 90,000 bonus miles after you spend $3,000 in purchases on your new Card in your first 3 months. Offer ends 8/3/2022.
Earn up to 20,000 Medallion® Qualification Miles (MQMs) with Status Boost® per year. After you spend $25,000 in purchases on your Card in a calendar year, you can earn 10,000 MQMs up to two times per year, getting you closer to Medallion® Status. MQMs are used to determine Medallion® Status and are different than miles you earn toward flights.
Earn 3X Miles on Delta purchases and purchases made directly with hotels.
Earn 2X Miles at restaurants worldwide including takeout and delivery in the U.S., and at U.S. supermarkets.
Earn 1X Miles on all other eligible purchases.
Receive a Domestic Main Cabin round-trip companion certificate each year upon renewal of your Card. Payment of the government imposed taxes and fees of no more than $80 for roundtrip domestic flights (for itineraries with up to four flight segments) is required. Baggage charges and other restrictions apply. See terms and conditions for details.
Enjoy your first checked bag free on Delta flights.
Fee Credit for Global Entry or TSA PreCheck® after you apply through any Authorized Enrollment Provider. If approved for Global Entry, at no additional charge, you will receive access to TSA PreCheck.
Enjoy an exclusive rate of $39 per person per visit to enter the Delta Sky Club® for you and up to two guests when traveling on a Delta flight.
No Foreign Transaction Fees.
$250 Annual Fee.
Terms Apply.
Regular APR
17.24%-26.24% Variable
Recommended Credit
Excellent/Good