New airport 'street pricing' models taking a bite out of high food costs
This post contains references to products from one or more of our advertisers. We may receive compensation when you click on links to those products. Terms apply to the offers listed on this page. For an explanation of our Advertising Policy, visit this page.
Airport food concessions have long been infamous for high prices and low quality. Airline passengers trapped at the terminal waiting for delayed flights or enduring long layovers prove to be a captive market vulnerable to predatory pricing, indifferent service and poor quality food.
In many airports, long-term concessions contracts with a single vendor create sales monopolies prone to abuse. Some travelers — and now even a few airports — say "enough is enough."
This month, the Port Authority of New York and New Jersey announced a crackdown on some of the more obscene pricing, including $30 beers at LaGuardia Airport (LGA).
TPG looked at what some other airports are doing to manage prices, as well as what you can do to help keep fees down. We also surveyed frequent flyers on what they see as some of the best and worst airport food deals around the country.
For more TPG news delivered each morning to your inbox, sign up for our daily newsletter.
The sky-high prices of airport food and drinks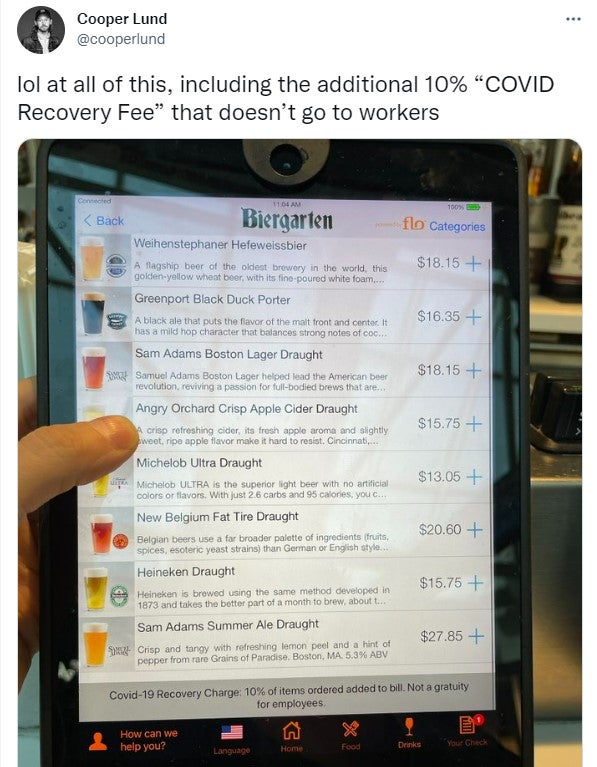 Last July, flyer Cooper Lund posted a LaGuardia Biergarten menu on Twitter showing a Sam Adams Summer Ale selling for $30.64 once the 10% "COVID-19 Recovery Charge" was factored in. While the menu described the beer as "crisp and tangy," Lund cried foul and shared the above-average pricing on social media.
Lund's post caught the attention of both consumers and the vendor, prompting OTG Management (the airport food and beverage operator that manages the LGA vendor in question) to offer him a refund and a free beer. Additionally, the airport's Office of Inspector General took notice, publicly stating that the pricing was "totally indefensible."
The high price of a beer at LGA isn't an outlier. TPG readers have reported similar rip-offs around the country.
Joelle Erikson said Bambuza in Seattle-Tacoma International Airport (SEA) sold her a "mediocre fried rice and Diet Coke for $25."
Tammy Li regretted paying more than $7 for an 8-ounce cup of grapes at Philadelphia International Airport (PHL).
Additionally, Pauline Scott lamented paying $63 for two burritos, a bowl of nachos and a bottle of water a few weeks ago (after the Port Authority's alleged pricing crackdown) at John F. Kennedy International Airport (JFK).
Related: Phoenix airport orders vendors to expand hours
The few exceptions at select airports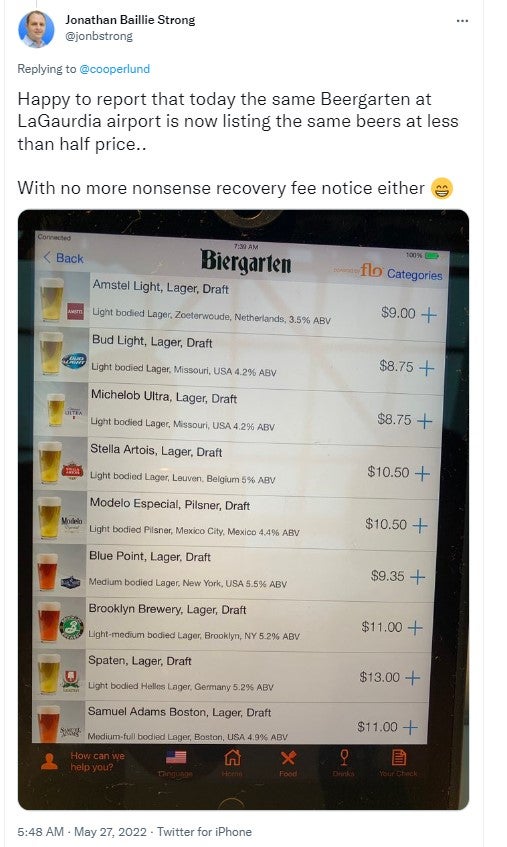 It's not all bad news about airport food and drink prices. Some TPG readers have reported finding surprisingly reasonable costs at their favorite airports.
At Southern California's Ontario International Airport (ONT), Sheryl Sofia said she bought "a large latte with syrup at Dunkin' for $4.89 and a breakfast bagel sandwich at another vendor for $6.41. I was worried I entered an alternate universe! There I was early morning looking at the prices at two places dumbfounded."
Dustin Prudhome described the 7-Eleven at Dallas Fort Worth International Airport (DFW) as being a vendor that has "regular store prices!"
And several TPG readers mentioned the reasonable prices at Portland International Airport (PDX). Heather Paige said "[the] street pricing guarantee rocks!" Meanwhile, Portland native Bob Blackey told TPG that "PDX truly keeps local prices and focuses on local restaurants. They even have the same happy hours! So happy to have it as a home base."
What to know about how airports manage food prices
To find out what airports are trying to do to manage pricing and quality among vendors, and gain some insight about what consumers can do if they have complaints, TPG reached out to several airport authorities. Many mentioned using some variant of "street pricing" plus a 10% to 15% surcharge as a baseline for vendors, and some provided additional details around their vendor prices.
Doug Yakel, public information officer for San Francisco International Airport (SFO), told TPG the airport has "long had a policy of restricting airport prices to 10% over street prices," albeit now with an additional 2% Employee Health Benefits Fee. However, there's more to the airport's rates than this street pricing policy.
"Tenants need to submit three comparisons when they start a lease or want to change prices," Yakel said. "Those comparisons are from their 'streetside' locations or comparable local, off-airport locations. We understand it is generally more expensive to eat in the San Francisco area and so our street price comparison is already higher than some, but not all, major metropolitan areas."
At Hartsfield-Jackson Atlanta International Airport (ATL), airport food pricing is now "street plus 15%" after the city council approved an increase from the previous 10% surcharge, according to Andrew Gobeil, the airport's director of communications.
Oakland International Airport (OAK) enforces "a street plus 10% pricing policy," airport spokesperson Kaley Skantz told TPG. "Where a concept has a street-side location, we will review the menu to ensure items are comparable in terms of price, and also ingredients and portion size. Where a concept does not have a street-side location, we review comparable local locations."
"We allow operators to add a 3% Benefits Surcharge with the option of increasing to 5% if they include in their menus both a 'Value Meal' and 'Deal of the Week,' Skantz said. "For 2022, the 'Value Meal' must be no more than $10 and must include an entree and a drink, while the 'Deal of the Week' must be a rotating menu offering also consisting of an entrée and drink, not to exceed $15."
What you should expect the next time you dine at LGA
In the Big Apple, the viral beer menu prompted action. On May 12, the Port Authority announced "comprehensive new measures" to enforce compliance with their street pricing plus 10% model.
"All airport customers should rightly expect that policies which limit the pricing of food and beverages at concessions will be followed and enforced," said Port Authority chairman Kevin O'Toole in a press release.
The Port Authority also shared a 35-page "standards and procedures" manual focusing on how to establish and modify prices of goods and services at LGA for vendors to follow. This should help to rein in some of the extortionate pricing.
However, there has been an unintended consequence of the Port Authority's manual. Vendors are already using it to increase prices, citing examples of recently rising costs at comparable street vendors to justify upping the prices of items on their menus.
Still, flyers will be happy to hear that they can now buy a Sam Adams at that same LGA bar for only $11. LGA's Biergarten dropped its menu prices by more than half in response to the viral post from Lund, as noted on Twitter last week by user @jonbstrong.
Related: How to get a free lunch at an airport
Bottom line
Airport food and drink prices continue to be expensive. However, many airports are trying to manage these costs by instituting and enforcing street pricing models that include a 10% to 15% surcharge.
One thing flyers can do to help with food and beverage price monitoring and enforcement is to document abnormally high airport prices and share them with the relevant airport authorities via social media.
Of course, packing your own food, visiting airline and credit card lounges, and not patronizing overpriced airport bars and restaurants is another way to signal you've gotten tired of these excessive prices.
Featured photo of Hartsfield-Jackson Atlanta International Airport by Jeffrey Greenberg/UIG/Getty Images.
Sign-up Successful!
Welcome to The Points Guy!
Delta SkyMiles® Platinum American Express Card
Earn 90,000 bonus miles after you spend $3,000 in purchases on your new Card in your first 3 months. Offer ends 8/3/2022.
With Status Boost™, earn 10,000 Medallion Qualification Miles (MQMs) after you spend $25,000 in purchases on your Card in a calendar year, up to two times per year getting you closer to Medallion Status. Earn 3X Miles on Delta purchases and purchases made directly with hotels, 2X Miles at restaurants and at U.S. supermarkets and earn 1X Mile on all other eligible purchases. Terms Apply.
Apply Now
More Things to Know
Limited Time Offer: Earn 90,000 bonus miles after you spend $3,000 in purchases on your new Card in your first 3 months. Offer ends 8/3/2022.
Earn up to 20,000 Medallion® Qualification Miles (MQMs) with Status Boost® per year. After you spend $25,000 in purchases on your Card in a calendar year, you can earn 10,000 MQMs up to two times per year, getting you closer to Medallion® Status. MQMs are used to determine Medallion® Status and are different than miles you earn toward flights.
Earn 3X Miles on Delta purchases and purchases made directly with hotels.
Earn 2X Miles at restaurants worldwide including takeout and delivery in the U.S., and at U.S. supermarkets.
Earn 1X Miles on all other eligible purchases.
Receive a Domestic Main Cabin round-trip companion certificate each year upon renewal of your Card. Payment of the government imposed taxes and fees of no more than $80 for roundtrip domestic flights (for itineraries with up to four flight segments) is required. Baggage charges and other restrictions apply. See terms and conditions for details.
Enjoy your first checked bag free on Delta flights.
Fee Credit for Global Entry or TSA PreCheck® after you apply through any Authorized Enrollment Provider. If approved for Global Entry, at no additional charge, you will receive access to TSA PreCheck.
Enjoy an exclusive rate of $39 per person per visit to enter the Delta Sky Club® for you and up to two guests when traveling on a Delta flight.
No Foreign Transaction Fees.
$250 Annual Fee.
Terms Apply.
Regular APR
17.24%-26.24% Variable
Recommended Credit
Excellent/Good