My biggest surprise on a flight to see Mauritius' 'underwater waterfall': I flew the plane
This post contains references to products from one or more of our advertisers. We may receive compensation when you click on links to those products. Terms apply to the offers listed on this page. For an explanation of our Advertising Policy, visit this page.
The idyllic island of Mauritius is a lure for travelers seeking pristine beaches and upscale resorts. However, you'll also find a stunning natural phenomenon – an "underwater waterfall."
You can only view this remarkable illusion from the air, so when I learned of the underwater waterfall seaplane tours, I had to sign up.
I expected a scenic ride. Little did I know that I was in for the flight of my life taking the controls of the Czech-built TL Ultralight TL-3000 Sirius while flying barefoot.
Get the latest points, miles and travel news by signing up for TPG's free daily newsletter.
About the flight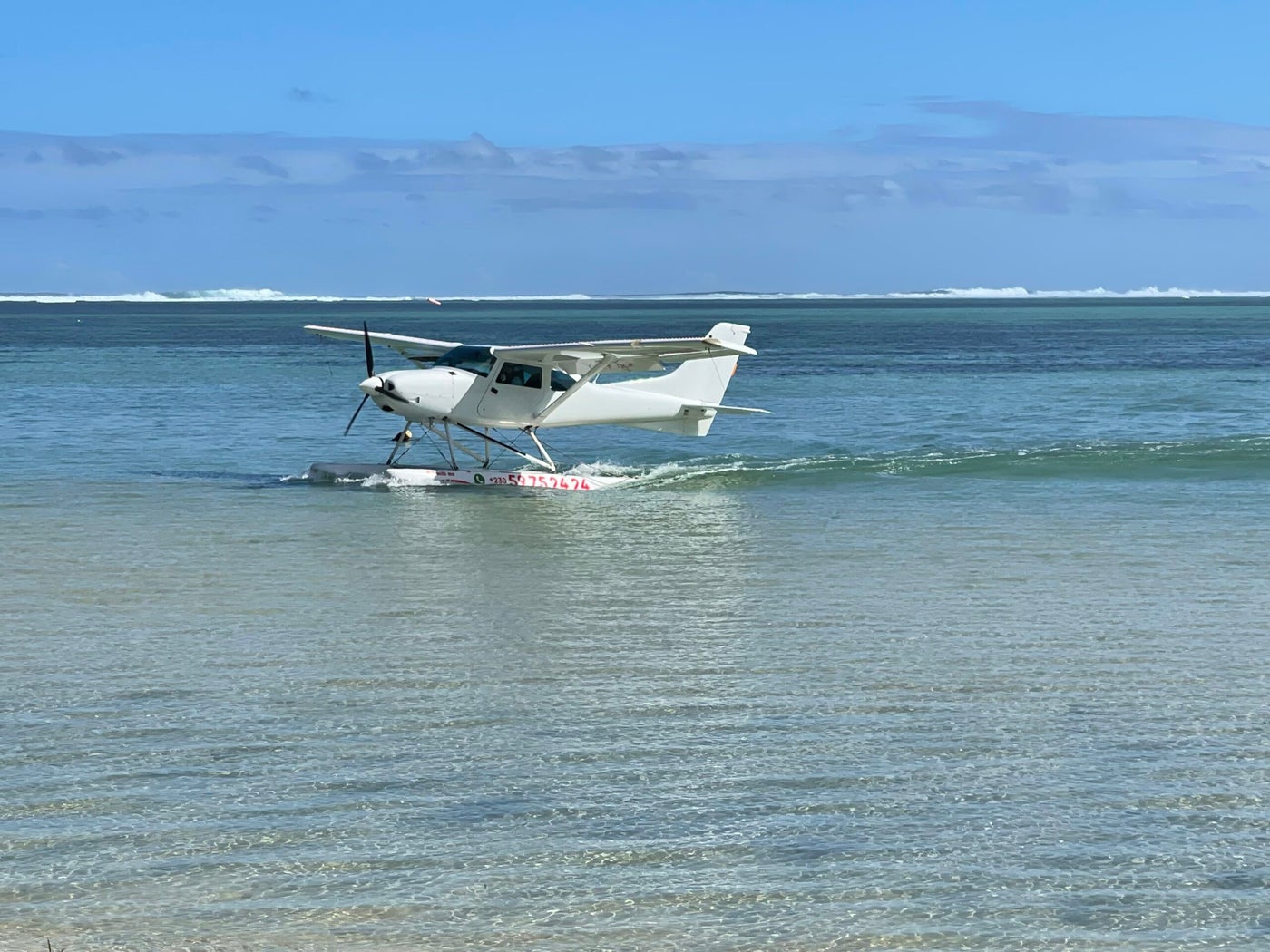 I stayed at the JW Marriott Mauritius Resort in the lush Riviere Noire District. It was only a five-minute drive — on the left-hand side of the road — to La Prairie Beach where scenic seaplane flights operated by LagoonFlight depart.
You can choose from 15-, 25-, 40- and 60-minute flights. The real highlight of the trip is the underwater waterfall, which you see on all of the flights. So I went for the 15-minute flight for 120 euros (about $125).
LagoonFlight operates two planes with just two seats, both of which are identical. Being ultralightweight, the planes only weigh about 650 pounds when empty. My plane only had 100 horsepower, which was adequate, but takeoff was no sprint. To my surprise, these planes only have a 34-gallon gas tank, and as you might expect, it takes the same unleaded fuel you put in your car. They have a range of 870 miles, so in ideal conditions, they get about 25 miles per gallon.
Related: How I'm spending over 5 million Marriott Bonvoy points
Preparing for flight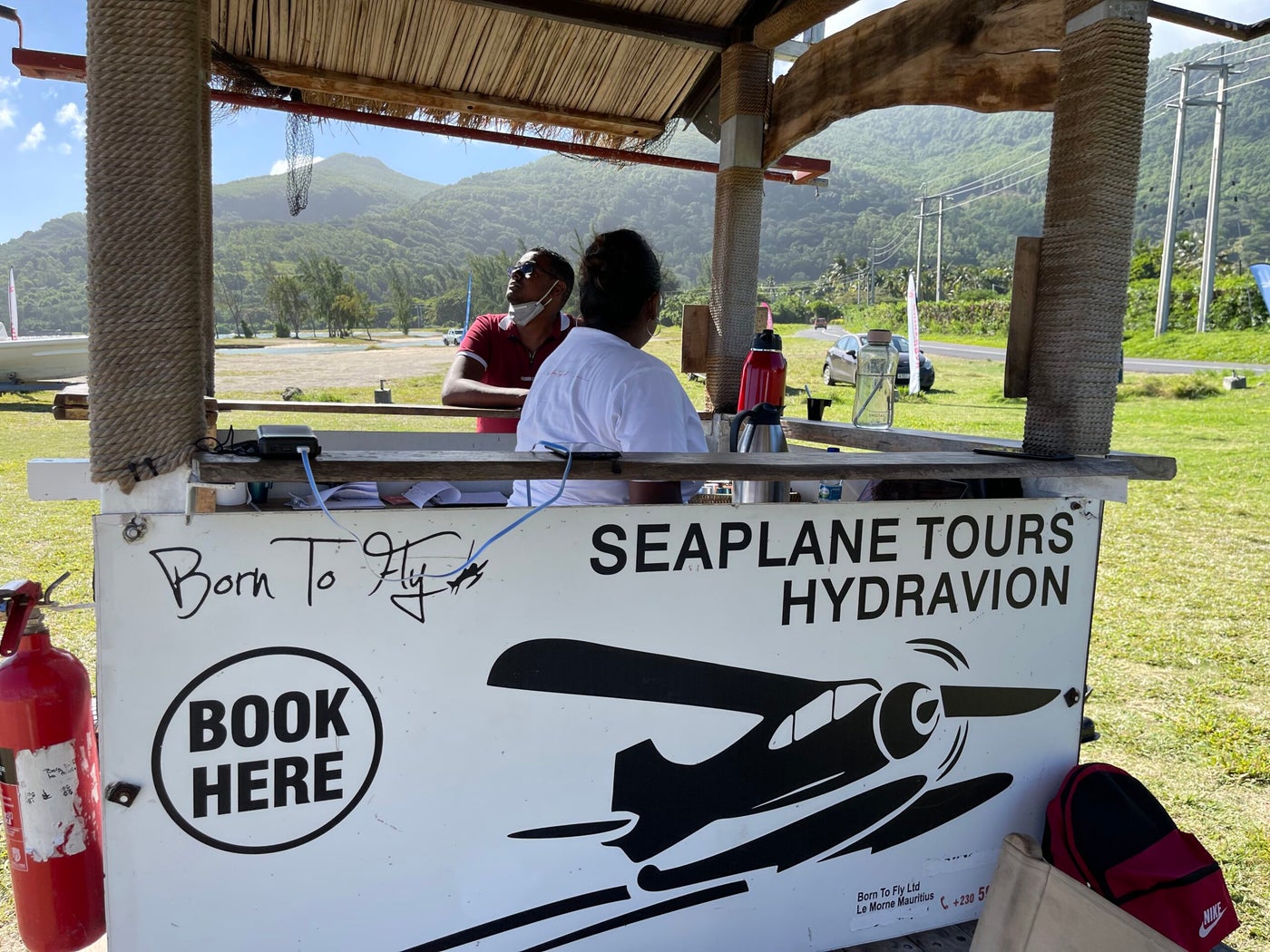 I parked the rental car (something you should have in Mauritius if you're comfortable driving on the other side of the road) in a dirt lot just adjacent to the beach, then walked over to the stall where I was offered a cup of coffee. After filling out a short waiver, I received a life jacket.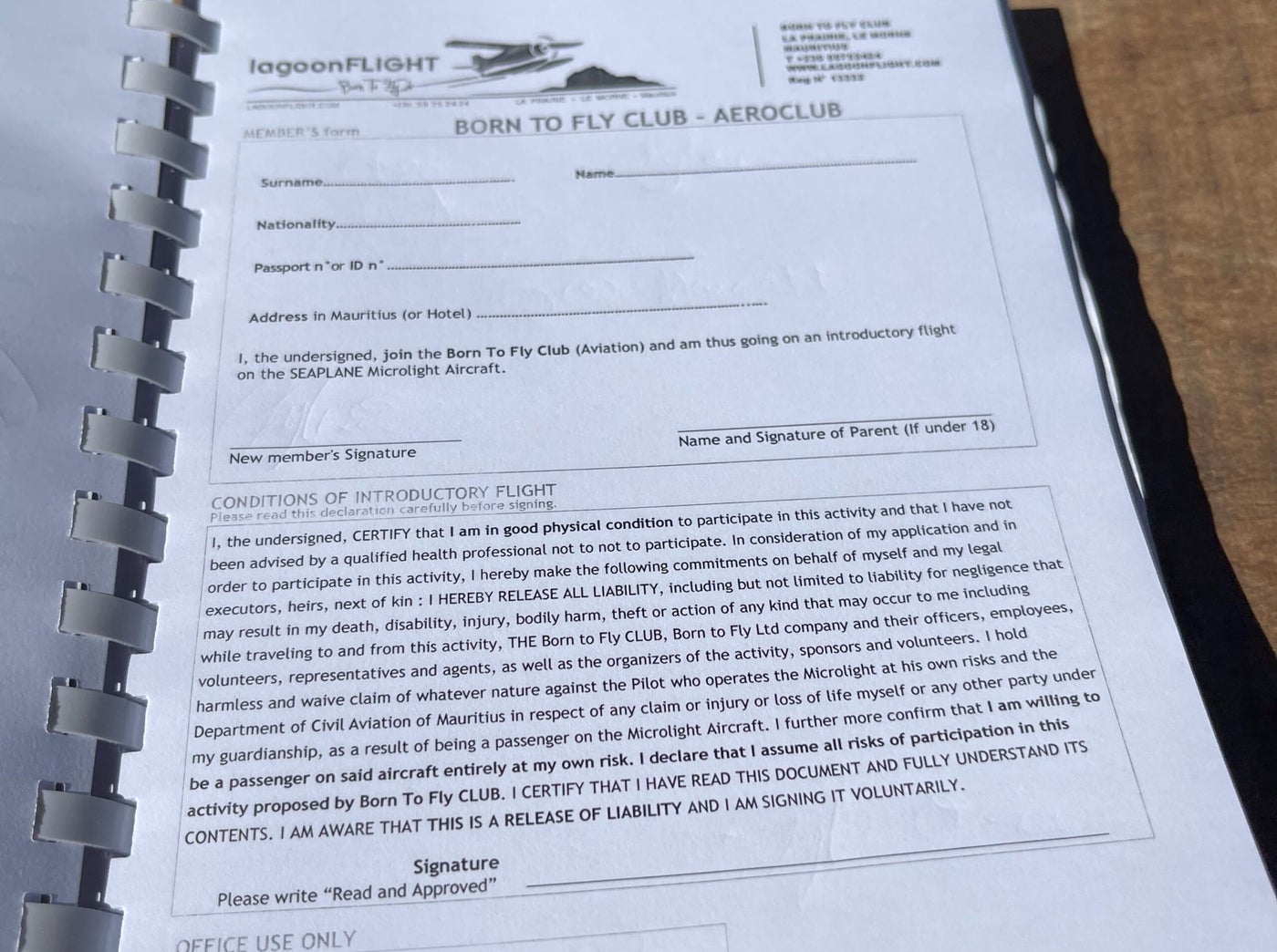 At first, I thought that I was given the life jacket to swim out to the plane since there was quite clearly no dock to board from. It gave the ground staff a good laugh.
As it turns out, life jackets are required to be worn "just in case."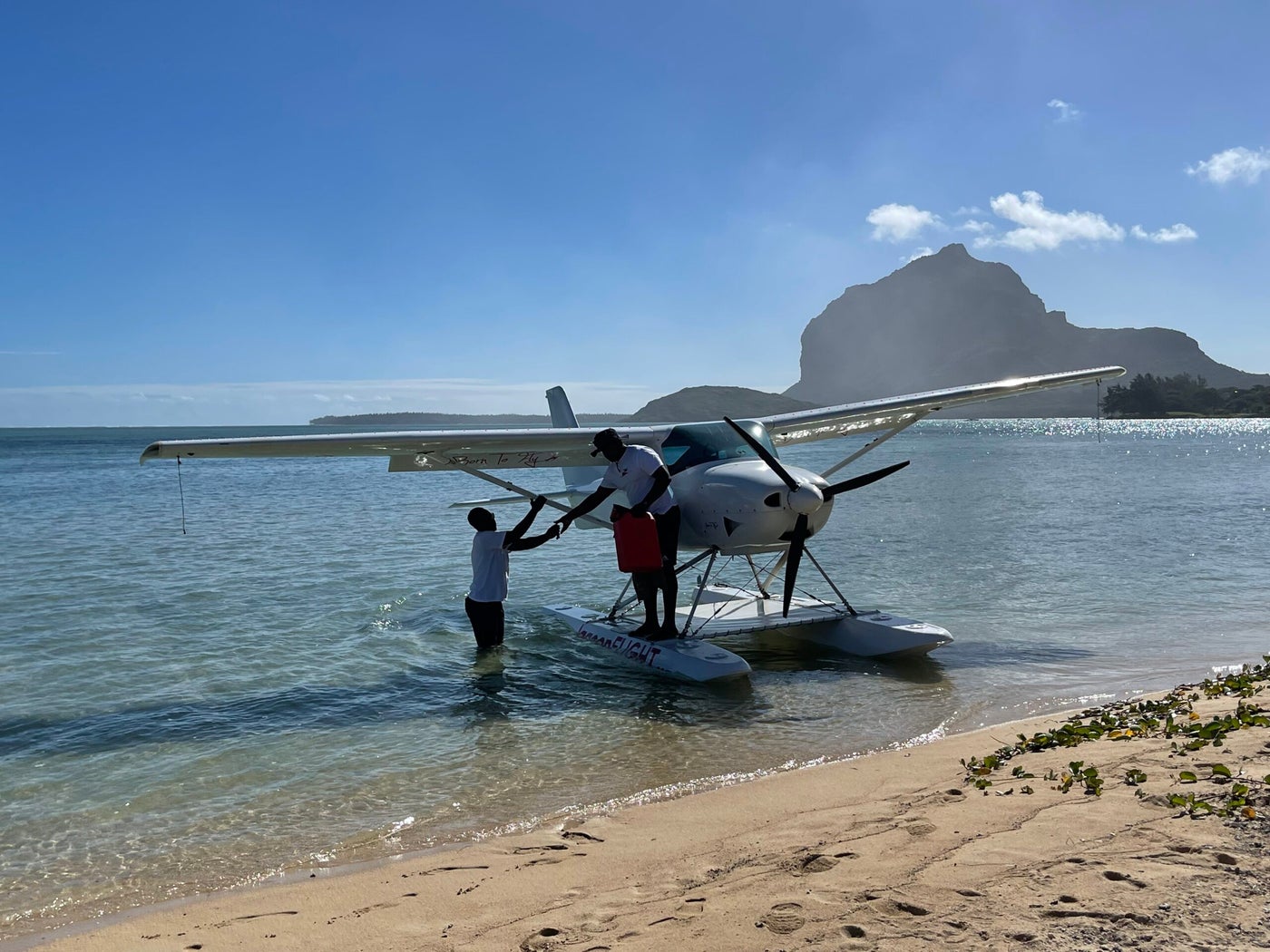 The plane came right up to the beach and it was refueled. Then, I walked out in knee-deep water to the plane and stepped up onto the pontoon.
They gave me a headset to communicate with the pilot, then belted me in over the lifejacket.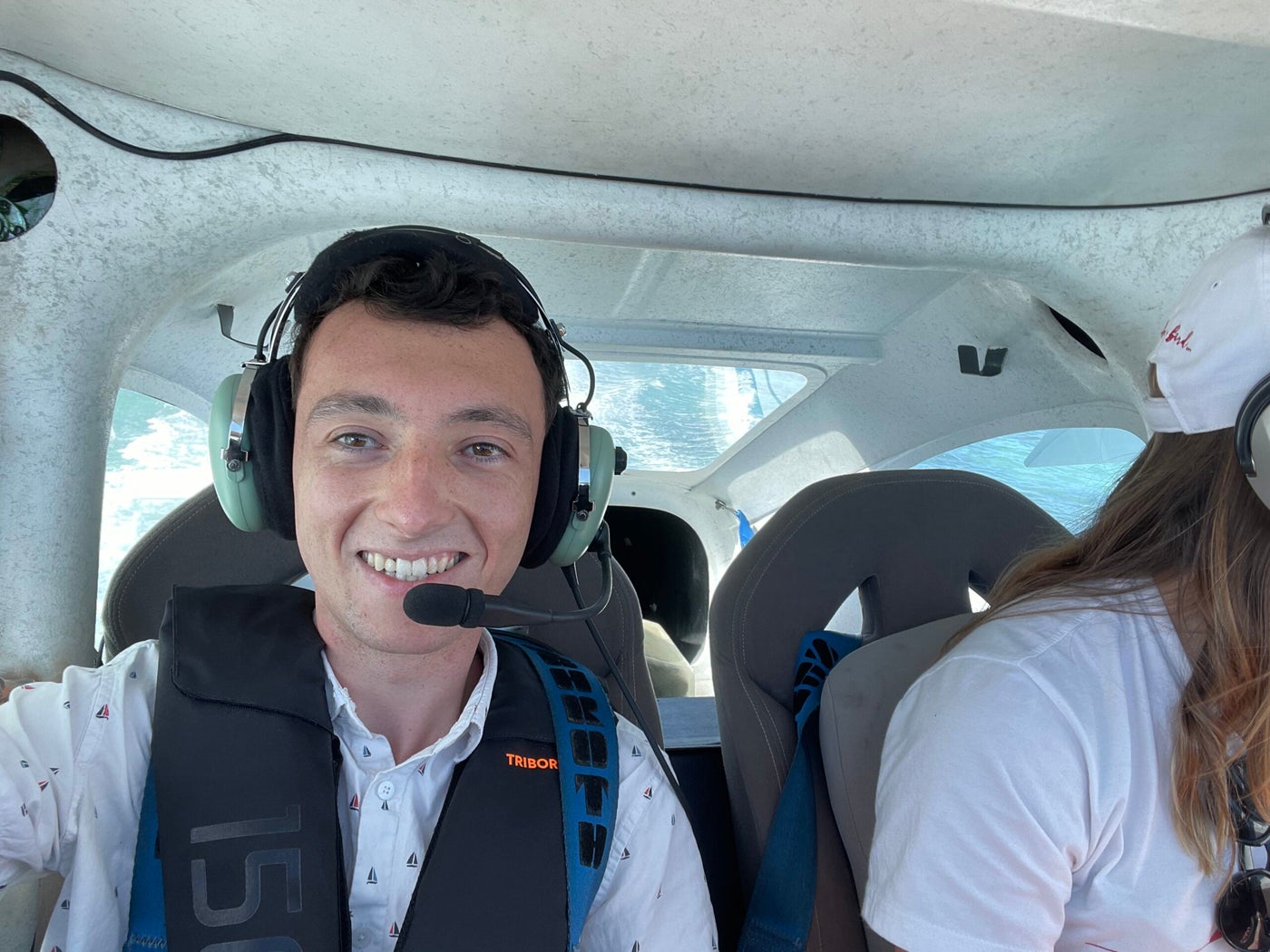 On this flight, I had a very special pilot, Capt. Flo.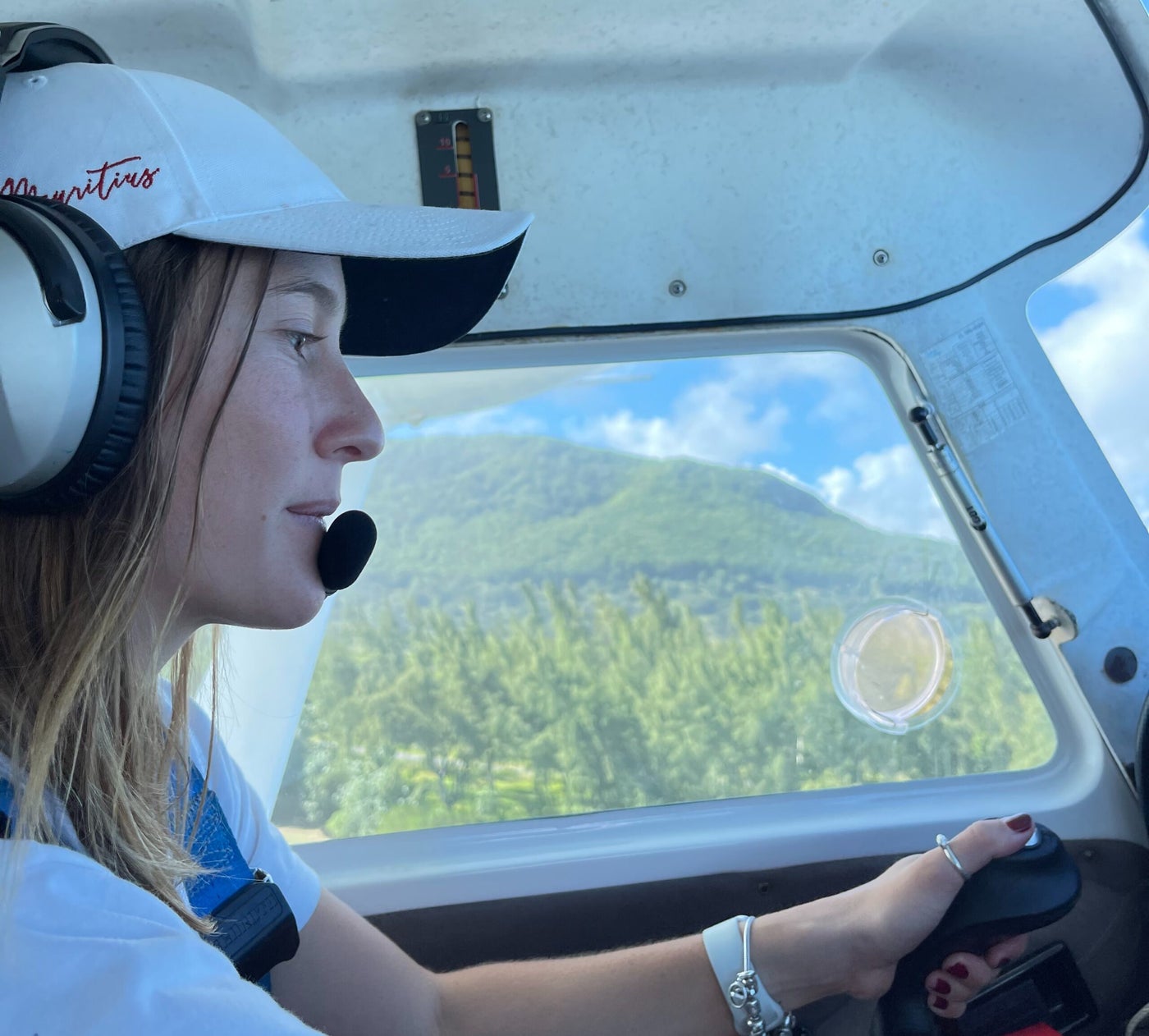 Capt. Flo, who is half South African and half Mauritian, is a year older than me. Her dream is to become a pilot for Air Mauritius, where she'll fly Airbus A330s and A350s. By flying the seaplane, she's able to gain the flight hours she needs to advance her career in aviation.
Throughout the flight, Capt. Flo and I had a nice conversation thanks to the headsets. I told her a bit about my experience with aviation working for The Points Guy, but more on that later.
After setting the throttle for takeoff thrust, Capt. Flo pulled back on the control column as we reached a rotational velocity of 50 knots. We were up and away!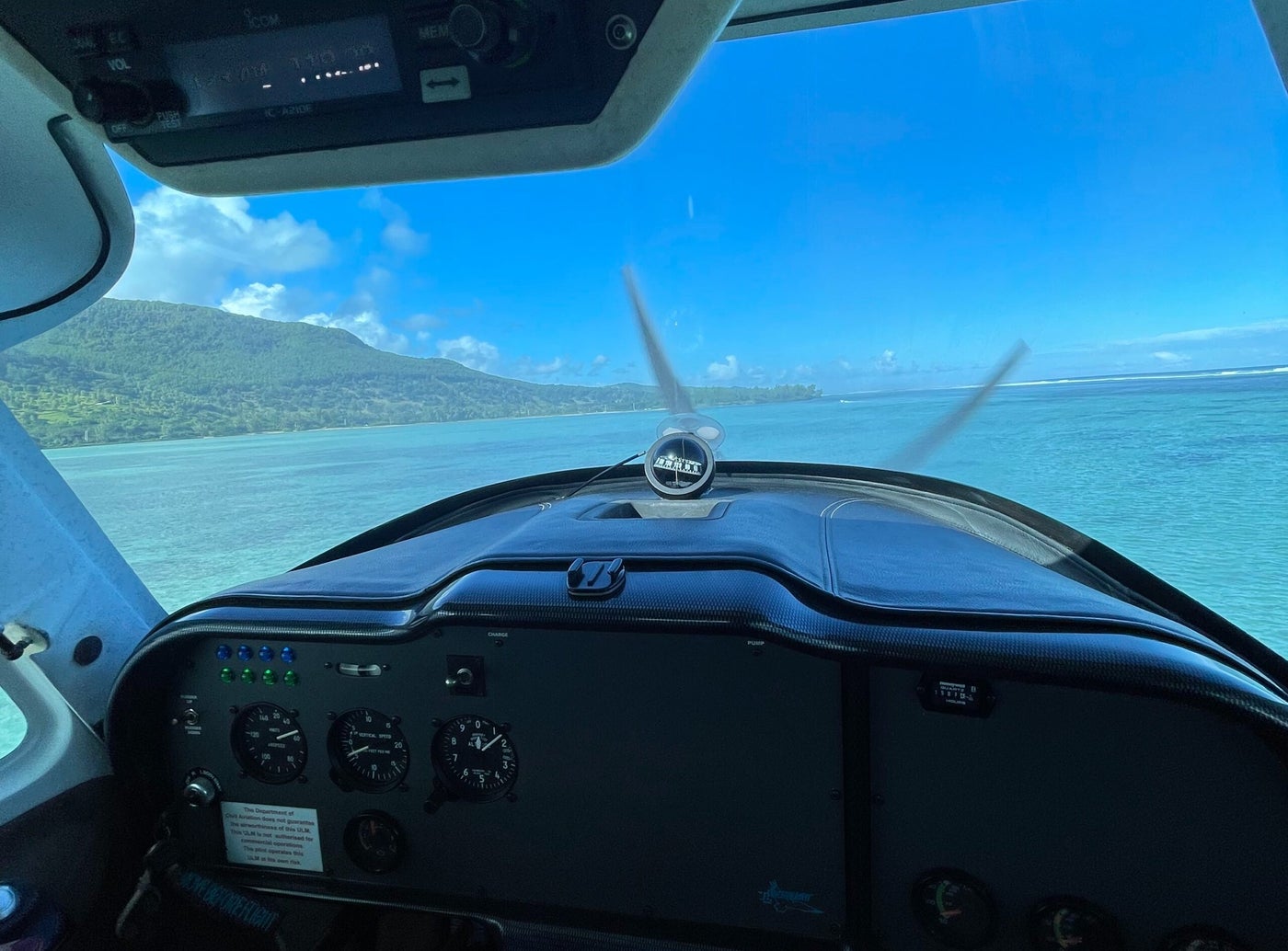 Related: Why Mauritius should be at the top of your travel to-do list right now
Seeing the waterfall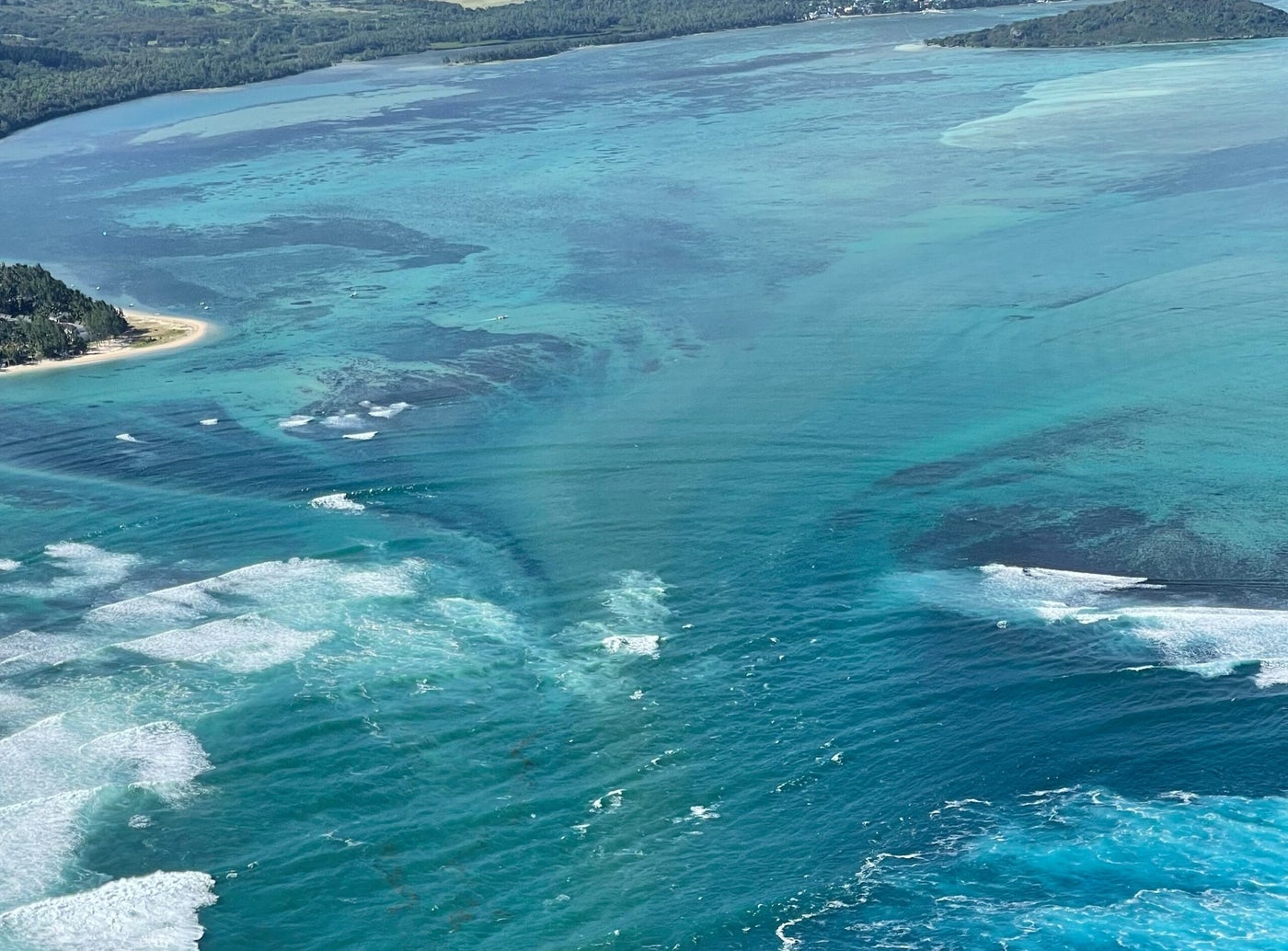 After about five minutes in the air, we were cruising at an altitude of 1,500 feet. And there it was — the underwater waterfall.
Now, in all honesty, there's no water falling into an abyss. However, Mauritius is situated on an island shelf above sea level. Off Le Morne, there's a gradual incline followed by a sudden 13,000-foot plunge. Since the sand is in constant movement in the ocean, from the sky it looks like an underwater waterfall through the pristine turquoise ocean.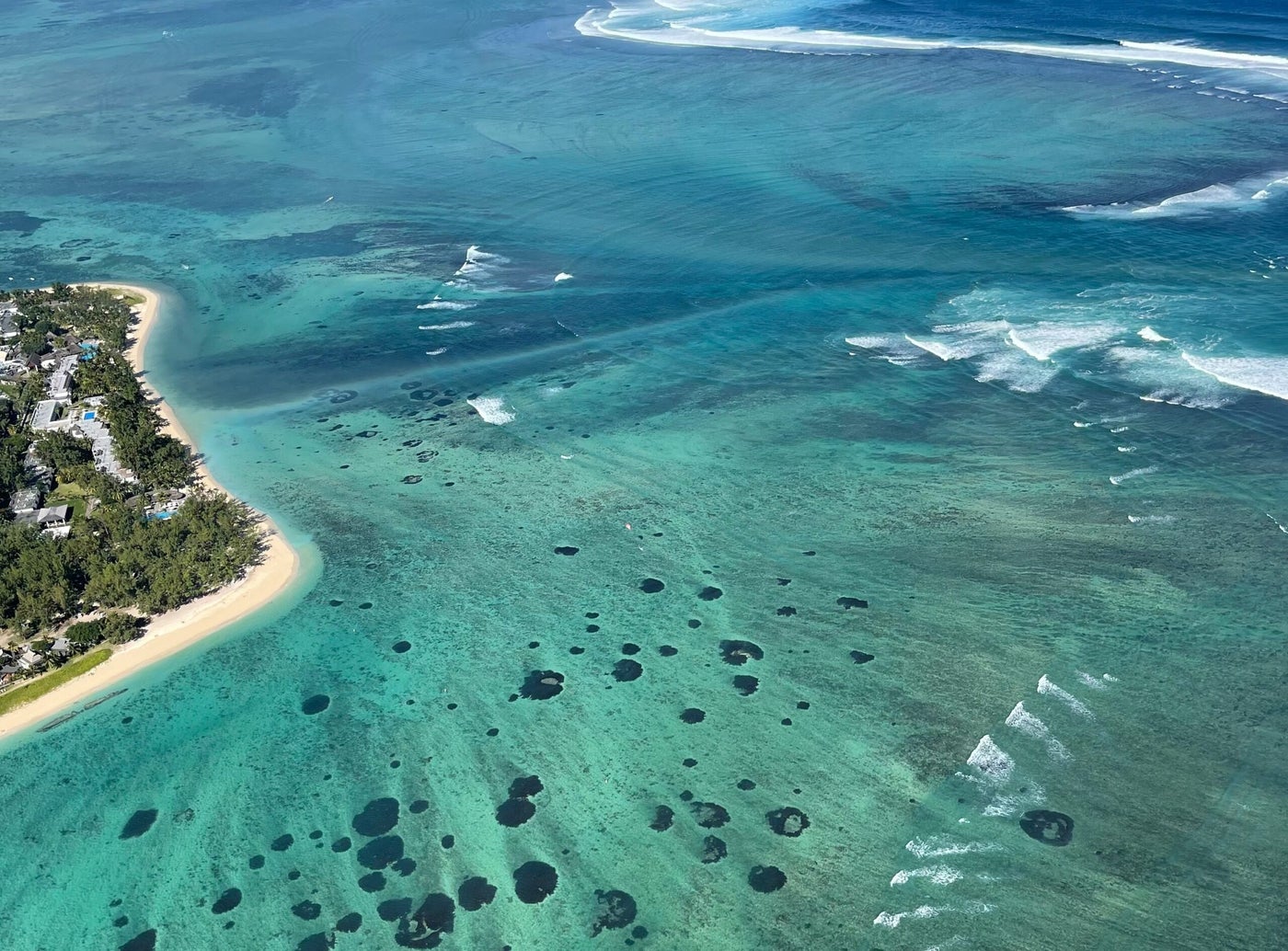 Taking the controls
At this point in the flight, I was thoroughly content with what I had just seen and assumed that we'd be on the ground soon. Little did I know another highlight was still ahead.
Capt. Flo took us farther out over the ocean and seemed interested in my experience with aviation. I told her that I love traveling and flying, but then, of course, Capt. Flo wanted to know if I could fly. I let her know that I grew up on Microsoft Flight Simulator and X-Plane.
Then, out of blue said to me, "Right, Kyle, you have the controls!" I believe my mouth dropped.
She told me to take the control column and follow the horizon and asked me for my phone.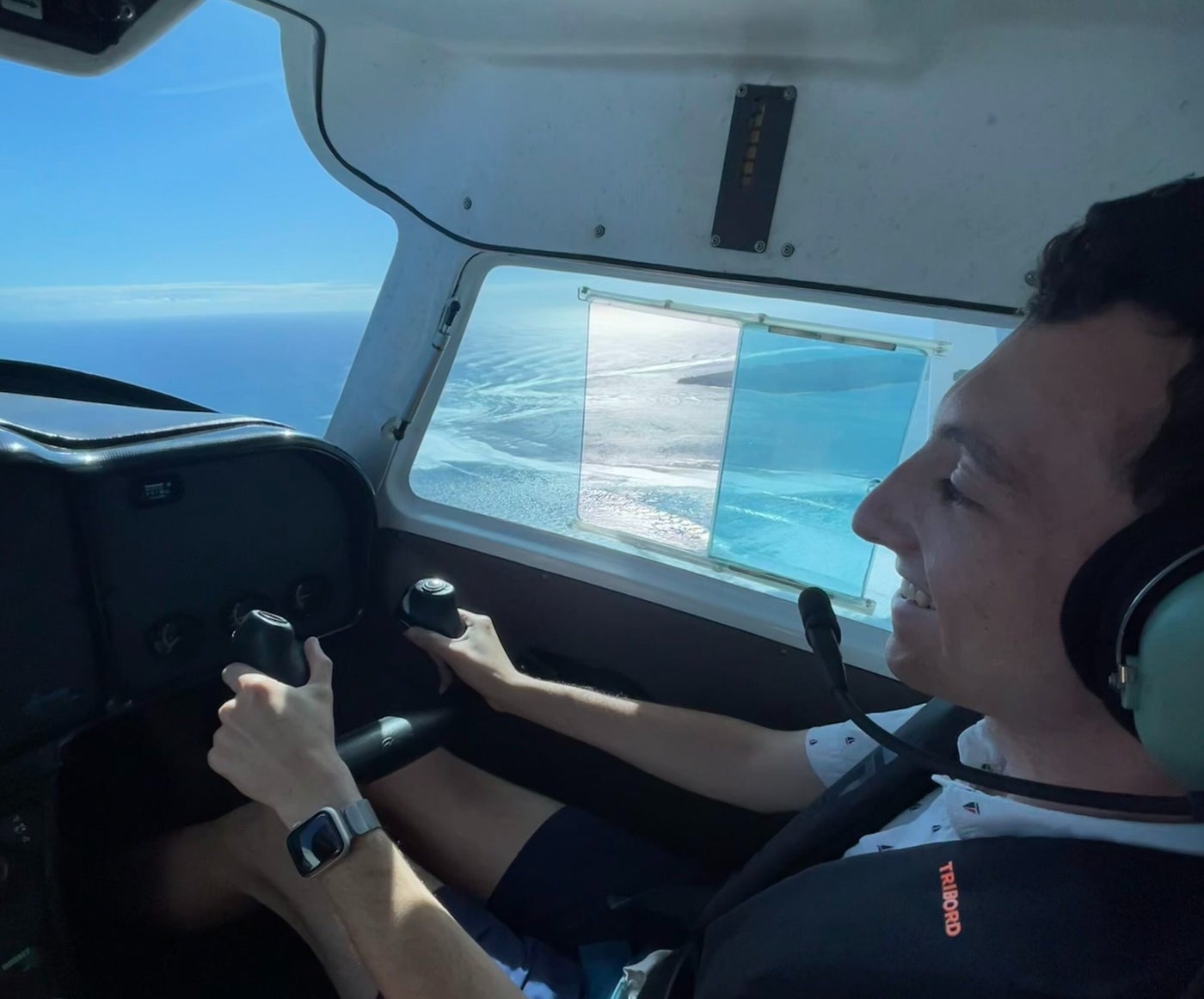 As I was flying, Capt. Flo snapped lots of great pictures. Then, while I had the controls, we hit a pocket of turbulence. Once we cleared the turbulence, we came out with the nose at a 10-degree downward position. I quickly pulled back on the column to prevent us from losing more altitude.
After that, which felt to me like a near-death experience, I requested that Capt. Flo take over the flying.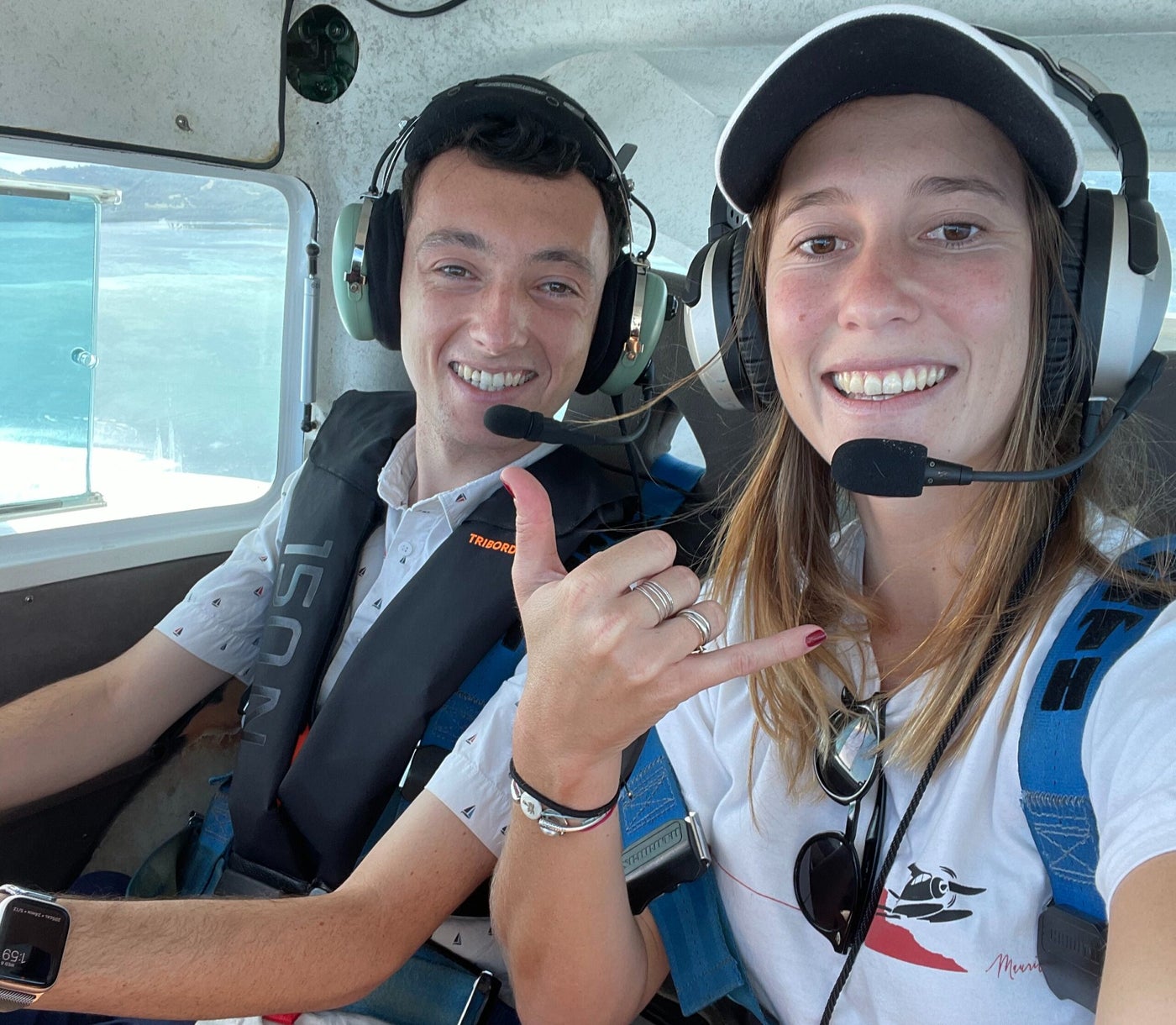 Landing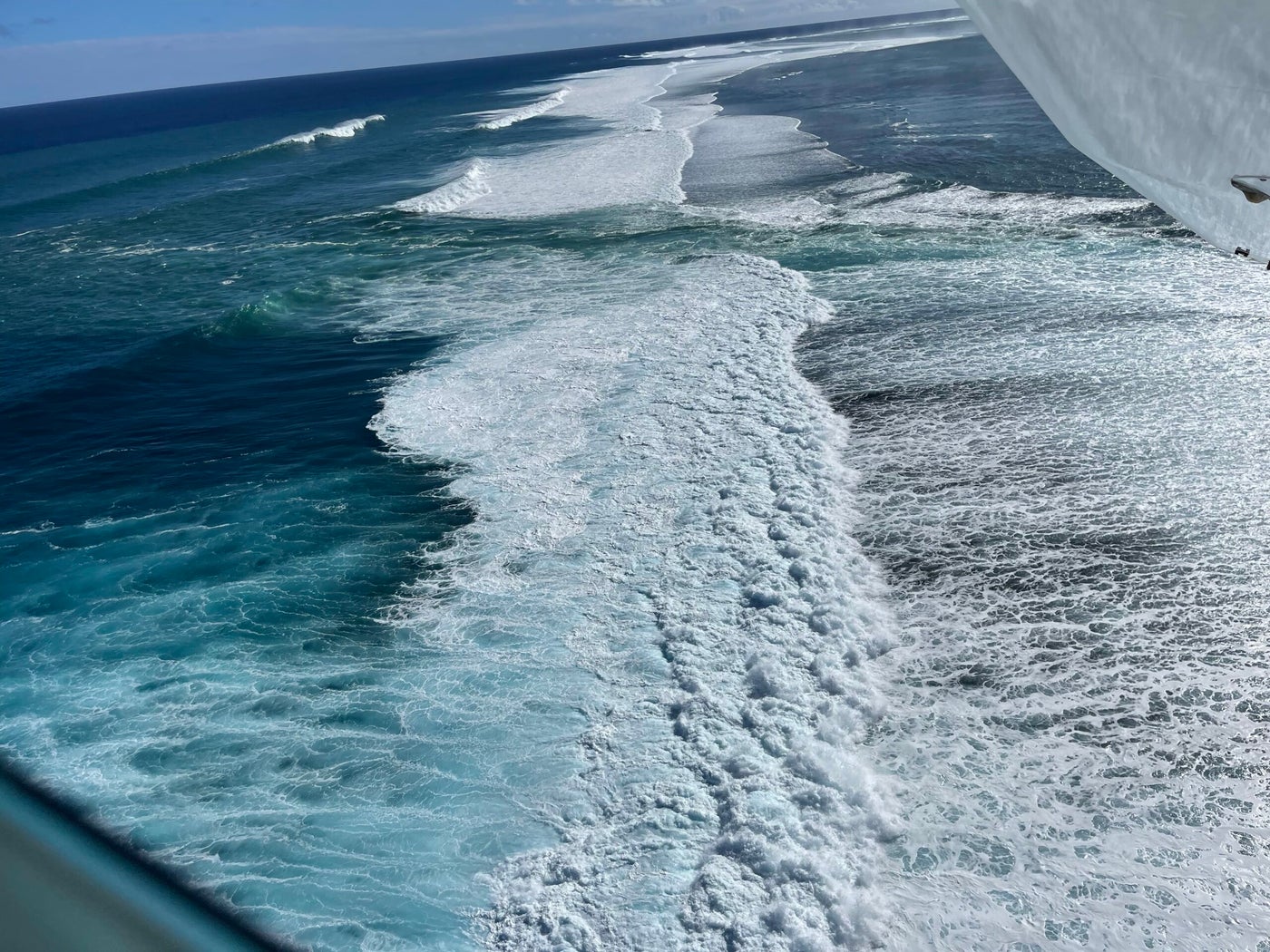 Descending to just 100 feet, we flew right over some waves crashing toward the beach.
Capt. Flo then began the landing procedures by radioing the base and initially setting the flaps for 15 degrees.
She let me know that landing the plane would take lots of concentration, so we paused our conversation. I watched over the controls – altitude: 30 feet, airspeed: 50 knots, flags: 40 degrees.
And then, splash! Her landing was so smooth I had hardly realized that we had touched the ocean. Once we really made contact with the water, the plane came to a barreling halt. I was glad was wearing my seat belt harness. With the physics of a plane landing on water, the ground staff told me that's normal.
Bottom line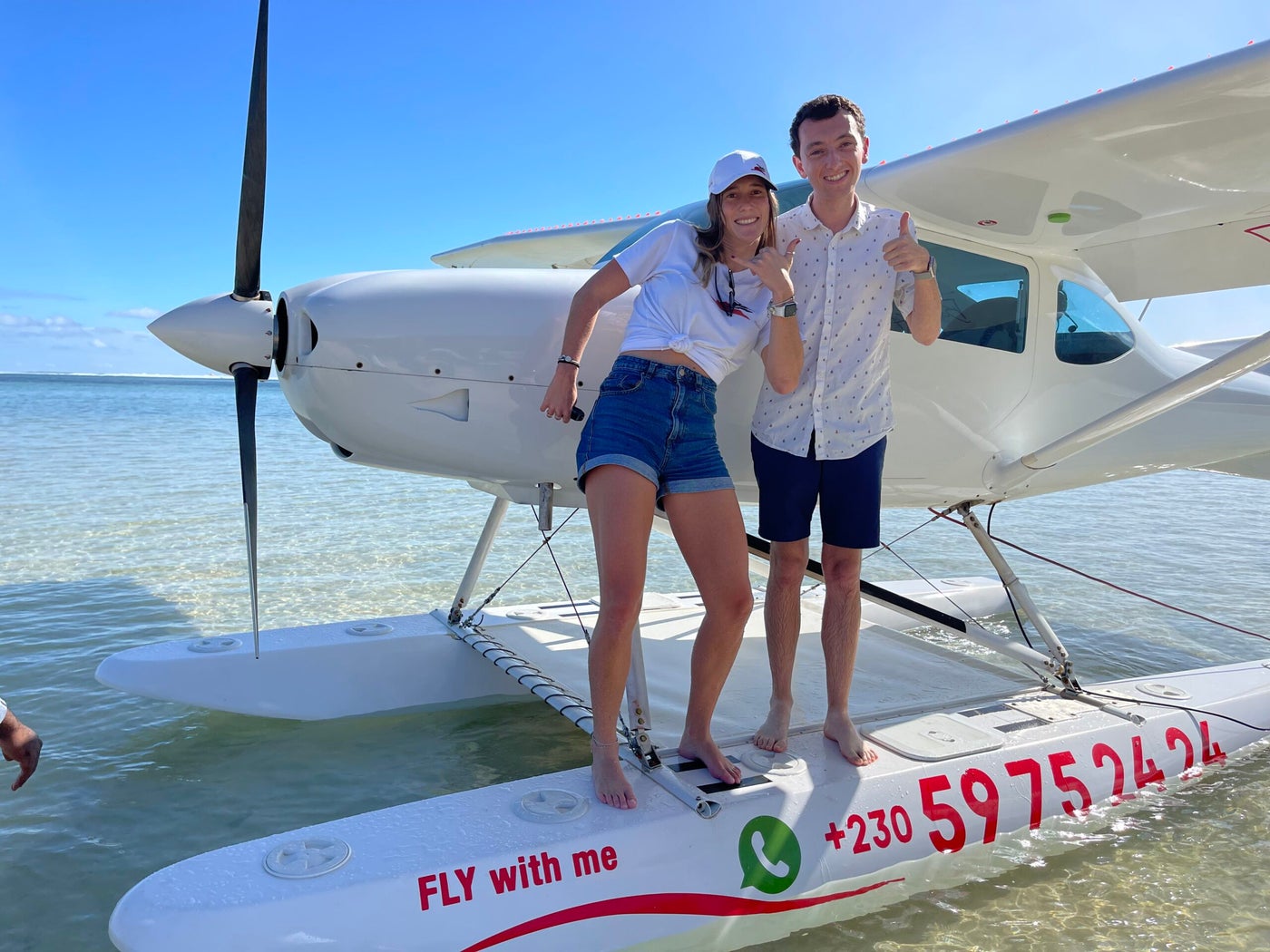 My seaplane flight was not only the highlight of the day; it was the highlight of my Africa trip. I found that 120 euros were very reasonable for such a memorable experience. Capt. Flo was a lovely individual and superb pilot. Who knows? By the time I get back to Mauritius, maybe she'll be the pilot on my international flight over there.
If you find yourself in Mauritius and prepared for an adventure that you likely wouldn't be able to have in the United States, I would definitely recommend LagoonFlight.
Featured photo by Kyle Olsen/The Points Guy.
Sign-up Successful!
Welcome to The Points Guy!
Citi Premier® Card
This card offers a 80,000-point bonus after spending $4,000 in the first three months. Plus, earn 3 ThankYou points per $1 at gas stations, restaurants, supermarkets and on air travel and hotels. 1 ThankYou point per $1 on all other purchases.
Apply Now
More Things to Know
For a limited time, earn 80,000 bonus ThankYou® Points after you spend $4,000 in purchases within the first 3 months of account opening
Earn 3 Points per $1 spent at Restaurants and Supermarkets
Earn 3 Points per $1 spent at Gas Stations, Air Travel and Hotels
Earn 1 Point per $1 spent on all other purchases
Annual Hotel Savings Benefit
80,000 Points are redeemable for $800 in gift cards when redeemed at thankyou.com
No expiration and no limit to the amount of points you can earn with this card
No Foreign Transaction Fees on purchases
Regular APR
18.24% - 26.24% (Variable)
Balance Transfer Fee
Balance transfer fee applies with this offer 5% of each balance transfer; $5 minimum.
Recommended Credit
Excellent, Good