Treated Like an Empress: Staying at Caesars Palace as a Diamond Member
This post contains references to products from one or more of our advertisers. We may receive compensation when you click on links to those products. Terms apply to the offers listed on this page. For an explanation of our Advertising Policy, visit this page.
To The Point
Diamond status at Caesars helped turn an overwhelming and chaotic institution in Las Vegas more manageable. Pros: That parking perk saved the day, and the included benefits made my stay. Cons: Elite status still didn't let me cut the line for the valet.
We've spent the last few weeks going over the different ways to maximize your Las Vegas trip, from taking advantage of luxury hotel programs to leveraging status matches to gain elite status at Vegas hotels. Of course, while this all sounds good in theory, we here at TPG know that not all elite statuses are equal. So after completing the whirlwind of status matching that made me a Wyndham, Caesars, MGM and Hyatt elite, I set about investigating what exactly it means to be a Diamond member at Caesars Palace, the crown jewel of the Caesars brand.
Booking
Caesars promises its Diamond members that they'll save 15% off the best advertised rate — and while I certainly did save money by booking as an elite, it wasn't the full 15%. Take a look at room rates when signed in versus not:


Right off the bat, you can see there's a huge difference in cost, but most of that comes from resort fees and taxes, not the room rate itself, which is showing a mere 8.5% discount. Still, it's hard to be angry when you're saving so much money, especially as the resort fees are nightly.
Check-in
Interestingly, although I was staying on a Sunday night (historically one of the least busy days in Vegas) and my room rate was very inexpensive, the hotel itself was packed. Getting into the parking area took 15 minutes of stop-and-go before I even caught sight of the hotel staff.
Unfortunately, the hotel itself was so busy that valet parking was closed — and they turned away most everyone who arrived. Fortunately, they also had a tiny sign right at the front stating that they were still accepting Diamond and Seven Stars members for valet parking.
As a Diamond member, I receive complimentary valet and self-parking, which I've made good use of wherever I stay in Vegas. This trip was no exception, as I pulled up to to the valet stand and handed over my keys. I was thrilled that they were still accepting cars from Diamond members, and it felt extra special that it was a privilege we received despite the hotel being over capacity.
I'm now going to tell you a very embarrassing story that still makes me cringe whenever I recall it. I'd mentioned previously that the hotel was extremely busy and the traffic itself was a monstrous snarl of parked cars. I'd also read online that when this happens (please don't trust everything you read on the internet), upper-tier elite members can go around and cut through the queue for the valet via the taxi line.
As the taxi line was moving along quickly, I thought I'd try my luck and made a hard right, easing my (massive) rental car into the stream of angry cab drivers. At this point, a harried member of hotel staff came over to inform me that, no, no matter how special we were, elite members were not allowed to cut the line as impromptu taxi operators.
He then stopped all traffic and forced everyone to reroute so I could pull out of the line and back into the queue for valet, where I sat, parked in traffic, shamefully avoiding everyone's eye.
So no, Diamond and Seven Stars members are not entitled to cut through the taxi line, and no, that is not a perk included with your status.

The interior of Caesars Palace is a huge, winding maze that can be overwhelming to first-time visitors, and nothing is more daunting than the vast, crowded sea of check-in desks equipped to handle the masses.
Fortunately, Diamond members have their own check-in area, a room tucked off in a corner with four check-in desks and almost no lines. The staff are competent and pleasant, and the silence is a world away from the echoing halls you encounter throughout the rest of the marbled hotel.
Room
Though room upgrades are not a perk of being a Diamond member, I did receive an offer to request an upgrade when I booked my room. Despite the supposed crowdedness of the hotel, my upgrade cleared and I was put into a premium studio suite in the Palace Tower for a mere $8 upcharge.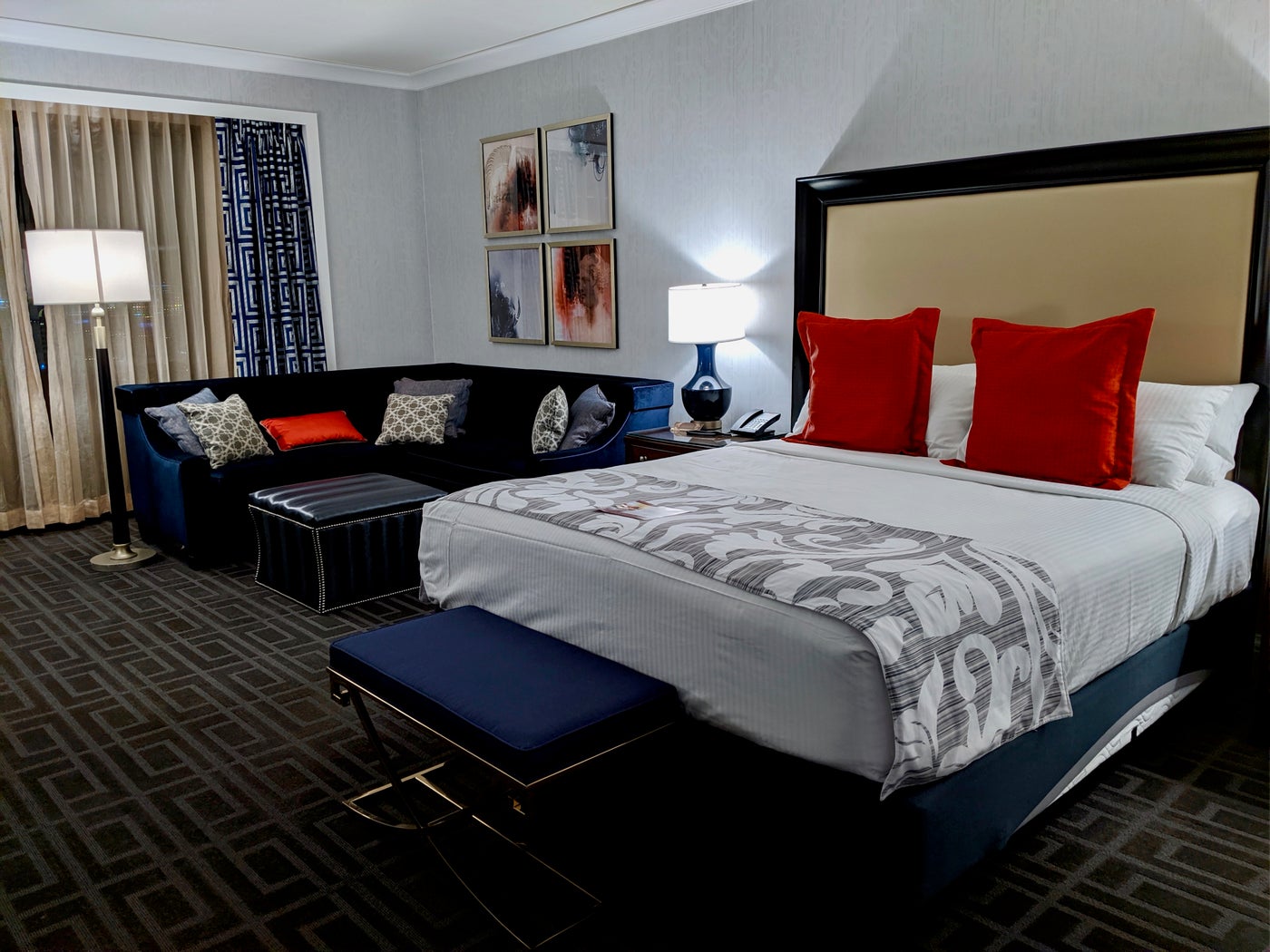 If you have the chance, it's worth it. The room was huge, with two bathrooms, a sitting area, hallway, vanity and workspace.


The Palace Tower had direct access to the pool, a feature not shared by other towers.

The bathrooms were well-stocked and featured a nifty walkthrough shower with dual shower heads.

There was also a massive soaking tub for your postparty soak.

My biggest complaint with Caesars actually had to do with its in-room coffee.

Brewing coffee using the provided cups cost $14.95. No matter how elite you were, there was no free coffee. What's up with that?
Food and Beverage
Restaurants are where Caesars really shone when it came to rewarding its Diamond members. Each year, members receive a free $100 dinner valid at one of its restaurants, which feature food from the likes of Nobu Matsuhisa and Gordon Ramsay. The dinner credit is also valid at the Bacchanal Buffet, a massive exercise in excess that flaunts all-you-can-eat crab legs, steak and more dessert than it is humanly possible to consume.

Also inhumanly possible to consume were the lines for these restaurants, which wrapped through their velvet ropes and beyond, so that the wait to eat in one of these restaurants rings in at a mere hour — if you're lucky.
Caesars also promotes its dedicated access to restaurants, and this was absolutely true.

There was no line for me to wait in at the Bacchanal Buffet, and the same was true everywhere I went.

I was also always provided with a placard that indicated my status. I'm not sure why this was important, but maybe they treated me better as a result?

Even in restaurants where they don't have a separate line, I was told they make accommodations for elite members as available. I found this true, as I was seated immediately at Gordon Ramsay's Steak in the Paris Casino while waiting for my next perk as a Diamond member: free show tickets.

Amenities
One of the flashier perks of elite status with Caesars is a pair of free show tickets each month. Here's what was available for me:

Because I am a shameless nerd, I chose to see Potted Potter.

Seating was OK, and though the benefit specifically notes that you only receive general admission, you do at least get to stand in the Gold line, which is one step ahead of the people who just randomly purchase tickets. I did arrive only 10 minutes before showtime, which meant I was near the end of the line. Had I come earlier, my seat would have been much better.

Regardless, I loved the show.
Overall Impression
Even though it's ridiculously easy to obtain Caesars elite status, there are a significant number of tangible perks that come with it. No, you aren't getting room upgrades or free breakfast, which are the hallmarks of a good elite program. But you are getting free parking, waived resort fees, cut-the-line access, $100 in dinner a year and free show tickets. Even if you only visit once, it's well worth the effort to gain the status.
Overall, Caesars does a really good job making its members feel like they're important, which puts a positive spin on the somewhat crowded, somewhat confusing complex that is Caesars Palace.
Feature photo courtesy of Caesars Entertainment. All other photos by the author.
Sign-up Successful!
Welcome to The Points Guy!
The All-New United Quest℠ Card
WELCOME OFFER: Up to 100,000 bonus miles
TPG'S BONUS VALUATION*: $1,040
CARD HIGHLIGHTS: 3X miles on United® purchases
*Bonus value is an estimated value calculated by TPG and not the card issuer. View our latest valuations here.
Apply Now
More Things to Know
Earn 80K bonus miles after you spend $5,000 on purchases in the first 3 months your account is open. Plus, an additional 20K bonus miles after you spend $10,000 in the first 6 months
$250 Annual Fee
Earn 3X miles on United® purchases, 2X miles at restaurants, on select streaming services & all other travel, 1X on all other purchases
Earn 3X miles on United Airlines purchases
Earn 2X miles at restaurants and on select streaming services
Earn 2X miles on all other travel
Earn 1X mile on all other purchases
Each year, receive a $125 credit on United® purchases and two 5k-mile anniversary award flight credits. Terms apply.
Regular APR
16.49% to 23.49% Variable
Balance Transfer Fee
Either $5 or 5% of the amount of each transfer, whichever is greater.
Recommended Credit
Excellent, Good