Spanish airline wants to bring the airship era back
This post contains references to products from one or more of our advertisers. We may receive compensation when you click on links to those products. Terms apply to the offers listed on this page. For an explanation of our Advertising Policy, visit this page.
It's been more than 80 years since the last time passenger airships regularly plied the skies. A sight to behold wherever they made their appearance, those hovering giants may soon stage a comeback if plans by Spanish airline Air Nostrum come to fruition.
On June 15, Valencia-based Air Nostrum, which operates mostly regional routes in Spain on behalf of Iberia, announced plans to become the launch customer for the Airlander 10, a new generation of the classic airship being developed by Hybrid Air Vehicles (HAV) in Bedford, England.
Although still shy of the dimensions achieved by some of its largest pre-war era predecessors, its 92 meters (301.8 feet) of length make it the longest aircraft in the world.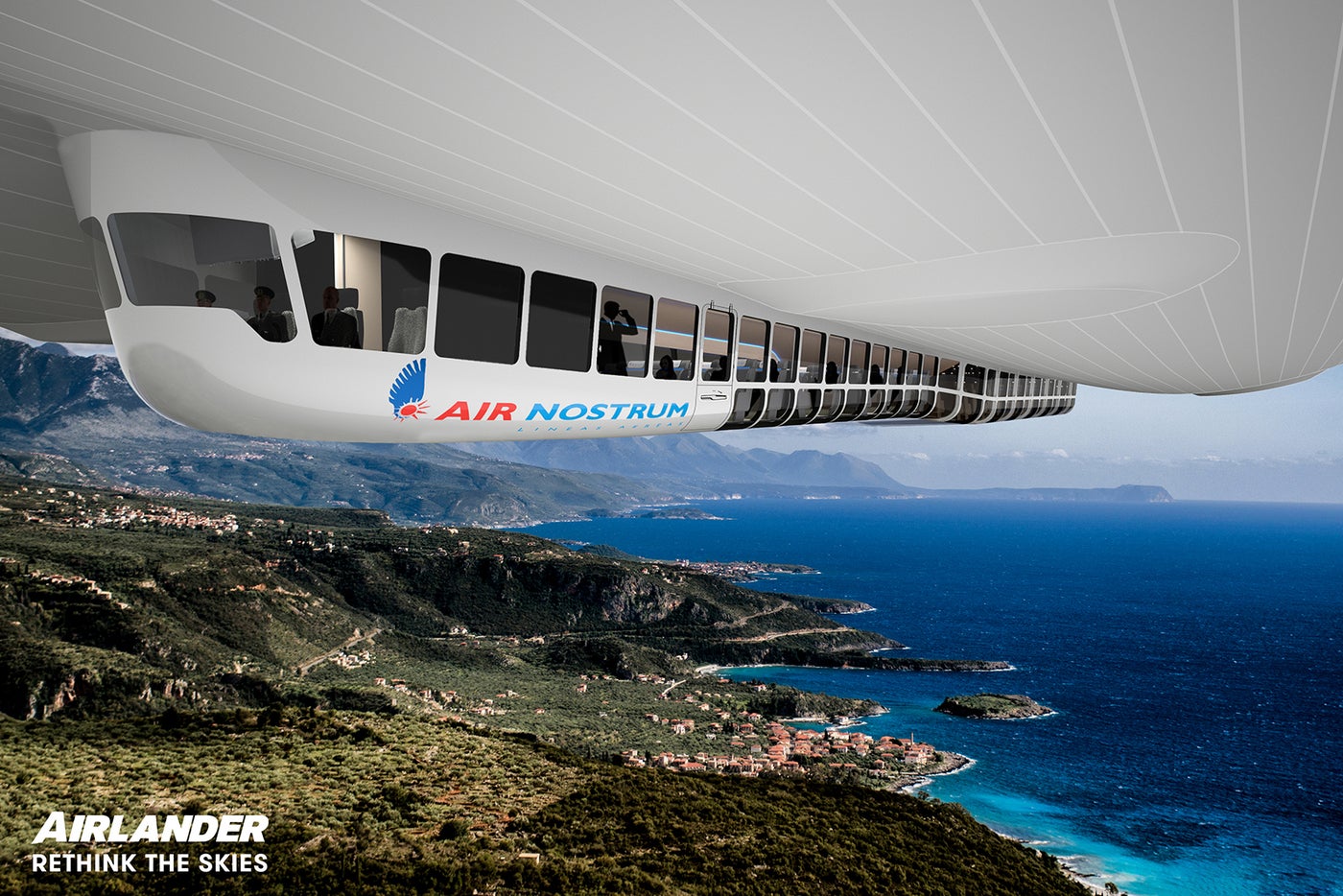 Want more airline-specific news? Sign up for TPG's free new biweekly Aviation newsletter.
With lift and buoyancy provided by helium, an inert non-flammable gas, the four vectored thrust engines that power the Airlander 10 can run on relatively little fuel. This is a point that the Airlander 10's proponents don't miss a chance to highlight at a time when the environmental impact of air travel is increasingly under public scrutiny. The Airlander 10 may produce up to 90% fewer emissions than conventional aircraft of a similar payload, according to HAV.
What's more, these figures are achieved by using conventional jet fuel, but HAV promises that it will be possible to transition to hybrid and, eventually, fully electric propulsion in the future. The company is already working toward this goal with the help of Collins Aerospace and the University of Nottingham.
The only downside? Speed. The Airlander 10's maximum speed of 130 kph (81 mph) is no match for modern jetliners, but does it really matter for short distances?
Air Nostrum may use the airships on some of its high-demand, short-distance routes, such as those operating within the Balearic Islands or between that archipelago and the Spanish mainland. Those segments currently use either ATR-72-600 turboprops or regional jets of the Canadair Regional Jet family. (Air Nostrum operates the -100, -900 and -1000 variants.)
The Airlander 10 gondola will be able to carry up to 100 passengers, which happens to also be the capacity of the largest aircraft in Air Nostrum's fleet, the CRJ-1000.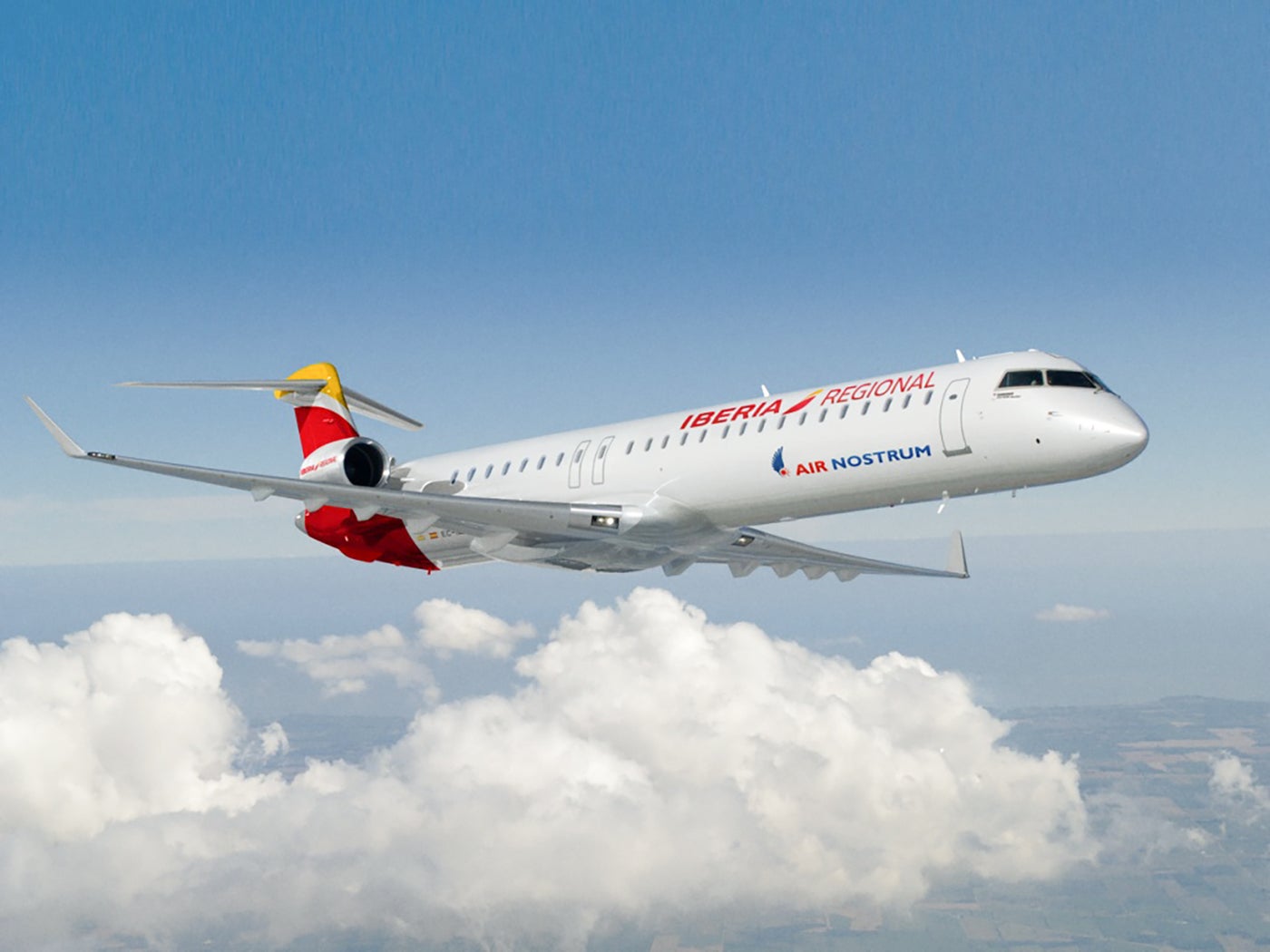 Similarly, most of the airline's routes are comfortably within the 750-kilometer (466-mile) maximum range the Airlander 10 is, theoretically, capable of flying. Since airships can land on flat, wide-open spaces or get attached to masts, Air Nostrum may even be able to expand its network to new destinations that don't have a proper airport.
The Airlander 10's low speed is even marketed as a plus in some cases, as it makes the Airlander 10 a great option for panoramic and luxury air cruises, such as those that Swedish startup OceanSky Cruises is planning to operate to the North Pole. The Airlander's endurance — it can stay airborne for up to five days — is an added bonus.
It's worth noting, though, that the Airlander 10 is still some way away from completing its certification process.
Having started more than two decades ago in response to a U.S. military research program, HAV has been working on the current iteration of the Airlander 10 since at least 2012, completing a total of seven experimental flights in a process that hasn't been without its setbacks. As a result, some industry analysts remain skeptical that it will come to fruition anytime soon.
"The Airlander 10 may be suitable for niche markets, but not for mainstream passenger and cargo transportation, where customer utility means speed and reliability," said Robert W. Mann, Jr., a former airline executive officer, a former fleet planner and president at R.W. Mann & Company, an independent airline industry analysis firm. "The U.S. Government field trialed the concept and declined to commit to it, believing it to be unsuitable in several respects, including speed, reliability and durability."
From Air Nostrum's perspective, tentatively agreeing to order 10 of the aircraft — in addition to providing technical and operational support to facilitate the Airlander 10's successful launch — is just one of many projects designed to help diversify the company so it relies less on its traditional regional airline business and secures a foothold in alternative, more eco-friendly mobility technologies.
In 2021, for example, the Spanish carrier joined forces with Italian train operator Trenitalia to compete with the Spanish and French national rail companies in the recently liberalized Spanish high-speed rail market.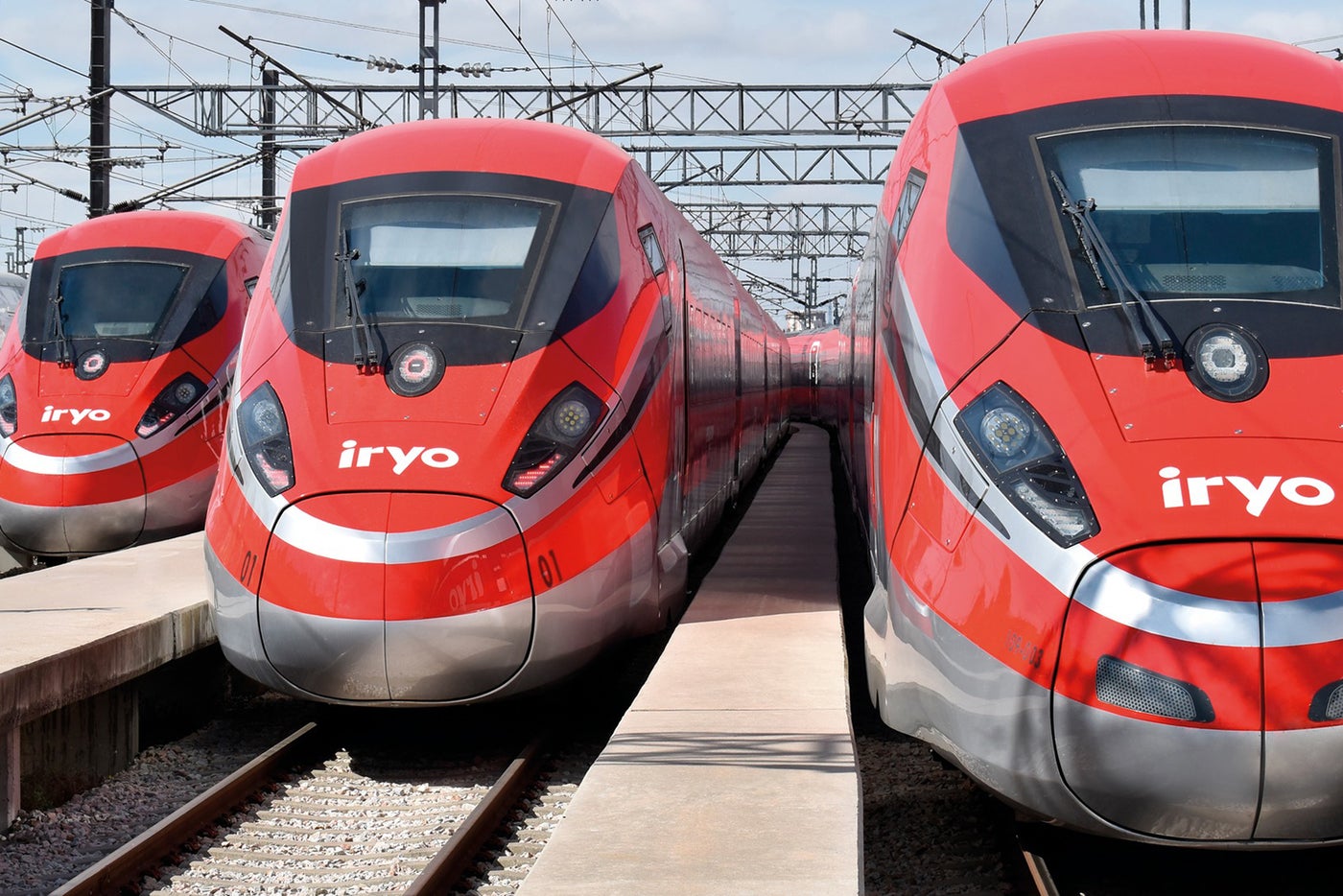 Additionally, in a move that's perhaps motivated by the ever-growing debate around whether to limit or even ban short-haul flights in the future, Air Nostrum is investing in a number of alternative propulsion projects, including electric aircraft, hydrogen fuel-cell kits and sustainable aviation fuel.
If all goes well and the Airlander 10 enters commercial service in 2026, a larger version capable of carrying up to 200 passengers (the Airlander 50) could potentially follow.
Featured image courtesy of Air Nostrum.
Sign-up Successful!
Welcome to The Points Guy!
Marriott Bonvoy Business® American Express® Card
Receive 1 Free Night Award every year after your Card account anniversary. Plus, earn an additional Free Night Award after you spend $60K in purchases on your Card in a calendar year. Awards can be used for one night (redemption level at or under 35,000 Marriott Bonvoy points) at hotels participating in the Marriott Bonvoy program.
Apply Now
More Things to Know
Limited Time Offer: Earn 125,000 Marriott Bonvoy Bonus Points after spending $5,000 in purchases on your new Card in your first 3 months of Card Membership. Offer expires 8/31/22.
6x points at hotels participating in the Marriott Bonvoy™ program.
4x points for purchases made at restaurants worldwide, at U.S. gas stations, on wireless telephone services purchased directly from U.S. service providers and on U.S. purchases for shipping.
2x points on all other eligible purchases.
Receive a 7% discount off standard rates for reservations of standard guest rooms at hotels that participate in the Marriott Bonvoy program when you book directly. Terms and Conditions Apply.
Receive 1 Free Night Award every year after your Card renewal month. Plus, earn an additional Free Night Award after you spend $60K in purchases on your Card in a calendar year. Awards can be used for one night (redemption level at or under 35,000 Marriott Bonvoy points) at a participating hotel. Certain hotels have resort fees.
Enjoy Complimentary Marriott Bonvoy Gold Elite Status with your Card.
Terms apply.
Regular APR
17.99% - 26.99% Variable
Recommended Credit
Excellent/Good