Accor wins big as IHG loses Six Senses New York project
This post contains references to products from one or more of our advertisers. We may receive compensation when you click on links to those products. Terms apply to the offers listed on this page. For an explanation of our Advertising Policy, visit this page.
It's a game of hotel brand musical chairs at a high-profile (albeit delayed) New York City real estate development.
Accor — a lesser-known (to Americans, anyway) but still enormous hotel conglomerate based in Paris — is the apparent winner.
A long-awaited Six Senses that was supposed to open in New York City appears to be a casualty of new ownership taking over the stalled XI mixed-use development in Manhattan's West Chelsea neighborhood overlooking the Hudson River. The project, now called One High Line and owned by Witkoff Group and Access Industries, will instead include a Faena hotel.
For more TPG news delivered each morning to your inbox, sign up for our daily newsletter.
Faena projects are more like mixed-use leisure districts than actual hotels. The brand's Miami Beach location in Florida — which director Baz Luhrmann helped design — is spread out over several blocks and includes hotel rooms, restaurants, condos and event space. When Faena and Accor first partnered last year, the duo labeled Faena projects as "one-of-a-kind, socially responsible, holistic environments, anchored in cultural experiences."
Len Blavatnik, founder of Access Industries, is also a founding partner of the Faena brand.
A spokesperson for Faena told TPG, "We will be in touch when we have news to share." Accor declined to comment. Six Senses and IHG (which acquired Six Senses in 2019) did not offer much commentary beyond a vague statement.
"Six Senses is continuously in discussions with other parties about different projects worldwide," a Six Senses spokesperson said in a statement to TPG. "We will make information about these projects public at the appropriate time, which we do via our press releases."
But the Six Senses New York is no longer included in the "new openings" section on the brand's website. The property was still listed as an upcoming opening for Six Senses as recently as January, according to the internet archive, the Wayback Machine.
Sources familiar with the deal told TPG that Six Senses' involvement in the project ended only recently.
Another source very close to the deal previously told TPG that Witkoff and Access prematurely announced the Faena deal to Bloomberg earlier this month before contracts had officially been signed and before it was apparent Six Senses was no longer attached to the project.
But this wasn't exactly a well-kept secret in the hotel orbit: Faena's creative team over the last several months posted multiple stories to Instagram of various trips and site inspections in New York City.
Faena, which currently has locations in Buenos Aires and Miami, partnered with Accor early last year. The New York expansion is somewhat surprising, as the team previously appeared to have Dubai as the next point in their expansion plans.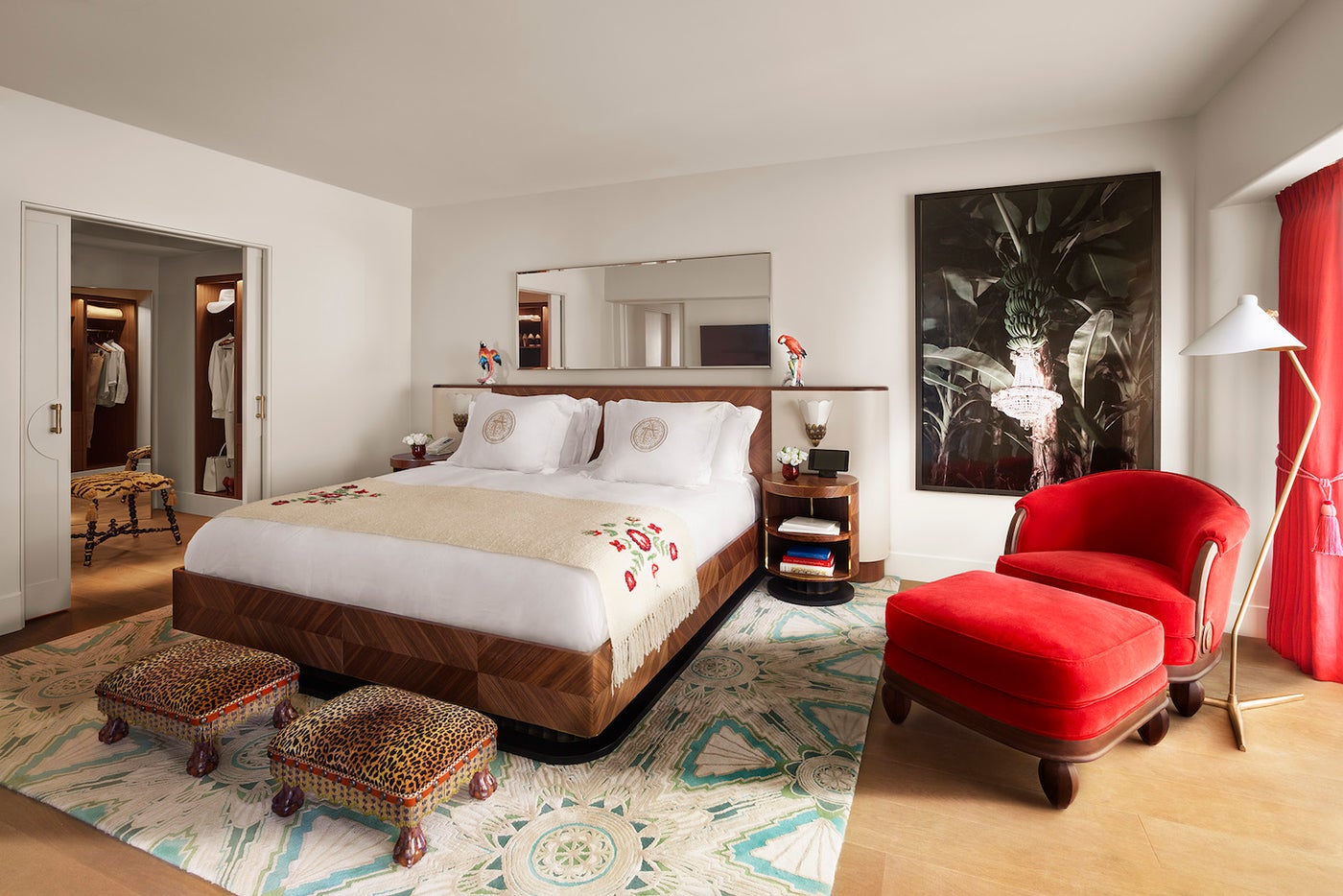 Accor's partnership with Faena is the latest in the conglomerate's recent push to bring in cooler, high-end brands while giving individual property owners more autonomy to develop and operate their hotels. Accor, in turn, provides the resources to expand each brand globally.
"They bring a lot to the table," Faena founder Alan Faena told this reporter last year. "It's very difficult today to be absolutely independent, and you need to look for your perfect partner to take forward the vision we have with Faena."
The New York deal is also the latest step for Accor in making inroads in the U.S., where the company doesn't have as much of a presence yet compared to competitors like Marriott and Hilton. Accor won out in Boston on a project slated to open next year, and that will result in North America's first Raffles, an ultra-luxury, hotel-condo development.
Part of Accor's luck might actually have to do with the fact that it isn't Marriott, Hilton or IHG.
"Hilton and all the American family of brands have a pretty strong presence in these major markets with their various brands. All things being equal, Accor does not nearly have the same depth of presence within major U.S. markets," said Daniel Lesser, CEO of LW Hospitality Advisors. "If somebody's focused on, 'Well, I don't want to compete with all the other Hiltons in this market,' then, yeah, they're going to default to an Accor who does not have as much presence."
The Faena deal is a blow to IHG, which has worked in recent years to beef up its higher-end portfolio with acquisitions of brands like Six Senses and Regent. But the hotel company, which also owns Holiday Inn and InterContinental, has struggled in recent quarters with respect to its development pipeline.
"Next year, we need to open a few more rooms to get up to where we'd like to see ourselves, which is back in line with what we were seeing in 2018," Paul Edgecliffe-Johnson, IHG's chief financial officer, said on an earnings call earlier this year. "We still have to find some rooms to open during the year, for sure."
The Six Senses in New York, originally slated to open next year, was to be the first U.S. Six Senses hotel and only the second in the Americas region.
But the West Chelsea project's former owner — HFZ Capital Group — faced major financial problems. Construction halted on the XI development in 2019, and the developer faced allegations of racketeering and fraud. The project's current owners bought the development in foreclosure late last year.
Even if the parties involved in the deal are unwilling to comment officially, this latest news is likely to have many folks smiling at Accor's Parisian headquarters. Perhaps Accor, which we jokingly compare to soccer and Kylie Minogue for its seismic brand awareness everywhere but in the U.S., does have a shot at making inroads in America, after all.
Of course, the company might eventually have to start figuring out a way to better compete with its American rivals in terms of loyalty programs. Accor put a lot of its chips in the way of having a cool factor with hip labels like Mondrian, SLS and now Faena. But travelers also like a robust platform to earn and redeem loyalty points.
"I wouldn't call [Accor's push into cooler brands] a competitive advantage. It's a differentiator," Lesser said. "I would never discount the notion of loyalty and points."
Featured image courtesy of IHG.
Sign-up Successful!
Welcome to The Points Guy!
Marriott Bonvoy Business® American Express® Card
Receive 1 Free Night Award every year after your Card account anniversary. Plus, earn an additional Free Night Award after you spend $60K in purchases on your Card in a calendar year. Awards can be used for one night (redemption level at or under 35,000 Marriott Bonvoy points) at hotels participating in the Marriott Bonvoy program.
Apply Now
More Things to Know
Limited Time Offer: Earn 125,000 Marriott Bonvoy Bonus Points after spending $5,000 in purchases on your new Card in your first 3 months of Card Membership. Offer expires 8/31/22.
6x points at hotels participating in the Marriott Bonvoy™ program.
4x points for purchases made at restaurants worldwide, at U.S. gas stations, on wireless telephone services purchased directly from U.S. service providers and on U.S. purchases for shipping.
2x points on all other eligible purchases.
Receive a 7% discount off standard rates for reservations of standard guest rooms at hotels that participate in the Marriott Bonvoy program when you book directly. Terms and Conditions Apply.
Receive 1 Free Night Award every year after your Card renewal month. Plus, earn an additional Free Night Award after you spend $60K in purchases on your Card in a calendar year. Awards can be used for one night (redemption level at or under 35,000 Marriott Bonvoy points) at a participating hotel. Certain hotels have resort fees.
Enjoy Complimentary Marriott Bonvoy Gold Elite Status with your Card.
Terms apply.
Regular APR
17.99% - 26.99% Variable
Recommended Credit
Excellent/Good