Memorial Day weekend crowds hit airports; Delta cancels hundreds of flights
This post contains references to products from one or more of our advertisers. We may receive compensation when you click on links to those products. Terms apply to the offers listed on this page. For an explanation of our Advertising Policy, visit this page.
Memorial Day weekend kicked off what's expected to be the busiest travel season in a few years, and brought with it some of the same operational issues travelers have dealt with for months now. The challenges came as officials from airlines to hotels to destinations prepared for the start of not just a busy weekend, but a busy season ahead.
While things seemed to run smoothly for most major airlines in the U.S. as the holiday weekend got underway, the same cannot be said for Delta Air Lines, which canceled hundreds of flights accounting for nearly a tenth of its schedule on Saturday.
Get the latest points, miles, and travel news by signing up for TPG's free daily newsletter.
The disruptions came just a few days after TPG reported that the airline was making changes to its summer schedule because staffing problems had made it less able to accommodate things like bad weather. The carrier had anticipated storms could present problems in the eastern U.S. during the holiday weekend, and had issued waivers in advance of the busiest travel days.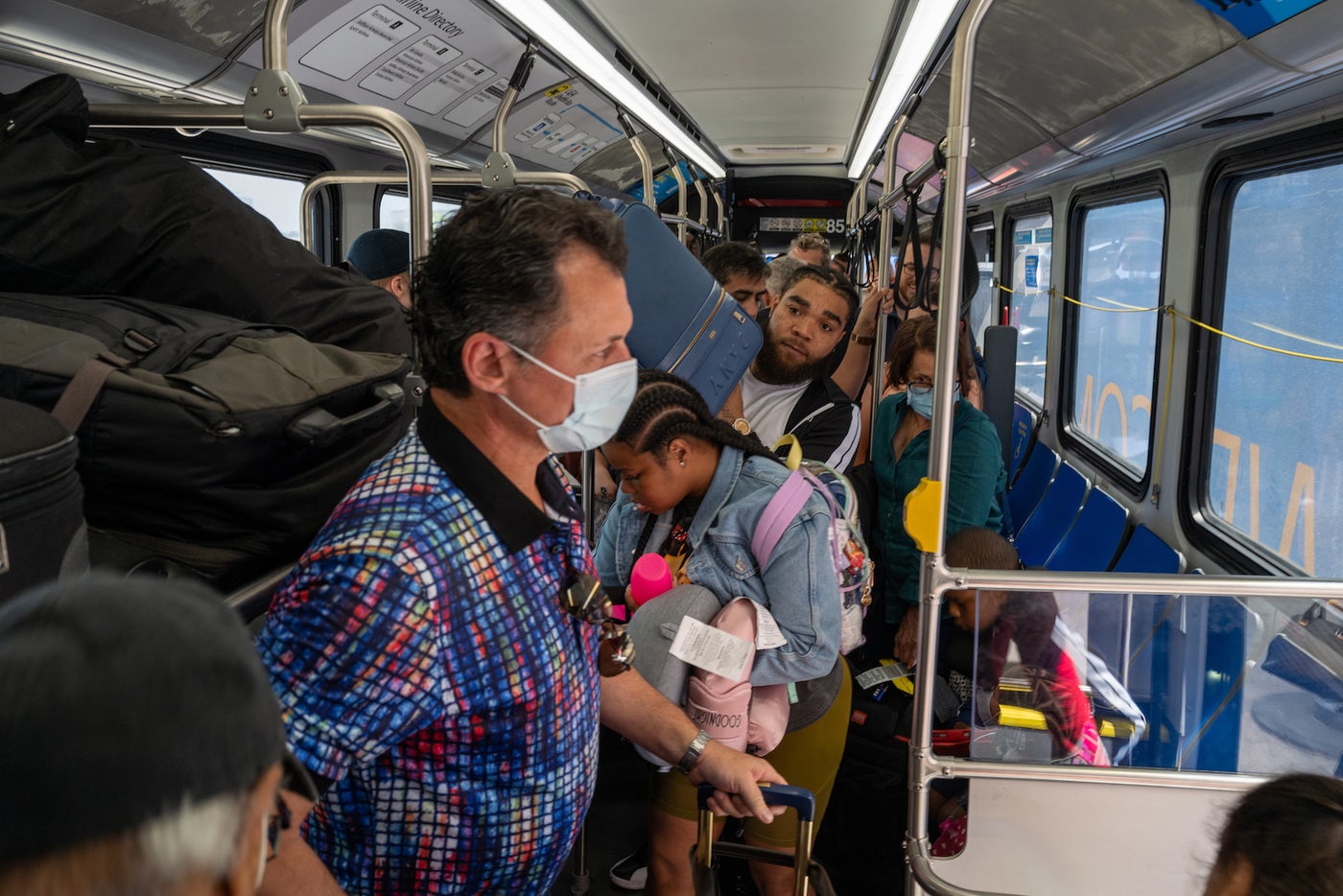 Still, despite rising prices, the latest COVID-19 surge, and airlines and other travel providers continuing to face imperfect operating conditions, the numbers show Americans are, as anticipated, traveling in a way not seen since before March of 2020.
3 busy travel days
As you might have expected, Friday was the busiest day for air travelers heading out for Memorial Day weekend getaways. The TSA screened just under 2.4 million passengers both Thursday and Friday – both days that now rank among the top five busiest since the start of the COVID-19 pandemic.
The rush came despite this year's rise in airfare — about a 28% spike for the holiday weekend compared to 2019, according to data from Hopper.
That both Thursday and Friday saw high passenger volume could be a nod to the added flexibility many American workers did not enjoy prior to the pandemic, as pointed out by Clear, the paid service that allows travelers to cut airport security lines after verifying their biometrics at a kiosk.
Related: How working from home might impact travel in a post-pandemic world
Clear said its data showed a 40% spike in verifications at U.S. airports on Wednesday, Thursday and Friday compared to the same period in 2019. The agency saw that as a potential sign outbound Memorial Day traffic was more spread out than in pre-pandemic years, "changing how we view the normal Memorial Day Weekend rush," Clear said in a statement Saturday.
Austin Bergstrom International Airport (AUS) shared photos of the busy travel morning heading into the long weekend on social media, highlighting crowds inside its terminal.
LIVE LOOK: We're busy this morning as travelers are heading out of town for the holiday weekend, but the lines are moving & airline, Department of Aviation & @Tsa_SouthWest staff are working hard & working together to get you safely on your way! ✈️

👉https://t.co/RawVRalOXN pic.twitter.com/82pzPrdqgd

— Austin-Bergstrom International Airport (AUS) (@AUStinAirport) May 27, 2022
Continuing a trend TPG has reported on throughout the spring, airports have taken to social media to warn travelers that parking lots were filling up rapidly.
Saturday morning, Miami International Airport (MIA) said on Twitter, that its garages were "reaching capacity" due to record-breaking Memorial Day travel.
⚠️ #TravelAdvisory (05/28/22) ⚠️
Our garages are reaching capacity due to record-breaking #MemorialDay travel. Please arrive at least 3 hours before your flight & consider being dropped off by friends or family.

➡️ Travel tips & alternate transportation: https://t.co/PvDN35mTL8 pic.twitter.com/1QjoiDXfyZ

— Miami Int'l Airport (@iflymia) May 28, 2022
The airport asked travelers still heading to the airport this weekend to consider being dropped off by friends or family. The airport hasn't just approached pre-pandemic numbers in 2022; on one day earlier this spring, it broke its all-time single-day record for passenger traffic.
Meanwhile, Ronald Reagan Washington National Airport (DCA) said as of mid-morning Saturday, its non-reserved parking was completely full.
As of 9am Saturday, all non-reserved public parking is FULL at the airport.

When planning future travel, reserve parking well in advance.https://t.co/0oNxHzT067

— Reagan Airport (@Reagan_Airport) May 28, 2022
Preparing for the rush
From the airlines to the airports, the travel industry had been preparing for what was expected to be the busiest few days in years.
At Dallas/Fort Worth International Airport (DFW) in Texas, officials told TPG they had been seeing passenger traffic approaching pre-pandemic levels through much of the spring.
Still, airport leadership viewed Memorial Day weekend as a "crescendo" of that ramp-up, DFW Executive Vice President for Revenue Management and Customer Experience Ken Buchanan said in an interview with TPG Friday, pointing to the airport's efforts to fully open concessions, iron out processes and showcase technological and physical upgrades made during the downtime of lower traffic points during the pandemic.
Related: Phoenix airport to its food and drink vendors: get back to normal hours
"There will be days where we will exceed 2019 levels," Buchanan said of the anticipated 2022 summer travel season. "Overall, we will be close to 2019, but definitely there will be days where we will exceed 2019."
As the airport approached the rush, Buchanan and his team preached to staff about the need for readiness in hopes that by the time the weekend rolled around, they would be prepared to handle the surge in traffic.
"We want to remove the emotion of anger out of the travel experience," he said.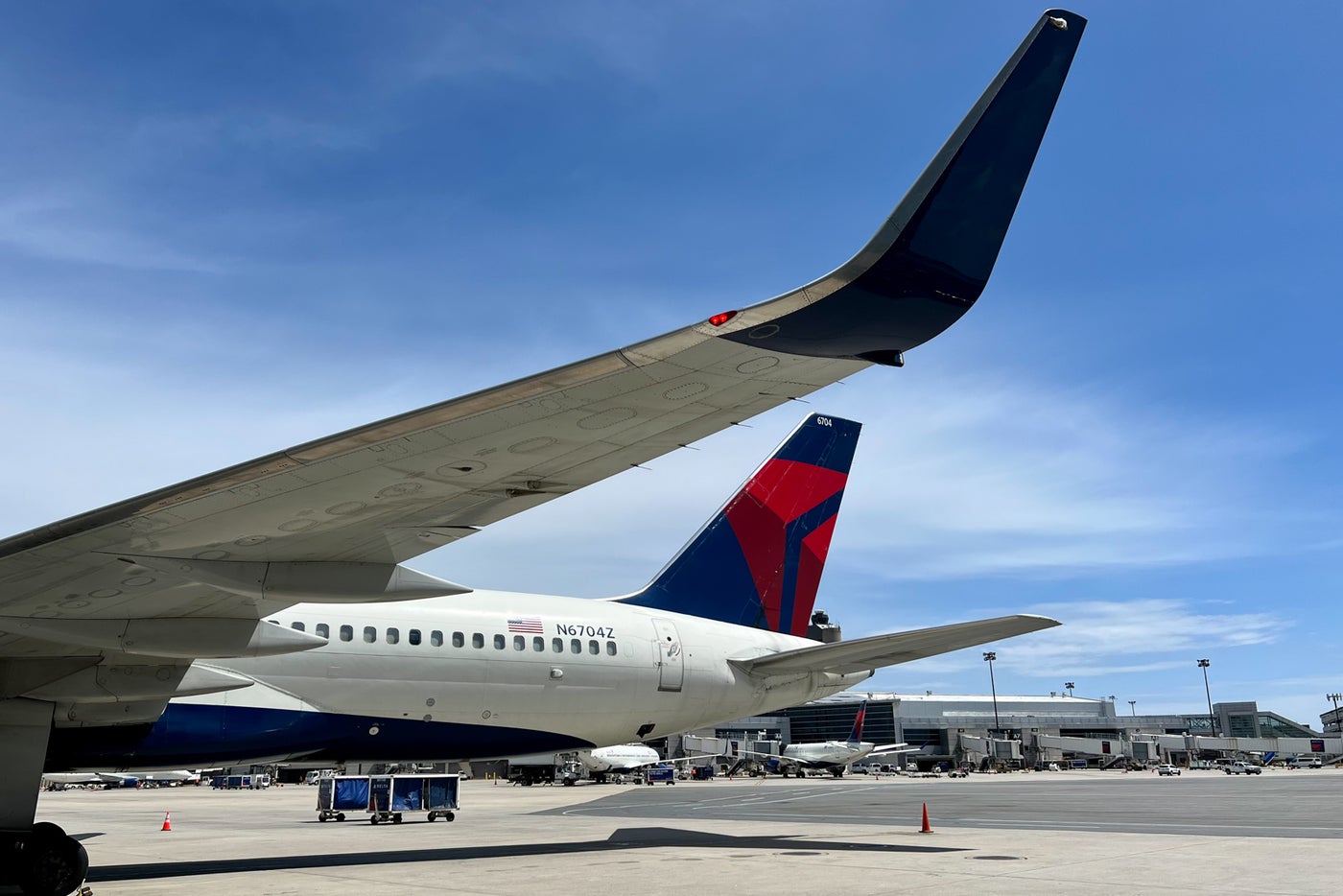 Delta facing continued operational issues
Recent operational issues did not let up for Delta Air Lines though as the holiday weekend got underway.
After putting out notices this past week detailing staffing issues that had made it more vulnerable to external disruptions like bad weather, the Atlanta-based carrier canceled hundreds of flights in the middle of the holiday weekend, just a week after its worst operational day of the spring a week earlier when Delta canceled 280 flights.
As of Saturday afternoon, Delta had canceled 243 flights, about 9% of its schedule, according to data from FlightAware, on a weekend where storms in the Northeast and Southeast caused disruptions. Delta's operating base of Atlanta saw the most cancellations of any U.S. airport Saturday, with 5-6% of its inbound and outbound flights canceled.
After storms Friday, the other U.S. airports most affected included Newark Liberty International (EWR), New York LaGuardia Airport (LGA) and Delta's hub in Detroit (DTW).
Weather conditions have caused #EWR Airport flight disruptions. Please check with your airline to determine the status of your flight.

— Newark Liberty International Airport (@EWRairport) May 27, 2022
By mid-afternoon Saturday, Delta had already canceled about 75 flights for Sunday.
The carrier is planning flight cutbacks going forward in the summer months, largely aimed at reducing disruptions by making its schedule more manageable as it navigates subpar staffing levels. In a memo last week, the airline pointed out that the resurgence of travel following the pandemic has, in some ways, amounted to the "rebuilding" of the airline.
Related: Here's what to do if your flight is canceled or delayed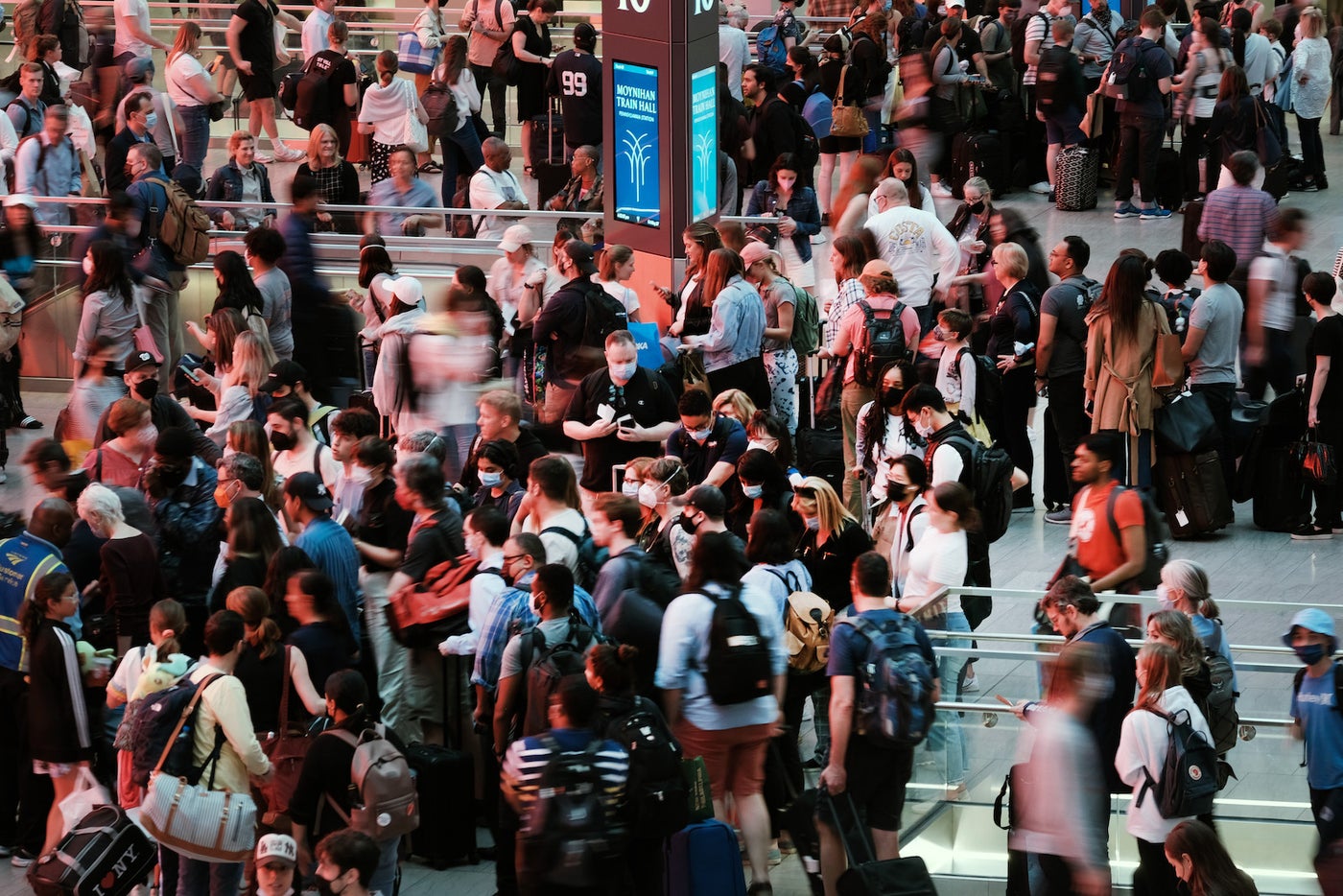 Bottom line
As expected, neither continued disruptions in the travel industry nor inflated prices seem to be holding back travelers. Numbers so far on Memorial Day weekend show some of the largest crowds during the entire COVID-19 pandemic heading to airports.
As you return from the long weekend or prepare for your first getaway, be sure to keep an eye on social media feeds at your departure and arrival airports in case there's important information to know – whether about parking, wait times or anything else to expect during your travels.
And of course, even as destinations are easing more COVID-19 restrictions than they're adding, the last two-plus years have repeatedly shown the importance of closely monitoring the situation at your destination.
Featured photo by Spencer Platt/Getty Images.
Sign-up Successful!
Welcome to The Points Guy!
Delta SkyMiles® Platinum American Express Card
Earn 90,000 bonus miles after you spend $3,000 in purchases on your new Card in your first 3 months. Offer ends 8/3/2022.
With Status Boost™, earn 10,000 Medallion Qualification Miles (MQMs) after you spend $25,000 in purchases on your Card in a calendar year, up to two times per year getting you closer to Medallion Status. Earn 3X Miles on Delta purchases and purchases made directly with hotels, 2X Miles at restaurants and at U.S. supermarkets and earn 1X Mile on all other eligible purchases. Terms Apply.
Apply Now
More Things to Know
Limited Time Offer: Earn 90,000 bonus miles after you spend $3,000 in purchases on your new Card in your first 3 months. Offer ends 8/3/2022.
Earn up to 20,000 Medallion® Qualification Miles (MQMs) with Status Boost® per year. After you spend $25,000 in purchases on your Card in a calendar year, you can earn 10,000 MQMs up to two times per year, getting you closer to Medallion® Status. MQMs are used to determine Medallion® Status and are different than miles you earn toward flights.
Earn 3X Miles on Delta purchases and purchases made directly with hotels.
Earn 2X Miles at restaurants worldwide including takeout and delivery in the U.S., and at U.S. supermarkets.
Earn 1X Miles on all other eligible purchases.
Receive a Domestic Main Cabin round-trip companion certificate each year upon renewal of your Card. Payment of the government imposed taxes and fees of no more than $80 for roundtrip domestic flights (for itineraries with up to four flight segments) is required. Baggage charges and other restrictions apply. See terms and conditions for details.
Enjoy your first checked bag free on Delta flights.
Fee Credit for Global Entry or TSA PreCheck® after you apply through any Authorized Enrollment Provider. If approved for Global Entry, at no additional charge, you will receive access to TSA PreCheck.
Enjoy an exclusive rate of $39 per person per visit to enter the Delta Sky Club® for you and up to two guests when traveling on a Delta flight.
No Foreign Transaction Fees.
$250 Annual Fee.
Terms Apply.
Regular APR
17.24%-26.24% Variable
Recommended Credit
Excellent/Good