4 ways to manage your spending on multiple credit card accounts
This post contains references to products from one or more of our advertisers. We may receive compensation when you click on links to those products. Terms apply to the offers listed on this page. For an explanation of our Advertising Policy, visit this page.
Credit cards can be powerful financial tools. When you use them wisely, your credit cards can protect you from fraud, earn you valuable rewards like cash back and points toward travel and help you build a good credit score over time. On the other hand, if you don't responsibly manage your cards, bad financial habits could come back to hurt you.
It goes without saying that you need to pay your credit card bills on time and in full every month to get the most out of your accounts (and to avoid damaging your credit score). The secret to accomplishing these goals comes down to a sound budgeting system.
You need a consistent, easy way to track your credit card usage — especially if you have multiple accounts. Read on for four expert tips that can help you keep tabs on your credit card spending and payments. When you track your spending the right way, your credit cards can provide you with another helpful perk — an easier way to manage your money.
New to The Points Guy? Sign up for our daily newsletter and check out our beginner's guide.
There's an app for that
Whether you have a single account or many credit cards, it's wise to set up a system to track your spending so you can stay within your budget each month.
Thankfully, there are numerous apps available to help you see all of your credit card activity at a glance, and then some. Here are a few of the best.
The Points Guy App
The new The Points Guy app provides a free and easy-to-use platform that lets you track all of your credit cards in one convenient place. Not only can you view how much you owe on each of your accounts, but you can also track the purchases you make by category, which makes it easier to stick to your monthly spending goals and figure out which cards you should use for which purchases to maximize your earning.
To wit, the TPG app features tools to help you earn more points – and redeem the credit card and loyalty rewards you do have – for the most value as you work toward your travel goals.
Best for: Credit card users who want a free, convenient system to manage spending and maximize rewards earning potential.
Qube Money
Qube Money is more than a money management app. It's an online bank with a digital money management platform. The app is available in both a free version and in a premium version for $6.50 per month if billed annually or $8 per month if billed monthly.
Your Qube Money account pairs with a debit card that you must "unlock" before each use. However, you can use a workaround to pay with your credit cards instead — a smarter choice than debit cards in many (if not most) cases, especially where fraud protection is concerned.
Here's how to use the app's spending tracking while still paying with credit cards. First, create "qubes" with your monthly variable spending goals (i.e., $600 for groceries, $400 for gas, $250 for dining, etc.). Then, make another qube called "Credit Card Spend." When you use a credit card to spend money from any area of your budget, manually transfer those funds from their original qube into the Credit Card Spent fund. Finally, use the cash from your credit card qube to pay off your credit card balances.
Best for: Fans of a zero-based budgeting technique and manual spending trackers.
Mint
There are many different apps that can help you manage your money. Among these options, Mint is one of the most popular spending trackers available due to its low cost — it's free — and user-friendly interface.
The free app provides a bird's eye view of your credit cards, bank accounts and even cash apps, like Venmo, at a glance. It can also track investments and real estate properties so you can review your overall net worth in addition to your spending. Finally, you can use Mint to monitor your credit score and create monthly budget goals.
Best for: People who want a digital system to track spending, debt and net worth.
Sign up for transaction alerts from your credit card issuer

Signing up for free transaction alerts with each of your credit card issuers is another helpful way to keep a close eye on your credit card spending. Depending on your credit card company, you may be able to schedule automatic text or email alerts when any of the following activities happen on your account:
A transaction occurs over a certain dollar amount (that you set).
The balance on your account exceeds a certain amount.
Your balance gets close to your credit limit.
Your monthly due date is approaching.
Suspicious activity occurs on your account.
Log into your online account to see what mobile alerts your card issuer offers (and to customize those alerts as allowed). Not only can account alerts help you keep more control over your spending each month, but they can also be an effective way to avoid credit card fraud since you'll notice immediately when any unauthorized charges occur.
Note that even with transaction alerts, you should make a point to review all of your credit card statements every month. A thorough statement review can help you detect red flags like billing mistakes or fraud so that you can take action.
Schedule automatic payments
Some people are afraid to make the transition from debit card to credit card spending because they're afraid of going into debt and paying expensive interest fees or late charges if they miss a payment by accident. But there's an easy way to make sure you're paying your balance in full each month (and avoiding interest as a result). You can schedule automatic payments with each of your credit card issuers.
When you log into your online account to schedule autopay, you should be able to set up one of the following payment options:
The minimum amount due.
Your statement balance.
A fixed payment amount.
Paying your balance in full is the best option for your bank account and your credit score. However, you might prefer to keep a little more control over when larger payments come out of your bank account.
Even if you don't want to schedule an automatic payment in full, setting up a draft for the minimum amount due may still be wise. This move can help you avoid accidental late payments and the negative consequences that may go along with those mistakes.
Make multiple payments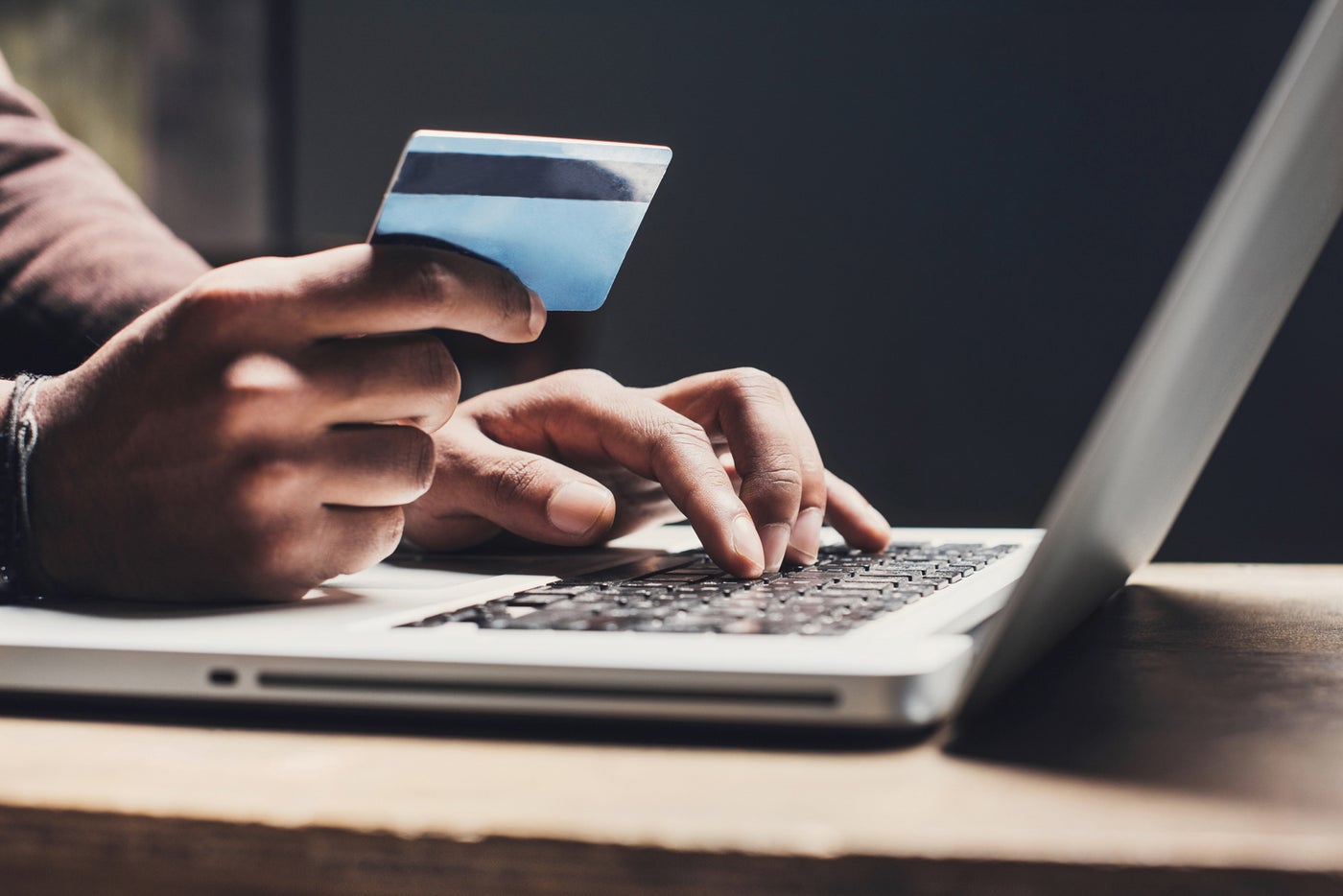 One more strategy you can use to stay on top of your credit cards is making multiple payments each month. This approach does require some extra leg work, but there are two big benefits it may offer you.
The first is budget awareness. Paying your credit cards on a weekly or even bi-weekly basis instead of once a month can keep you more in tune with your spending. Let's say you set a budget of $600 per month for groceries. If you make multiple credit card payments throughout the month, you can stay more aware of how much you've spent out of your food fund and how much money is still available.
Second, making multiple payments on your credit cards each month may also help you maintain a lower credit card utilization rate. Credit utilization is one of the significant factors that influence your credit score, accounting for 30% of your FICO Score. When you keep your credit utilization rate low, your credit score might benefit from this responsible behavior anytime a lender reviews it. Lower credit card utilization tells lenders that you're less likely to default on a debt.
Bottom Line
There's no such thing as the ideal number of credit cards. However, whether you open a few credit cards or many, you need to manage your spending so that you maintain a healthy credit score.
Luckily, many strategies can help you stay on top of your credit usage to prevent anything from going amiss. Find a system that works for you and consider adding some backup protections (like autopay) if the unexpected happens. As long as you're committed to following smart credit card habits, your accounts should help you build good credit and earn more rewards along the way.
Featured photo by AsiaVision/Getty Images.
Sign-up Successful!
Welcome to The Points Guy!
Marriott Bonvoy Business® American Express® Card
Receive 1 Free Night Award every year after your Card account anniversary. Plus, earn an additional Free Night Award after you spend $60K in purchases on your Card in a calendar year. Awards can be used for one night (redemption level at or under 35,000 Marriott Bonvoy points) at hotels participating in the Marriott Bonvoy program.
Apply Now
More Things to Know
Limited Time Offer: Earn 125,000 Marriott Bonvoy Bonus Points after spending $5,000 in purchases on your new Card in your first 3 months of Card Membership. Offer expires 8/31/22.
6x points at hotels participating in the Marriott Bonvoy™ program.
4x points for purchases made at restaurants worldwide, at U.S. gas stations, on wireless telephone services purchased directly from U.S. service providers and on U.S. purchases for shipping.
2x points on all other eligible purchases.
Receive a 7% discount off standard rates for reservations of standard guest rooms at hotels that participate in the Marriott Bonvoy program when you book directly. Terms and Conditions Apply.
Receive 1 Free Night Award every year after your Card renewal month. Plus, earn an additional Free Night Award after you spend $60K in purchases on your Card in a calendar year. Awards can be used for one night (redemption level at or under 35,000 Marriott Bonvoy points) at a participating hotel. Certain hotels have resort fees.
Enjoy Complimentary Marriott Bonvoy Gold Elite Status with your Card.
Terms apply.
Regular APR
17.99% - 26.99% Variable
Recommended Credit
Excellent/Good