First look: We got early access to Disney Cruise Line's first new ship in 10 years
This post contains references to products from one or more of our advertisers. We may receive compensation when you click on links to those products. Terms apply to the offers listed on this page. For an explanation of our Advertising Policy, visit this page.
Editor's note: TPG writer Ashley Kosciolek sailed on Disney Wish on a free trip provided by Disney Cruise Line. The opinions expressed below are entirely hers and weren't subject to review by the line.
---
As Mickey Mouse would say, "Oh boy!"
For the first time in a decade, Disney Cruise Line is debuting a new ship, and — as we saw during an exclusive sneak peek on Tuesday — it's truly spectacular.
Christened Wednesday at Port Canaveral in Florida, 2,500-passenger Disney Wish (4,000 at total occupancy) offers everything from a "Star Wars"-themed bar and a waterslide that features animation to a revamped kids club and interactive "Frozen"- and Marvel-themed restaurants.

As you can see in our first-look array of Disney Wish photos below, it's a vessel heavy on technology, as well as magic.
Scroll down for TPG's exclusive Disney Wish first look in photos. We'll be posting lots more live from the ship over the next four days as Disney holds a preview event for the media in advance of the ship's first sailings with paying passengers next month.
For more cruise news, guides and tips, sign up for TPG's cruise newsletter.
Welcome
When you first board Disney Wish, you'll be welcomed by cast members (Disney's term for crew and other employees) with a booming announcement as you step into the Grand Hall. It's a sweeping three-deck Cinderella-themed atrium with a stage area, balconies and bejeweled staircases. There's also a bronze sculpture of Cinderella herself and a chandelier that was constructed to look like an upside-down version of her twirling dress.





Bars
Disney isn't just for kids. In that vein, there are plenty of bars for adults to grab a drink. But this is Disney, after all, so you should fully expect that many libations will come with a bit of fanfare — and a price tag to match.
Perhaps the most anticipated watering hole on the vessel is the Star Wars Hyperspace Lounge. The premise is that you're on a luxury ride between galaxies; every few minutes, the screen behind the bar jumps to a different location at hyperspeed.



Another great bar that's worth a visit is The Bayou. With its New Orleans vibe, it's an obvious tie-in to "The Princess and the Frog," boasting earthy tones and a ceiling overflowing with flowers. Rumor has it that you can also find beignets at this outpost.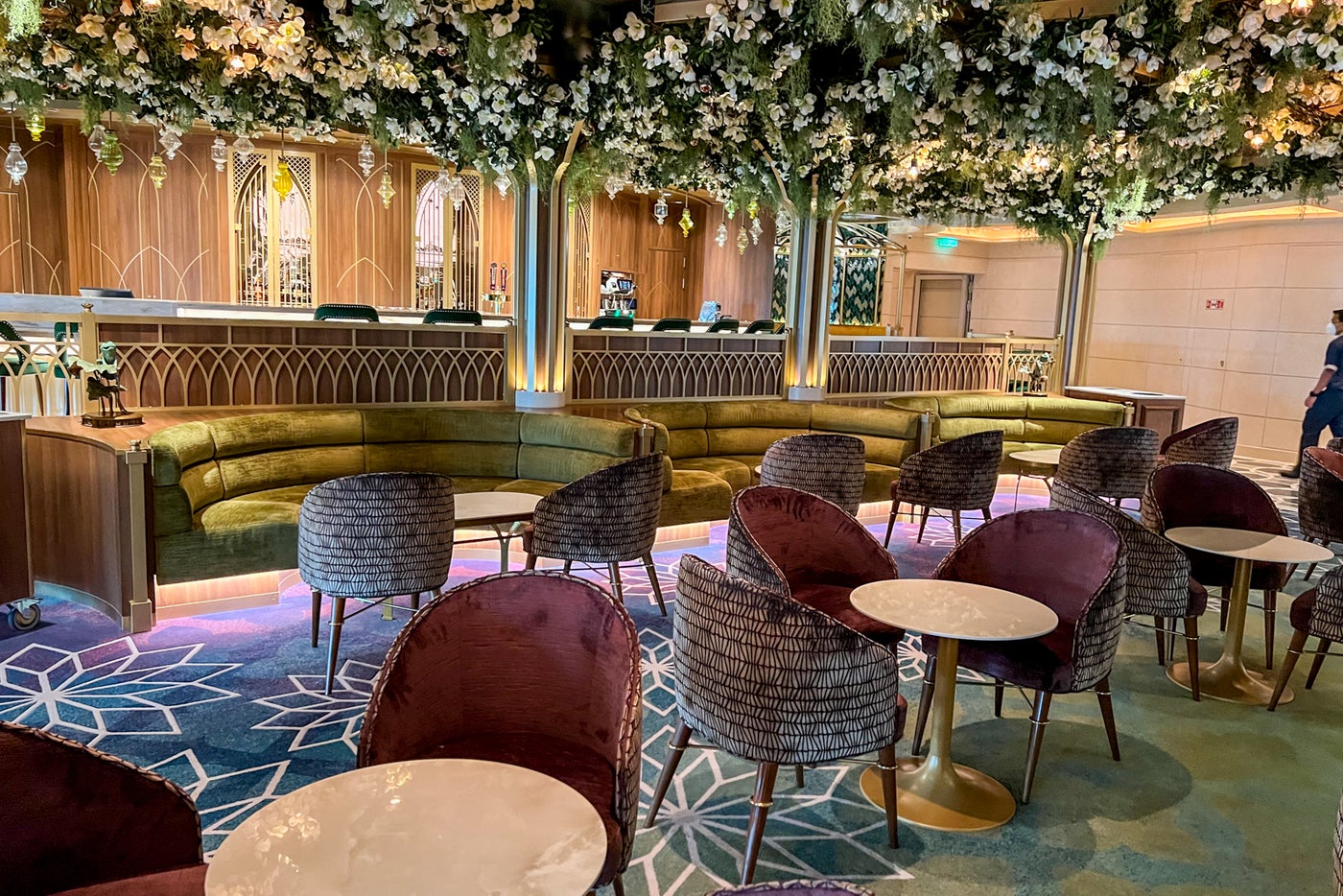 Kids club
Disney Cruise Line's Oceaneer Club is for kids aged 3 to 12. There's also the Small World Nursery for little ones aged 6 months to 3 years. Offerings include a nursery area with cribs; Mickey & Minnie Captain's Deck, a nautically themed playground; an Imagineering Lab for creative activities; Star Wars Cargo Bay, a "Star Wars"-themed play area; and other spaces that feature Princesses, Marvel superheroes and more.






Kids can reach the Oceaneer Club in one of several ways, but usually their preferred method is the slide, located in the Grand Hall. (Don't worry, parents. There are stairs for you.)


For tweens and teens, there are Edge and Vibe, where the 11-14 and 14-17 crowds can chill with video games, coffee and mocktail bars and a less organized "come and go as you please" setup. Vibe is equipped with a side room that can be separated for use by 18- to 20-year olds who are too old for the kids club but too young to hang out at adult bars.




Dining
Dining is always a production on a Disney Cruise — and that's a good thing. Disney Wish offers three new main dining room concepts, including 1923, an ode to old Hollywood and the golden age of animation; Arendelle: A Frozen Dining Adventure, which celebrates Anna and Kristoff's upcoming nuptials; and World of Marvel, where diners find themselves and their ship shrunken by Ant-Man after a Quantum Core mishap.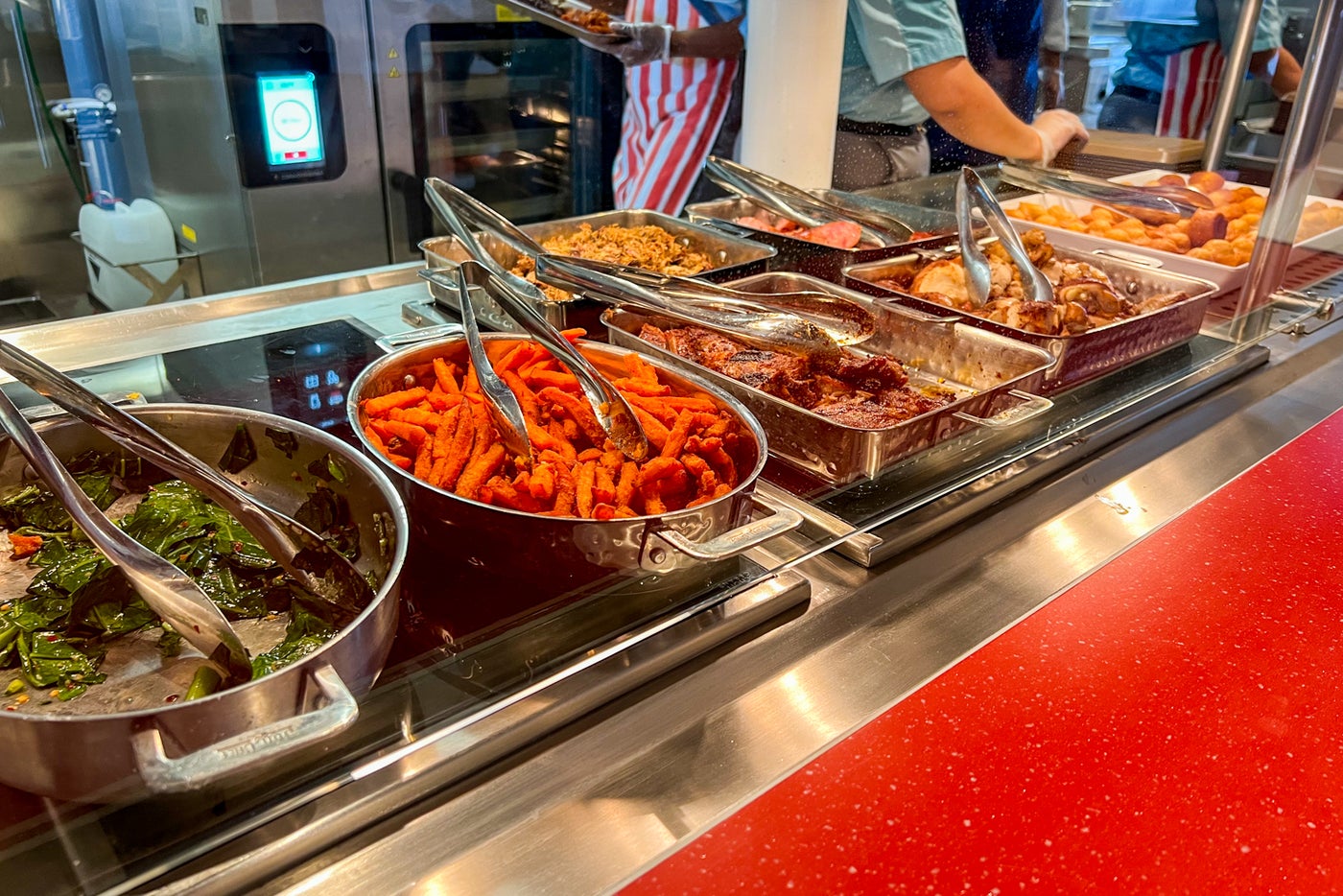 Attractions and public spaces
On Disney Wish, the main pool deck features four tiered pools. There's also a splash area for kids.


Another one of Disney Wish's highlights is the AquaMouse water slide. Billed as the line's first at-sea attraction, it's a combination of watery fun and animation that both kids and adults will love.



For anyone who needs some relaxation after a day riding AquaMouse, Senses Spa offers a complete menu of spa treatments. For the first time, the space also has an outdoor area with loungers and hot tubs.





Entertainment is everywhere on Disney Wish. With that in mind, there are several theaters and lounges that house everything from major Broadway-caliber productions and game shows to trivia and movies.



For a sweet treat, including gelato, macarons and more, check out Joyful Sweets, near the pool deck.

Feeling like you need a refresh? Captain Hook now has his very own barbershop for the fellas, and women can head to the Untangled Salon to be coiffed and manicured. For kids, the Bibbidi Bobbidi Boutique is the place to be. Parents, be warned: makeovers for your minis don't come cheap.



A new feature for Disney Cruise Line, the Hero Zone is a multipurpose space that serves as Disney Wish's basketball court and a venue for a new inflatable play area that's set up at select times on each sailing. It also hosts Jack Jack's Incredible Diaper Dash, where parents enter the littlest cruisers into an adorable race.

Although Disney Wish offers mainly short voyages, anyone needing to do laundry on the ship can take advantage of onboard launderettes, like this one located on Deck 8.

For more adult respite, seek out the Quiet Cove, which offers pool, hot tub, lounge and bar areas just for grownups. The super-luxe ambiance will leave you feeling refreshed for sure.


Cabins
This balcony cabin sleeps two, but there are several options for families that sleep up to five, as well as connecting cabins that make it easy for larger families or groups to travel together.



Disney Wish is replete with suite options, including Concierge Suites and two-deck options like the Aurora Suite and the Tower Suite. The first has access to a dedicated Concierge Lounge, while the the last has three bedrooms and 3.5 baths and is built into the vessel's fake funnel. The Tower Suite is the most expensive accommodation on the ship, running several thousand dollars per night.












Activities
Disney Wish has taken Disney Cruise Line's Midship Detective Agency to a whole new level with Uncharted Adventure, a high-tech cell phone-based interactive game that takes participants around the ship in search of clues. It's not quite ready yet, but a demo was set up for us by a team of Imagineers during the preview sailing.


Miscellaneous












Planning a cruise? Start with these stories:
Featured photo by Summer Hull/The Points Guy.
Sign-up Successful!
Welcome to The Points Guy!
Citi Premier® Card
This card offers a 80,000-point bonus after spending $4,000 in the first three months. Plus, earn 3 ThankYou points per $1 at gas stations, restaurants, supermarkets and on air travel and hotels. 1 ThankYou point per $1 on all other purchases.
Apply Now
More Things to Know
For a limited time, earn 80,000 bonus ThankYou® Points after you spend $4,000 in purchases within the first 3 months of account opening
Earn 3 Points per $1 spent at Restaurants and Supermarkets
Earn 3 Points per $1 spent at Gas Stations, Air Travel and Hotels
Earn 1 Point per $1 spent on all other purchases
Annual Hotel Savings Benefit
80,000 Points are redeemable for $800 in gift cards when redeemed at thankyou.com
No expiration and no limit to the amount of points you can earn with this card
No Foreign Transaction Fees on purchases
Regular APR
18.24% - 26.24% (Variable)
Balance Transfer Fee
Balance transfer fee applies with this offer 5% of each balance transfer; $5 minimum.
Recommended Credit
Excellent, Good