Credit Card Fatigue: How Many Premium Cards Is Too Many?
This post contains references to products from one or more of our advertisers. We may receive compensation when you click on links to those products. Terms apply to the offers listed on this page. For an explanation of our Advertising Policy, visit this page.
Update: Some offers mentioned below are no longer available. View the current offers here.
In just a few short years, we've gone from the Platinum Card® from American Express being one of the few premium credit cards on the scene to an explosion of bank, hotel and airline cards that entice users with massive welcome bonuses and luxury travel perks — in exchange for annual fees that often top $400.

Every time a new premium card launches, we weigh the pros and cons to decide if it's worth adding to your wallet. But at some point, no matter how good the deal is, enough is enough. Maybe you've tapped out on the number of annual fees you can handle in a single year, or maybe the benefits are simply redundant given the other cards you have.
Is there such a thing as too much when it comes to premium credit cards? While you have to make this decision for yourself, I think there's a very clear line of when to stop signing up for premium cards.
In order to find that line, let's start by breaking down the different types of premium credit cards on the market.
TPG editor Nick Ewen pitted seven of these seven popular premium credit cards against each other:
The information for the Hilton Aspire Amex card has been collected independently by The Points Guy. The card details on this page have not been reviewed or provided by the card issuer.
Of course, if we break this list up we see that it's not really seven cards on equal footing as much as it's two different "teams."
Premium transferable points cards:
Premium co-branded airline and hotel cards:
So what's the magic number? For me, it's four. I pick two cards from each category. For my fantasy draft, I went with the Chase Sapphire Reserve and the Amex Platinum, which I find complement each other quite well. I use the Platinum for its 5x on airfare, Centurion Lounge access and any large purchases I need to make as it doesn't have a preset credit limit. Meanwhile, the Sapphire Reserve comes out for all dining purchases and any travel that doesn't meet Amex's narrow definition for bonus earning (i.e., flights booked directly with the airline).

Both cards offer several hundred dollars of travel credits each year that make my out-of-pocket costs much more manageable, and other perks like a Priority Pass Select membership and a premium concierge service. Could I add a Citi Prestige to my wallet? Sure, but I'm wary of spreading my points earning too thin by branching out into a different currency. Especially with the 4th Night Free benefit becoming capped starting in September 2019, I don't think it would add as much value to my travel goals as it would cost me in fees. Enrollment required for select benefits.
With co-branded cards, it's a much more obvious cutoff point. Unlike an Amex Platinum card, which can provide immense value even to an infrequent traveler, a premium co-branded card represents a commitment of your loyalty to that brand. If you rarely fly United and don't frequently pass through airports with United Clubs, there's no reason for you to invest in a United Club Card.
I absolutely love my Marriott Bonvoy Brilliant card for the up to 50,000-point free night certificate it offers each anniversary. Anyone should be able to get a few hundred dollars of value out of that night, but I know that as a Titanium elite, I'll likely enjoy suite upgrades and free breakfast to make that night even more valuable.
I don't currently hold any premium airline credit cards, but if I did I would pick the one for the airline I flew the most to get lounge access or help qualifying for elite status. With these cards costing $450 or more a year to hold, I can't imagine needing premium cards for two different airlines. Loyalty and elite benefits get more rewarding the more you commit yourself to a single brand, so there's no reason to spread yourself too thin and pick multiple brands.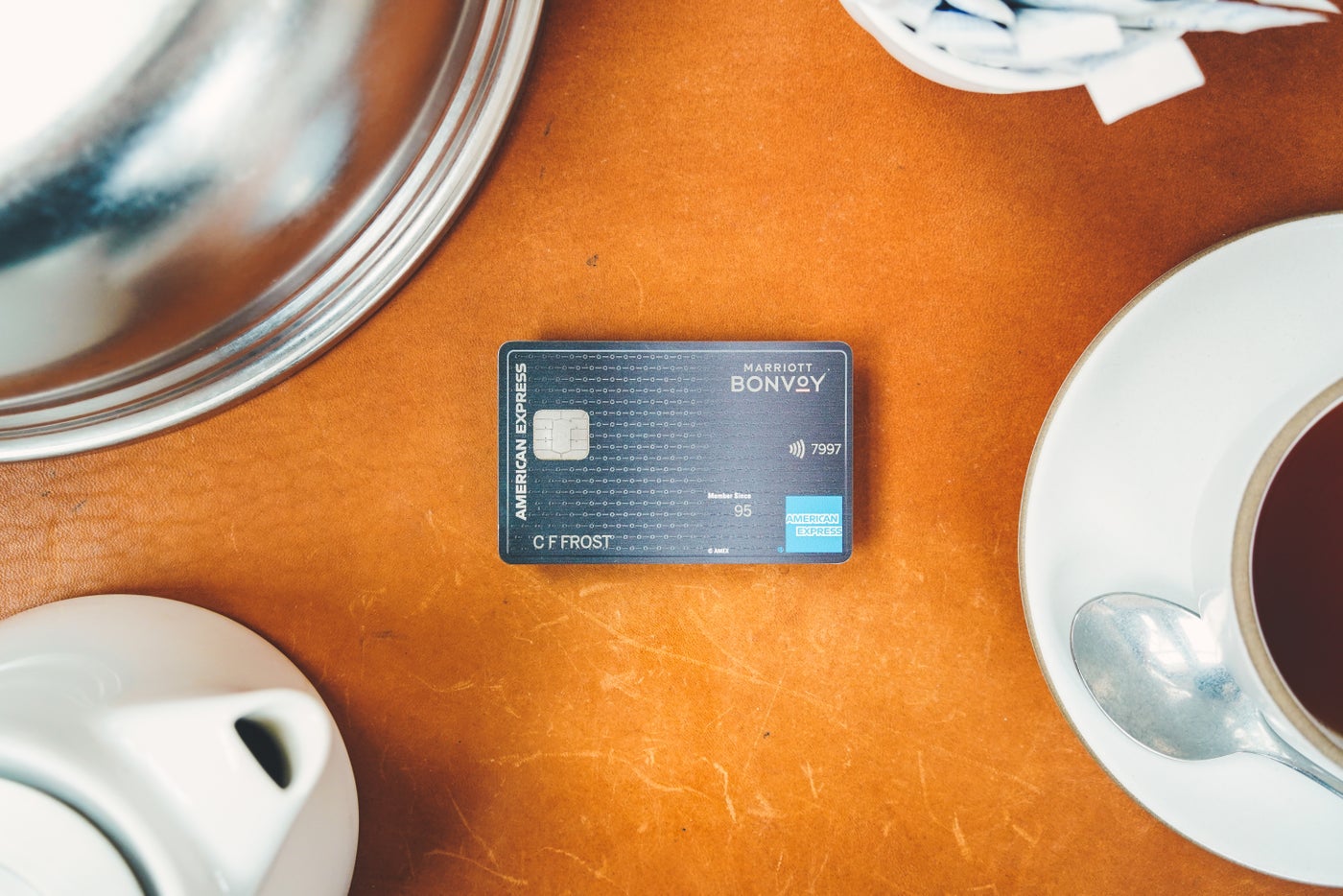 TPG Readers Weigh In
We asked the TPG Lounge how many premium credit cards they were comfortable having at once, and the answer was almost unanimous: As long as you're getting a good value from the cards, there's no reason to hold back:
"I don't think there's a limit if you see value in it. I only have one because my travel is limited, I don't have hotel or airline loyalty, therefore justifying a plethora of premium cards seems a bit useless." – Joseph J.
"As many as needed. I have two cards with $450 annual fees because the value derived from the perks offset them. I have the Citi Executive AA Mastercard just for the Admirals club membership." – Rich J.
"You shouldn't hold any card that isn't paying for itself. As long statement credits or direct benefits offset the [annual fee], then it's a keeper." – Mike Z.
"As many as I can continue to get value from. I have Prestige, CSR, Amex Plat and my husband has the Business Platinum. With some of the recent changes I think Business Platinum and Prestige will get canceled next year as they will go below the threshold of max value for me. We've had all of these cards for at least a couple years because we got enough benefits."- Stephanie P.
"I think it all depends on your particular situation. The first factor would be the benefits, and how much they overlap. So many cards offer the same things — Priority Pass, TSA/Global Entry credit, travel credits, trip insurance, rental car coverage, etc. If you hold two cards that have essentially the same benefits, then what's the point? You have to look for something else." – Justin M.

Bottom Line
Savvy TPG readers know that as scary as a $450 annual fee might seem when you open your first premium credit card, the important question is how much value are you getting in return. It's easy to find room for two, three or even four premium cards in your wallet, but after a while many of the benefits and bonus categories will start to overlap. When you're considering adding a new premium credit card to your wallet, make sure it's providing a unique or new value to round out your overall strategy.
Featured photo by Shutterstock
Sign-up Successful!
Welcome to The Points Guy!
The Platinum Card® from American Express
WELCOME OFFER: 75,000 Points Terms Apply.
TPG'S BONUS VALUATION*: $1,500
CARD HIGHLIGHTS: Delta Sky Club and Centurion lounge access, up to $200 annual airline fee credit and up to $200 in Uber savings annually (only for use in the U.S.)  (Enrollment required for select benefits)
*Bonus value is an estimated value calculated by TPG and not the card issuer. View our latest valuations here.
Apply Now
More Things to Know
Earn 75,000 Membership Rewards® Points after you spend $5,000 on purchases on your new Card in your first 6 months of Card Membership.
Earn 10x points on eligible purchases on your new Card at U.S. Gas Stations and U.S. Supermarkets, on up to $15,000 in combined purchases, during your first 6 months of Card Membership. That's an additional 9 points on top of the 1 point you earn for these purchases.
Enjoy Uber VIP status and up to $200 in Uber savings on rides or eats orders in the US annually. Uber Cash and Uber VIP status is available to Basic Card Member and Additional Centurion Cards only.
Earn 5X Membership Rewards® Points for flights booked directly with airlines or with American Express Travel. Starting January 1, 2021, earn 5X points on up to $500,000 on these purchases per calendar year.
5X Membership Rewards® Points on prepaid hotels booked with American Express Travel.
Enjoy complimentary access to the Global Lounge Collection, the only credit card airport lounge access program that includes proprietary lounge locations around the world.
Receive complimentary benefits through American Express Travel with an average total value of $550 with Fine Hotels & Resorts® program at over 1,100 properties. Learn More.
Get up to $100 in statement credits annually for purchases at Saks Fifth Avenue on your Platinum Card®. That's up to $50 in statement credits semi-annually. Enrollment required.
$550 annual fee.
Terms Apply.
Regular APR
See Pay Over Time APR
Recommended Credit
Excellent/Good