Deal Alert: Southwest Flash Sale With Fares From $34 One-Way
This post contains references to products from one or more of our advertisers. We may receive compensation when you click on links to those products. Terms apply to the offers listed on this page. For an explanation of our Advertising Policy, visit this page.
Update: Some offers mentioned below are no longer available – View the current offers here
Want to see the latest flight deals as soon as they're published? Follow The Points Guy on Facebook and Twitter, and subscribe to text message alerts from our deals feed, @tpg_alerts.
Airfare deals are typically only available on limited dates. We recommend that you use Google Flights to find dates to fly, then book through an online travel agency, such as Orbitz or Expedia, which allows you to cancel flights without penalty by 11pm Eastern Time within one day of booking. However, if you're using the American Express Platinum Card, you'll need to book directly with the airline or through Amex Travel portal to get 5x MR points. Remember: Fares may disappear quickly, so book right away and take advantage of Orbitz or Expedia's courtesy cancellation if you're unable to get the time away from work or family.
Jet away with Southwest's latest three-day flash sale, with fares starting at $34 one-way. With this sale, you can score both domestic and international fares at a reduced rate. You must book by October 12 and travel between October 31 and December 19, 2017, or between January 3 and February 14, 2018, for domestic travel. International travel dates are between October 31 and December 13, 2017, or between January 10 and March 2, 2018. Note that while much of the holiday season is blacked out, you could find some discounted fares that could overlap with your travel plans for the holidays.

Southwest is advertising fares as low as $49 one-way as part of this flash sale, however, we're seeing options for lower than that — as little as $34 one-way. Your best bet for finding availability is by searching with Southwest's flexible dates option and selecting the dates that work best for you. To see a list of the routes and cities eligible as part of this sale, check out this page.
Airline: Southwest
Route: Domestic and international routes
Cost: $34+ one way, $68+ round-trip in economy
Dates: October 2017 – March 2018
Booking Link: Southwest
Pay With: The Platinum Card from American Express (5x on airfare), Chase Sapphire Reserve, Citi Prestige (5x on airfare) or Chase Sapphire Preferred (2x on travel)
Here are a few examples of what you can book:
Washington, D.C. (IAD) to Orlando (MCO) for $34 one-way:

Washington, D.C. (IAD) to Orlando (MCO) for 1,325 points + $5.60 one-way:

Burbank (BUR) to Las Vegas (LAS) for $47 one-way:

Sacramento (SMF) to Spokane (GEG) for $49 one-way:

Fort Lauderdale (FLL) to Belize City (BZE) for $58 one-way:

Washington, D.C. (IAD) to Orlando (MCO) for $68 round-trip:

Austin (AUS) to Newark (EWR) for $79 one-way:

Chicago (MDW) to Memphis (MEM) for $92 round-trip: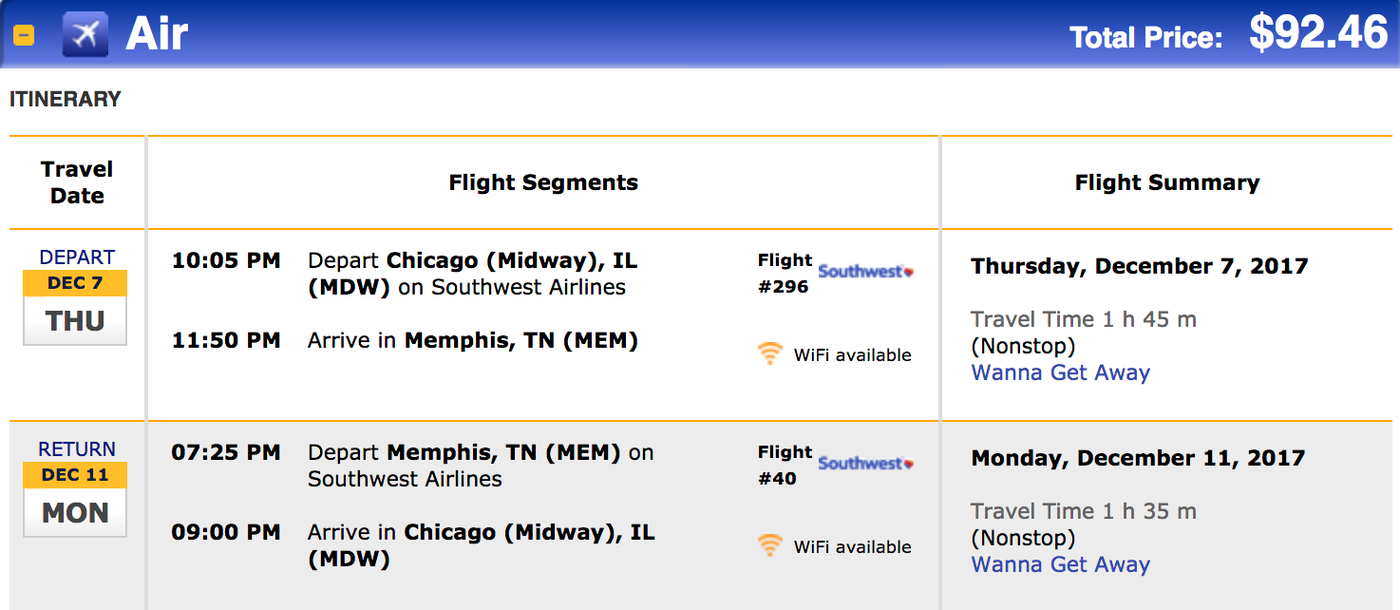 Baltimore (BWI) to Charlotte (CLT) for $95 round-trip:

Dallas (DAL) to New Orleans (MSY) for $98 round-trip:

San Francisco (SFO) to Portland (PDX) for $98 round-trip:

St. Louis (STL) to Nashville (BNA) for $98 round-trip:

Fort Lauderdale (FLL) to Cancun (CUN) for $175 round-trip:

Maximize Your Purchase
Don't forget to use a credit card that earns additional points on airfare purchases, such as the American Express Platinum Card (5x on flights booked directly with airlines or American Express Travel), Chase Sapphire Reserve, or Citi Prestige (5x on airfare) or the Chase Sapphire Preferred Card (2x on all travel purchases). Check out this post for more on maximizing airfare purchases.
If you're able to score one of these tickets, please share the good news in the comments below!
Featured image of Belize by Karen Brodie / Getty Images.
Sign-up Successful!
Welcome to The Points Guy!